Two similarly named Facebook (FB) pages — DU30 and PDU30 — posted on Jan. 9 a 10-minute video that says former senator Ferdinand "Bongbong" Marcos Jr. has won the vice presidential vote recount. This is false.
The post is yet another piece of disinformation spuriously declaring Marcos' win over Vice President Leni Robredo as a result of an electoral protest he filed nearly five years ago.
The Presidential Electoral Tribunal (PET), the sole decision-making body on protests involving the president and the vice president, has not issued a verdict on the matter.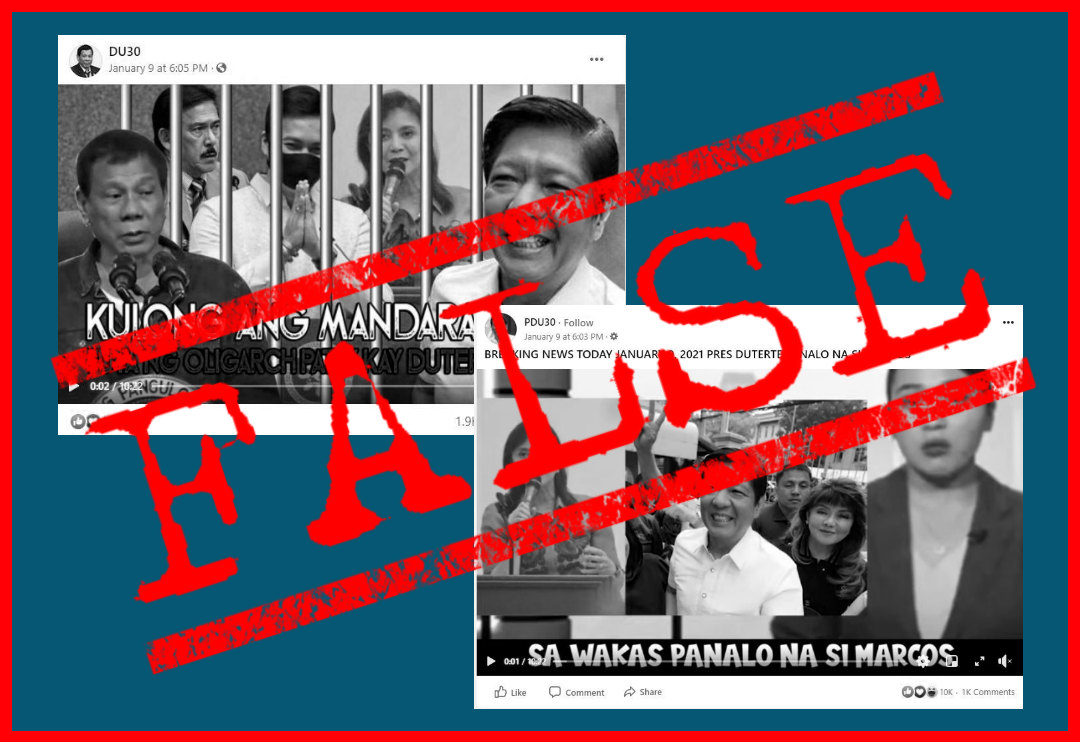 Both posts have this caption: "BREAKING NEWS TODAY JANUARY 9, 2021 PRES DUTERTE PANALO NA SI MARCOS (Marcos has won)." But their content does not support this claim.
The first two minutes of the video was taken from a Jan. 7 news report of Bombo Radyo about how Supreme Court Associate Justice Marvic Leonen, the ponente of the case, reportedly said he will release a draft decision on the poll protest this month.
A spurious graphic, "Sa wakas panalo na si Marcos (Finally Marcos has won)", was flashed throughout the clip.
The rest of the video was composed of two unrelated clips, namely:
Marcos filed his poll protest in June 2016, after losing to Robredo by just over 263,000 votes.
DU30 and PDU30's videos, which were uploaded at the same time (6:03 p.m.) on Jan. 9, circulated two days after Bombo Radyo published its report.
DU30's version has gotten over 20,000 reactions, 2,000 comments and nearly 4,000 shares. PDU30's, on the other hand, has 9,900 interactions, a thousand comments and over 2,000 shares. Their top traffic generators, apart from the pages themselves, are FB group LOYALIST FOR MARCOS 2022 and FB page Bongbong Marcos 2022.
DU30, created on May 24, 2020, was initially named DU30 Hero. PDU30 was created in Feb. 29, 2020 and formerly named Raffy Tulfo In Action 19.
(Editor's Note: VERA Files has partnered with Facebook to fight the spread of disinformation. Find out more about this partnership and our methodology.)