FB page Rodante Marcoleta Supporters live. posted on Dec. 3 a video falsely claiming former senator Ferdinand "Bongbong" Marcos Jr. has been confirmed as the winner of the 2016 vice presidential race. It continues to gain traction two weeks after its publication.
The Presidential Electoral Tribunal (PET) has not yet released its final verdict on the electoral protest filed by Marcos against Vice President Leni Robredo. The PET is the body that decides protests involving the election of the president and vice-president of the country.
The latest development in the four-year-old case was the Nov 23 pleading filed by Robredo's camp asking the Supreme Court, sitting as PET, to junk Marcos' election protest and affirm the results of the initial vote recount requested by the former senator.
In October 2019, the PET announced that Robredo's lead grew wider by 15,000 votes after the recount in three pilot provinces (Negros Oriental, Iloilo, and Camarines Sur) chosen by the Marcos camp.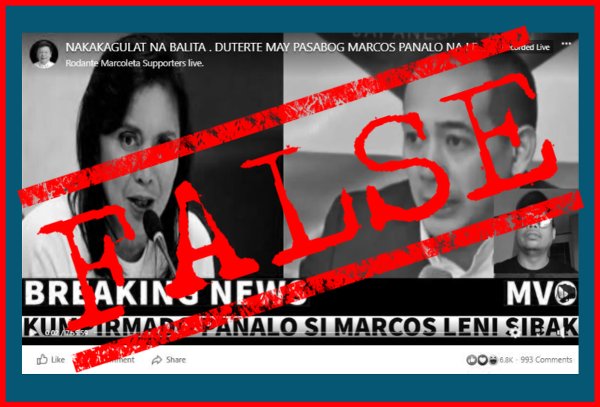 Rodante Marcoleta Supporters live.'s untrue post bore the title, "NAKAKAGULAT NA BALITA . DUTERTE MAY PASABOG MARCOS PANALO NA LENI RESIGN NA-TULFO! (Shocking news. Duterte has a surprise. Marcos wins, Leni, resign now – Tulfo)."
Its video featured a news ticker that read, "Breaking News: Kumpirmado panalo si Marcos Leni sibak (Marcos confirmed winner, Leni out)," while two clips ran on loop for eight hours.
The first clip shows a year-old Reuters photo of Robredo spliced together with a muted three-minute News5 clip of Marcos' lawyer Victor Rodriguez from October 2019 and a video inset of an unidentified man wearing sunglasses and a cap.
Over it played an asynchronous audio clip that turned out to be over two years old. It came from an April 5, 2018 episode of radio show Tutok Erwin Tulfo where Rodriguez talked about the vote recount between the two candidates, citing possible occurrences of electoral cheating.
The second clip contains an unrelated Nov. 30 speech on COVID-19 concerns of President Rodrigo Duterte.
Marcos filed his electoral protest in June 2016, after a narrow loss to Robredo by just over 263,000 votes.
Rodante Marcoleta Supporters live.'s false video was viewed more than 304,000 times and could have reached more than two million people, according to social media monitoring tool CrowdTangle.
Its top traffic generators are all pro-Marcos FB groups: BONGBONG MARCOS FOR PROGRESS PEACE AND PROSPERITY 2022., MARCOS DEFENDERS WORLDWIDE UNLIMITED, and BongBong Marcos United.
This is not the first time VERA Files debunked a post claiming Marcos has won the elections. (SEE VERA FILES FACT CHECK: Posts revive FALSE 'official' tally showing Bongbong Marcos won vice presidency; VERA FILES FACT CHECK: Story claiming Marcos won poll case vs Robredo FAKE)
Rodante Marcoleta Supporters live was created on Oct. 7. Initially named Rodante Marcoleta Supporters TV, it was changed to Showbiz Thats weeks before settling on the current page name.
(Editor's Note: VERA Files has partnered with Facebook to fight the spread of disinformation. Find out more about this partnership and our methodology.)