A netizen and pro-Marcos Facebook (FB) page This nation will be great again recycled an old false graphic announcing former senator Fedinand "Bongbong" Marcos Jr. had won against Vice President Leni Robredo in the May 2016 national polls.
The posts, published on Oct. 2 and 5, claimed the National Board of Canvassers' (NBOC) "final official result" are as follows: 15,155,344 votes for Marcos while Robredo had 11,418,817. Both carried a built-in text saying, "Bye Leni!"
This is false.
Congress, sitting as the NBOC for the election of the president and vice president, tallied 14.42 million votes for Robredo and 14.16 million votes for Marcos, according to several news reports.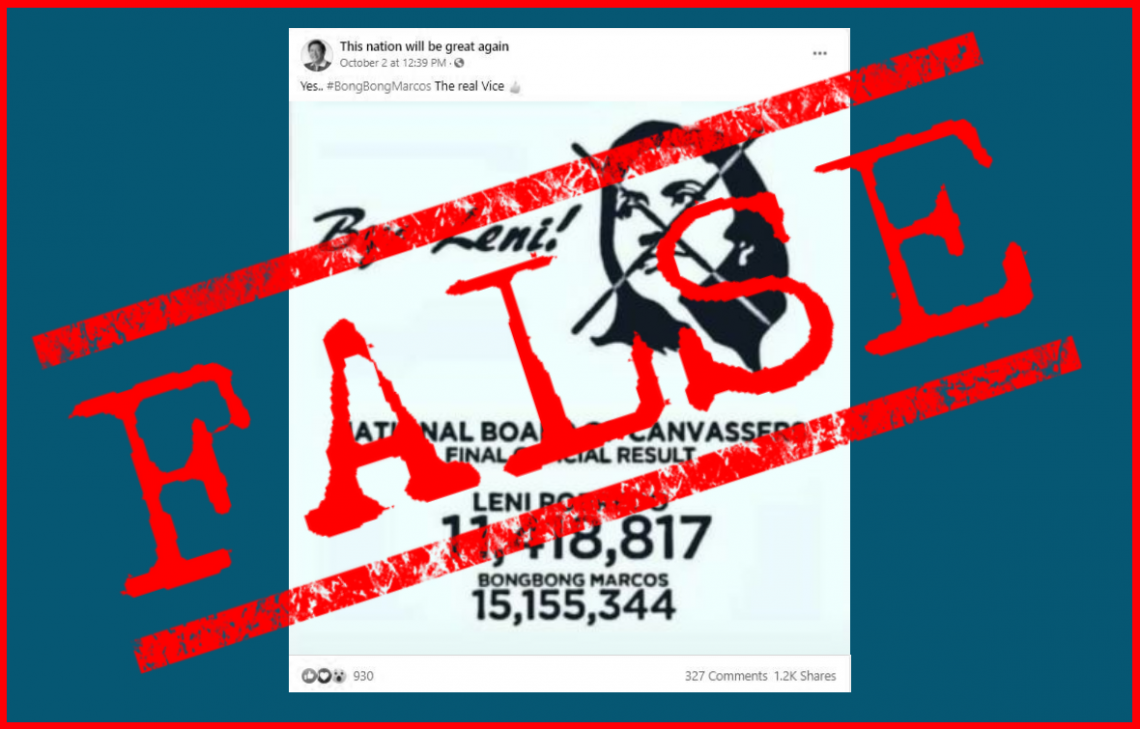 On June 29, 2016, Marcos' camp requested a recount due to the margin of just over 260,000 votes, filing an electoral protest before the Supreme Court (SC) sitting as the Presidential Electoral Tribunal (PET).
The vote recount covered three pilot provinces chosen by the Marcos camp: Negros Oriental, Iloilo, and Camarines Sur. But Robredo's lead grew wider by 15,000 votes after the recount ended, as announced by the PET in October 2019.
The circulating false graphic is a black and white version of a post already debunked by Agence France-Presse in April 2019. The colored version appeared to be a manipulated copy of a congratulatory post for Robredo in 2016, whose earliest traceable version can be found in a story from the site When in Manila.
The false claim made the rounds again this October after Robredo's camp on Sept. 30 said they believe PET will uphold the results of the 2016 elections. The tribunal recently ordered Comelec to comment on Macos' third cause of action in his protest, seeking to nullify votes in three provinces in Mindanao.
The posts by the netizen and the pro-Marcos FB page were shared more than 1,700 times.
This nation will be great again was created only this July 16.
(Editor's Note: VERA Files has partnered with Facebook to fight the spread of disinformation. Find out more about this partnership and our methodology.)