The same day the Marcos camp insisted that the Supreme Court (SC) has not completely junked its electoral protest against Vice President Leni Robredo, several Facebook (FB) users revived a doctored five-year-old graphic that claims to show an anomaly in the counting of votes for the vice presidency in 2016.
"Marcos' votes decreased by 20M after nine minutes," the post announced. It featured a collage of two screenshots of a TV5 Aksyon Tonite news report.At the 10:20 p.m. timestamp, former senator Ferdinand "Bongbong" Marcos Jr. is shown leading with 33.6 million votes while Robredo had 3.8 million votes. The second picture, taken at 10:29 p.m., showed Marcos down to 13.6 million votes with Robredo fronting with 13.8 million votes.
This is false, and has already been debunked by VERA Files Fact Check in December 2018. (See: VERA FILES FACT CHECK: Marcos fan page recycles old, FAKE news on doctored tally of 2016 VP race)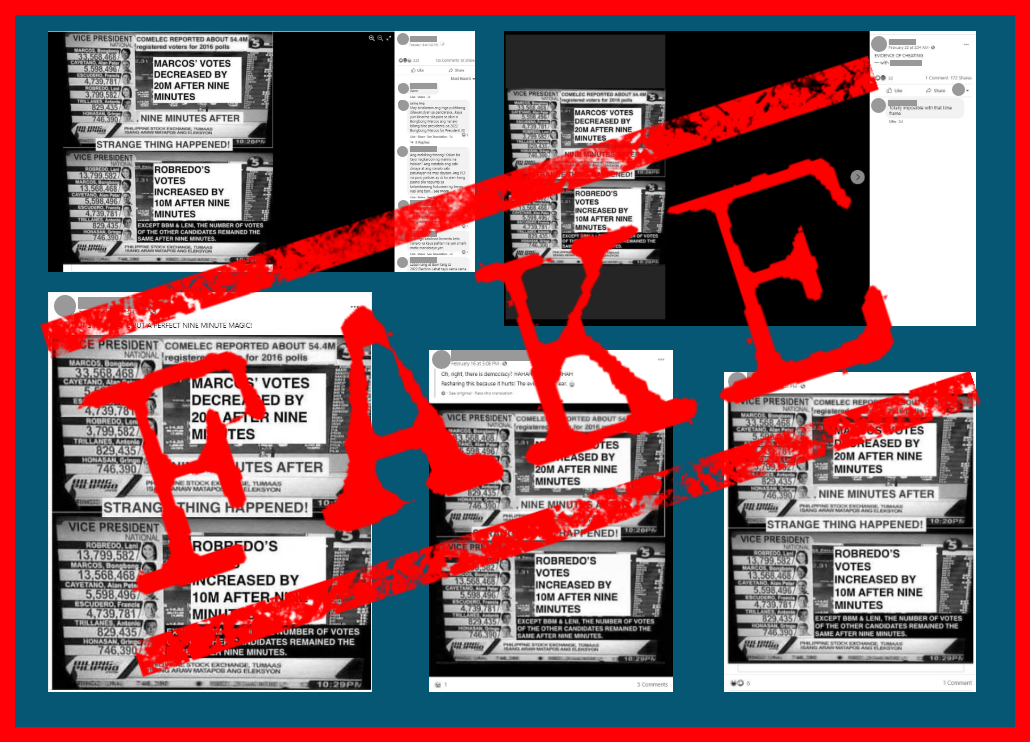 News5 anchor Ed Lingao disproved the circulating graphic himself on May 12, 2016, after the falsehood first went viral on social media.
He said it was "impossible" for Marcos to have 33 million votes, since no candidate in the history of Philippine elections has received even 20 million votes.
The five-year-old fake image was revived after the Supreme Court, sitting as the Presidential Electoral Tribunal, unanimously voted on Feb. 16, the dismissal of Marcos' election protest. (See: Marcos poll protest prompted years-long battle with falsehoods on social media)
Despite the SC decision, Marcos' camp refuses to accept defeat as seen in his spread of the "propaganda" that he was cheated, Robredo said in the Feb. 21 episode of her weekly online talk show BISErbisyong Leni.
"Ito ang nakakalungkot kasi 'di na lang ito between us, 'yung laban 'di lang Marcos vs Robredo, pero 'pag sinira mo ang democratic institutions, 'yung sinisira mo yung bansa natin (This is saddening because it's not just between us, the fight isn't just Marcos vs Robredo. If you wreck democratic institutions, you are wrecking our country)," said Robredo.
Five FB users published the posts between Feb. 18 and 20, with one post receiving nearly 500 interactions. VERA Files also found one copy posted on Feb. 16, two days prior to the SC's announcement of its verdict.
(Editor's Note: VERA Files has partnered with Facebook to fight the spread of disinformation. Find out more about this partnership and our methodology.)