A video from Oct. 4 claimed that four public officials have withdrawn their applications to run for national office after Davao City Mayor Sara Duterte-Carpio and former Senator Ferdinand "Bongbong" Marcos Jr. formalized their run for the country's top two posts in next year's election. This is false.
The untrue video was published by YouTube channel BANAT NEWS TV with the headline, "JUST IN : PRES DUTERTE CONFIRMED! MARCOS MAYOR SARA NAGFILE ng COC SEN.GO ISKO PACQUIAO LENI UMATRAS (Marcos, Mayor Sara files COC; Sen. Go, Isko, Pacquiao, Leni backs out)." It was reuploaded on Facebook (FB) by the page Duterte News Info the same day.
Marcos cemented his aspiration for the presidency by filing his certificate of candidacy (COC) on Oct. 6. Duterte-Carpio, on the other hand, filed her COC as reelectionist mayor of Davao City on Oct 2.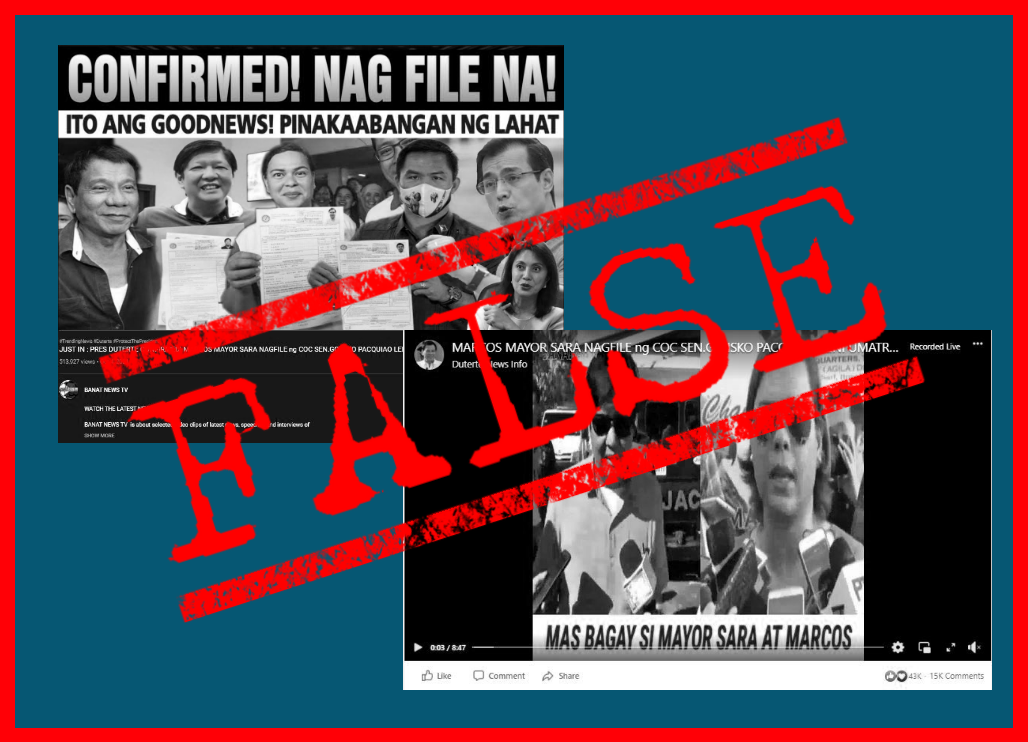 Meanwhile, Sen. Christopher Lawrence "Bong" Go, who is running for vice president, and presidential aspirants Manila City Mayor Francisco "Isko Moreno" Domagoso, Sen. Emmanuel "Manny" Pacquiao and Vice President Leni Robredo have not recalled their COCs, contrary to the claim in the circulating video.
The erroneous post started with a report about President Rodrigo Duterte saying his daughter will run for the country's top post, with Go as her running mate. It also grabbed news reports about the then-anticipated filing of candidacies of Moreno and Robredo, as well as infighting within Pacquiao's party. A commentator was also shown sharing his insights about possible administration bets for president and vice president.
To make it appear that Marcos and Duterte-Carpio had filed their candidacies as a tandem, BANAT NEWS TV showed a graphic that spliced together two images: one of Marcos in October 2015 when he filed his COC to run for vice president; and another showing Duterte-Carpio as she filed her COC to run for her current office in October 2018.
The untrue video emerged two days after Duterte announced his retirement from politics on Oct. 2, paving the way for his daughter to place a bid to succeed him. Earlier, Duterte-Carpio said that she and her father agreed only one of them will run for a national position in 2022.
Duterte News Info was created on Dec. 4, 2020. Its video obtained nearly two million views and over 3,000 shares. BANAT NEWS TV was created on Dec 26, 2015. Its video has been viewed over 538,000 times.
(Editor's Note: VERA Files has partnered with Facebook to fight the spread of disinformation. Find out more about this partnership and our methodology.)
Have you seen any dubious claims, photos, memes, or online posts that you want us to verify? Send us a message here or here.