A YouTube channel that repeatedly publishes disinformation has claimed in an Oct. 4 video that Pharmally Pharmaceutical Corp. executive Krizle Grace Mago was forced by Sen. Risa Hontiveros to "undermine" the national government. This is false.
Showbiz Fanaticz's video carried the spurious headline: "KRIZLE MAGO, UMAMIN NA| HONTIVEROS ITINURONG SALARIN PARA IDIIN at PASAMAIN ang GOBYERNO (Krizle Mago confesses | Hontiveros pointed as the culprit for framing and undermining the government)!?!"
As its content, the channel showed a 15-minute clip where Mago gave an opening statement during a hearing of the House of Representatives (HOR) committee on good government and public accountability, and answered questions from panel chair DIWA Party-List Rep. Michael Edgar Aglipay. She made no such allegation against the senator in the clip shown.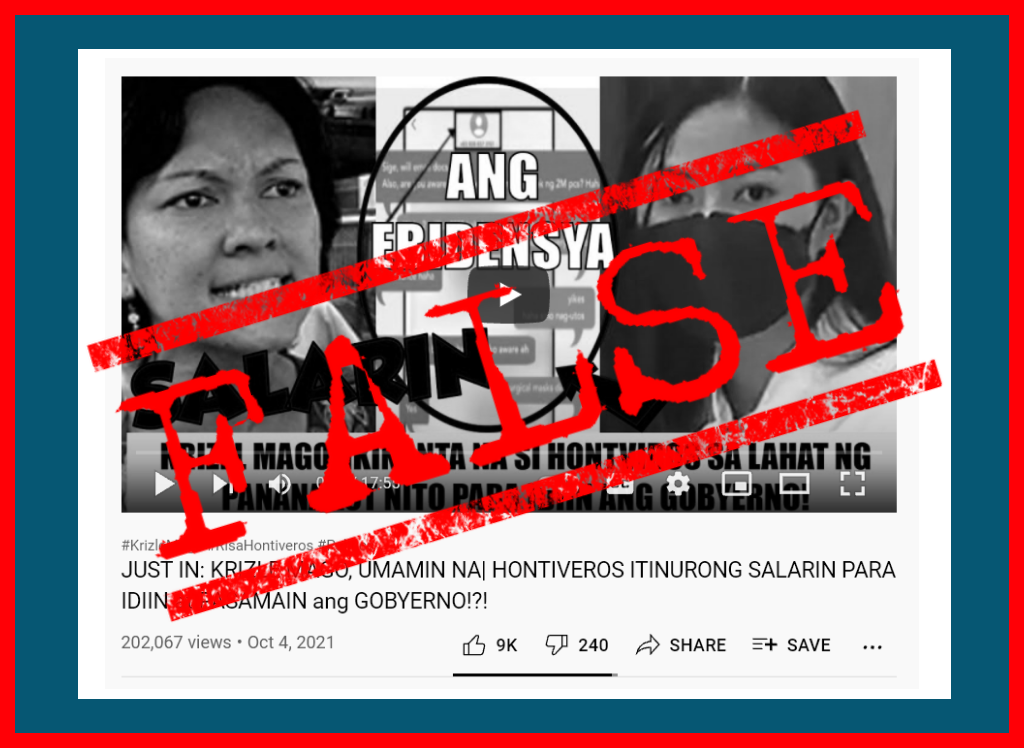 In the Oct 4 hearing, Mago recanted her previous Senate testimony on how Pharmally "swindled" the government by changing expiration dates of medical-grade face shields. She called her previous revelation a "pressured response."
In its introduction, Showbiz Fanaticz's video narrator repeatedly claimed that Mago confessed how Hontiveros and other senators forced her to lie and deny the truth so Filipinos would get angry at President Rodrigo Duterte and "tarnish his image for the upcoming elections."
This claim is fabricated. In her statement, Mago did not pin the blame on any specific individual for her supposed "pressured response."
The video narrator also claimed that Mago, in her testimony at the HOR, said she received death threats from Hontiveros, Gordon and Drilon. Not true. Mago made no such statement.
Hearings are ongoing in both chambers of Congress to scrutinize the P8-billion deals bagged by Pharmally to provide medical supplies to the government amid the pandemic.
Showbiz Fanaticz's false YouTube video has garnered over 295,000 views as of publishing. A copy of the video uploaded by Facebook page Duterte News Info got 1.6 million views, 74,000 reactions, 20,000 comments, and 39,000 shares.
Showbiz Fanaticz was created in November 2017, Duterte News Info in December 2020.
(Editor's Note: VERA Files has partnered with Facebook to fight the spread of disinformation. Find out more about this partnership and our methodology.)
Have you seen any dubious claims, photos, memes, or online posts that you want us to verify? Send us a message here or here.