A YouTube video uploaded Aug. 15 has made misleading claims that the National Bureau of Investigation (NBI) will investigate the wealth of Sen. Risa Hontiveros, former President Benigno "Noynoy" Aquino III, and recently-resigned Philippine Health Insurance Corp. (PhilHealth) president and CEO Ricardo Morales following allegations of corruption in the state health insurer.
That Hontiveros and Aquino are included in the investigation has no basis as the NBI merely announced the creation of a task-force to probe the anomalies.
YouTube channel Kevin Montero spuriously linked Hontiveros and Aquino to the corruption mess, saying the senator, a PhilHealth board member from 2014 to 2015, was among those being targeted for investigation. It also alleged that the Aquino administration was a co-conspirator in the so-called PhilHealth mafia.
It then read excerpts from an Aug. 13 Manila Bulletin story to support its deceptive post. Several photos of Hontiveros were also flashed throughout the four-minute video report.
But neither the Bulletin or other media organizations nor the NBI itself in its press release specified the people who will be investigated. News reports only said the NBI's newly-created Task Force PhilHealth will do an audit of PhilHealth's expenses and a lifestyle check on its officials and employees, as part of its intensified efforts to probe allegations of corruption and anomalies in the agency.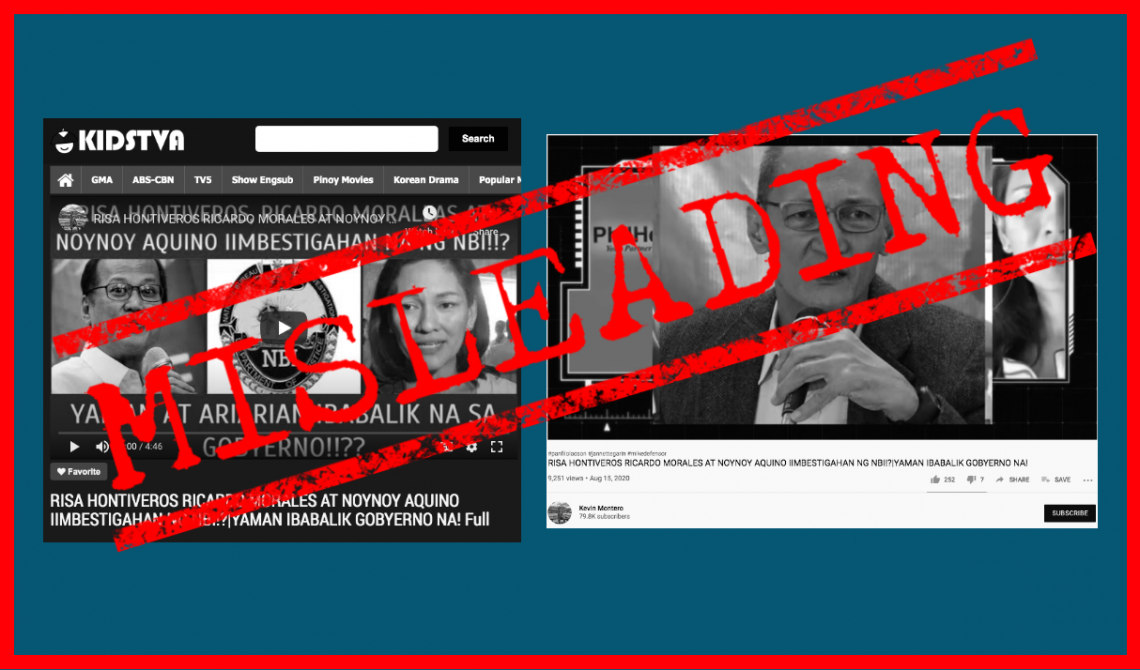 The misleading video, which has been viewed over 9,200 times, surfaced two days after NBI officer-in-charge Eric Distor announced the formation of the group. A separate task force for the same purpose was also mobilized by the Department of Justice under President Rodrigo Duterte's orders.
Earlier this month, a former anti-fraud legal officer from PhilHealth said about P15 billion of the agency's funds have been pocketed by a PhilHealth "mafia" composed of its executive committee.
On Aug. 26, Morales filed his resignation after Duterte asked him to give up his post, taking note of the PhilHealth chief's recently disclosed medical condition.
Kevin Montero's misleading video was also reposted on website opaua.com, which has gained almost 7,400 Facebook (FB) interactions and could have reached almost 11,300 netizens with traffic mostly coming from FB page Philippines trendinh news .., according to social media monitoring tool CrowdTangle.
A look at Kevin Montero's Youtube account, created May 30, 2018, shows it used to post personal travel and lifestyle vlogs until around December 2019, when it started uploading news-style videos.
This is not the first time Hontiveros was made the subject of mis- and disinformation related to PhilHealth corruption. (See: VERA FILES FACT CHECK: Hontiveros NOT involved in P15 billion corruption mess in PhilHealth, VERA FILES FACT CHECK: Online posts claiming Hontiveros involved in PhilHealth bonuses mess FALSE and VERA FILES FACT CHECK: Hontiveros FALSE linked again to past PhilHealth issues)
(Editor's Note: VERA Files has partnered with Facebook to fight the spread of disinformation. Find out more about this partnership and our methodology.)