At least three sites published a video from YouTube channel PH BREAKING NEWS on Aug. 4 falsely dragging Sen. Risa Hontiveros into billion-peso corruption allegations in the Philippine Health Insurance Corporation (Philhealth).
Hontiveros' name is again being linked to the controversy after Philhealth's former anti-fraud legal officer Thorrsson Montes Keith said in a Senate hearing on Aug.4 that the agency lost P15 billion to a "syndicate" in 2019. She has repeatedly denied involvement in the fund mess and this week called the allegations fake news.
The video carries the headline, CONFIRMED: 15 BILLION PESOS ANG NINAKAW NILA RISA HONTIVEROS SA PHILHEALTH! WITNESS LUMANTAD NA (Confirmed:15 billion Pesos stolen by Risa Hontiveros and others in PhilHealth! Witness has surfaced)!
The clip is part of this original video entitled PHILHEALTH at si HONTIVERO (Philhealth and Hontivero[s]) by a vlogger named Banat By.
The vlogger did not allege in his video that Hontiveros pocketed P15 billion. What he did was revisit a 2016 article by the Manila Standard where the National Association of Lawyers for Justice and Peace challenged Hontiveros to spearhead the return of illegal bonuses given to Philhealth executives in 2013. He then proceeded to discuss Keith's allegations made at the Senate hearing.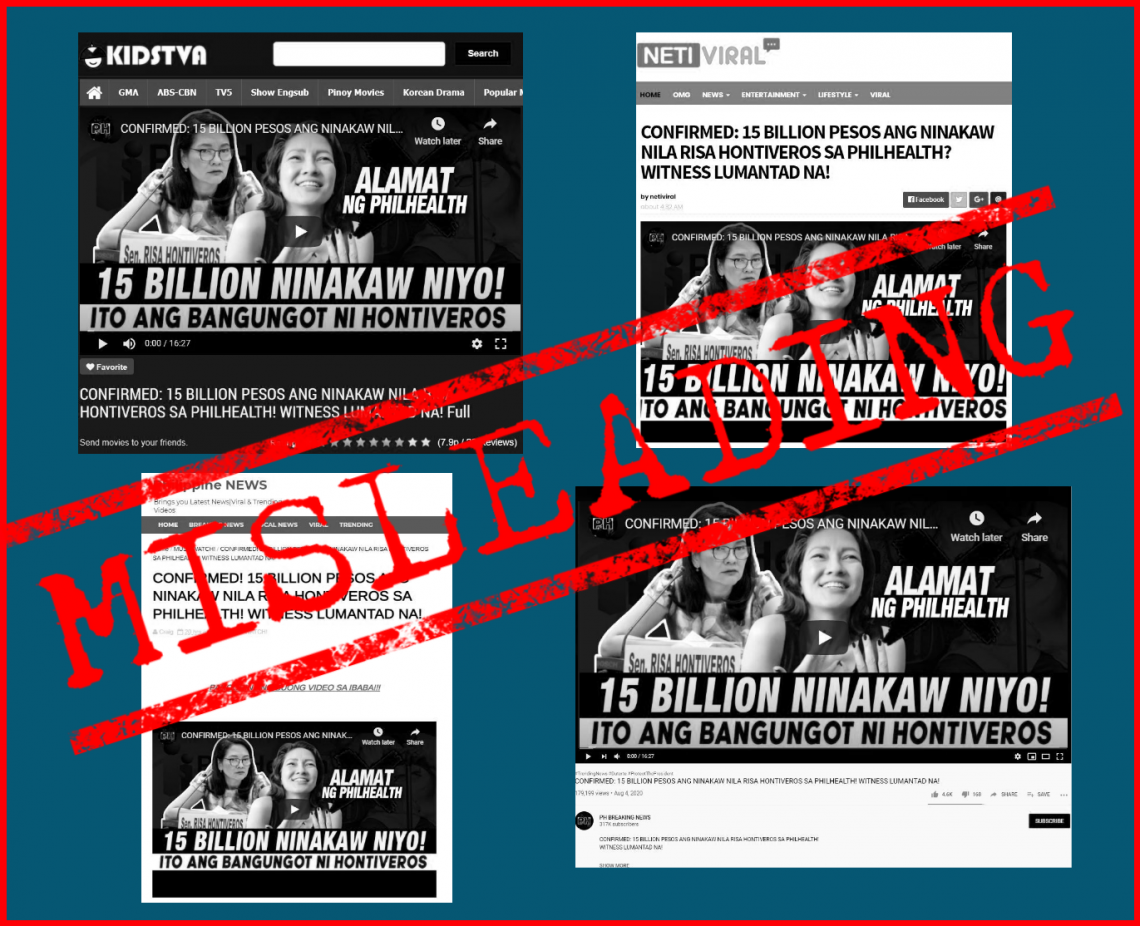 Hontiveros, who was a member of Philhealth's Board of Directors from November 2014 to October 2015, has repeatedly been a target of disinformation involving the agency. She was first linked to the release of P163.85 million worth of bonuses and allowances to Philhealth employees in 2009, 2010 and 2014, which the Commission on Audit (COA) had said was unauthorized and ordered returned to the agency.
Philhealth corporate communications manager Rey Baleña in an email to VERA Files in 2018 said Hontiveros was not included in the list of liable Philhealth officials. (See: Online posts claiming Hontiveros involved in PhilHealth bonuses mess FALSE and VERA FILES FACT CHECK: Hontiveros FALSELY linked again to past PhilHealth issues).
Three websites – us.netiviral.com (Netiviral), opaua.com (Opaua) and philippinenews.xyz (Philippine News) – published the misleading video.
Netiviral's story could have reached almost 800,000 followers online, according to social media monitoring site CrowdTangle. Its top three traffic generators are Facebook (FB) pages Rodrigo Durterte News, Pangulong Duterte and NetiViral.
CrowdTangle estimated Opaua's story to have reached over 11,000 followers. Its top traffic generator is FB page Philippines trendinh [sic] news.
PH BREAKING NEWS' video has about 187,000 views since it was posted on Aug. 4. The YouTube channel has around 317,000 subscribers.
(Editor's Note: VERA Files has partnered with Facebook to fight the spread of disinformation. Find out more about this partnership and our methodology.)