A YouTube video which is also circulating on Facebook (FB) has revived the false claim that Sen. Risa Hontiveros benefitted from Philippine Health Insurance Corp.'s (PhilHealth) illegal bonuses in 2014. Records show Hontiveros was not involved in the mess. 
This false claim has been circulating since 2018 and debunked numerous times by VERA Files Fact Check. (Read Online posts claiming Hontiveros involved in PhilHealth bonuses mess FALSE)
Uploaded on April 15, the 11-minute and 58-second video's headline read: 
"KAKAPASOK LANG PRES MARCOS MARCOLETA HAWAK ang mga DOCUMENTO HONTlVEROS SC HlNATULAN PHILHEALTH 2014 (JUST IN PRES MARCOS MARCOLETA HAVE THE DOCUMENTS HONTIVEROS SC RELEASED VERDICT [on] PHILHEALTH 2014)."
The thumbnail featured images of President Ferdinand "Bongbong" Marcos, SAGIP partylist Rep. Rodante Marcoleta supposedly holding "PhilHealth documents", a protest photo altered to make it look like it happened in front of the Supreme Court, and Hontiveros. It bore the text: 
"HINATULAN NG KORTE MATINDING UTOS NG SUPREME COURT KAY RISA (JUDGED BY THE COURT THE INTENSE ORDER OF SUPREME COURT TO RISA)."
At the start of the video, a narrator claimed that Hontiveros was "allegedly linked" to the bonus mess as "she was appointed in 2014," "the same year the P83 million budget went missing."
Hontiveros has no involvement in the release of P83 million worth of educational assistance and birthday gift benefits to PhilHealth officials and employees that year, according to official statements.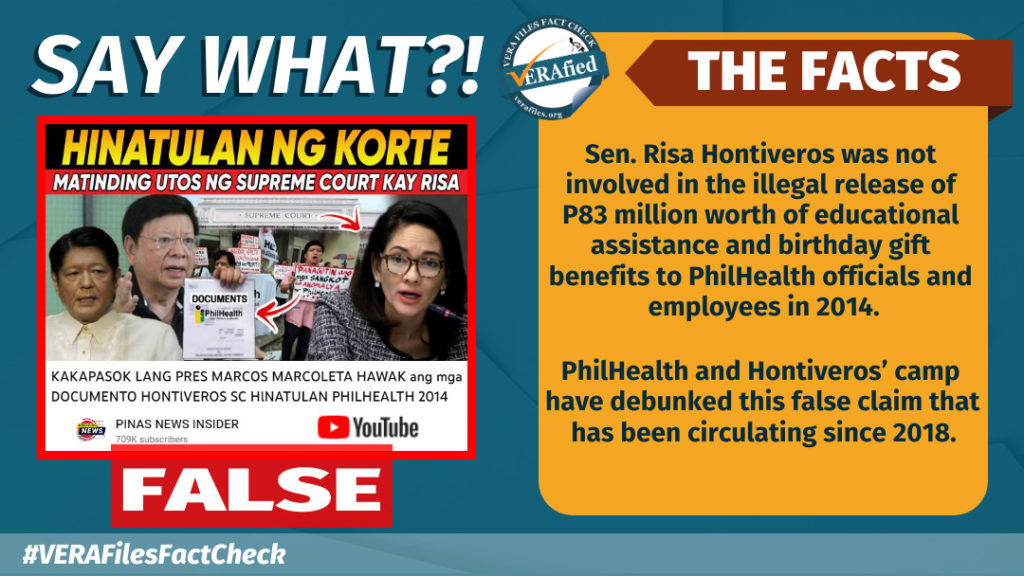 PhilHealth corporate communications manager Rey Baleña told VERA Files in 2018 that Hontiveros was "not included in the subject Notice of Disallowance." 
In an email, Hontiveros' camp also said that "the bonuses were approved before Sen. Hontiveros' term as member of PhilHealth's board." (Read Video resurfaces FALSE claim that Hontiveros 'stole' from PhilHealth funds)
The video's voice-over also read a report on the Supreme Court's 2022 decision that affirmed the Committee on Audit's ruling disallowing PhilHealth's issuance of the bonuses, but Hontiveros was not mentioned. 
PhilHealth has discontinued the subject allowances but filed a motion for reconsideration regarding the case on Dec. 20, 2022. 
Marcoleta was also not referring to the case when he said the lawmakers have "many documents on their hands." It came from a 2020 interview where he discussed the House hearings on the alleged corruption in PhilHealth's implementation of the Interim Reimbursement Mechanism in 2020.
The false video was uploaded two days after PhilHealth reiterated that special privileges under fortuitous events were no longer in effect, as announced in an earlier advisory. 
YouTube channel PINAS NEWS INSIDER (created on Dec. 26, 2015), notorious for sharing political disinformation, uploaded the video that has 109,078 views as of writing. Several FB pages and groups also shared a blog link containing the same video, garnering 882 interactions according to CrowdTangle.
Have you seen any dubious claims, photos, memes, or online posts that you want us to verify? Fill out this reader request form or send it to 'VERA, the truth bot' on Viber.
(Editor's Note: VERA Files has partnered with Facebook to fight the spread of disinformation. Find out more about this partnership and our methodology.)