A video on YouTube falsely claims that the Supreme Court (SC) has ordered Sen. Risa Hontiveros to return pilfered funds from the Philippine Health Insurance Corp. (PhilHealth). The senator is not involved in the case at all.
On Dec. 30, a YouTube channel uploaded the video with the untrue headline:
"JUST IN: KORTE MAY ORDER NA KAY RISA NA DAPAT IBALIK ANG PERANG NINAKAW NILA MULA SA PHILHEALTH! (Court orders Risa to return money stolen from PhilHealth!)"
The first few minutes of the video showed a screenshot of ABS-CBN's Dec. 28 news report on the SC upholding the decision of the Commission on Audit (COA) disallowing the release in 2014 of benefits worth P83 million to PhilHealth executives and employees.
There was no mention of Hontiveros in the High Court's Sept. 27 ruling.
VERA Files Fact Check already debunked the claim that the senator had anything to do with the issue. (Read Online posts claiming Hontiveros involved in PhilHealth bonuses mess FALSE)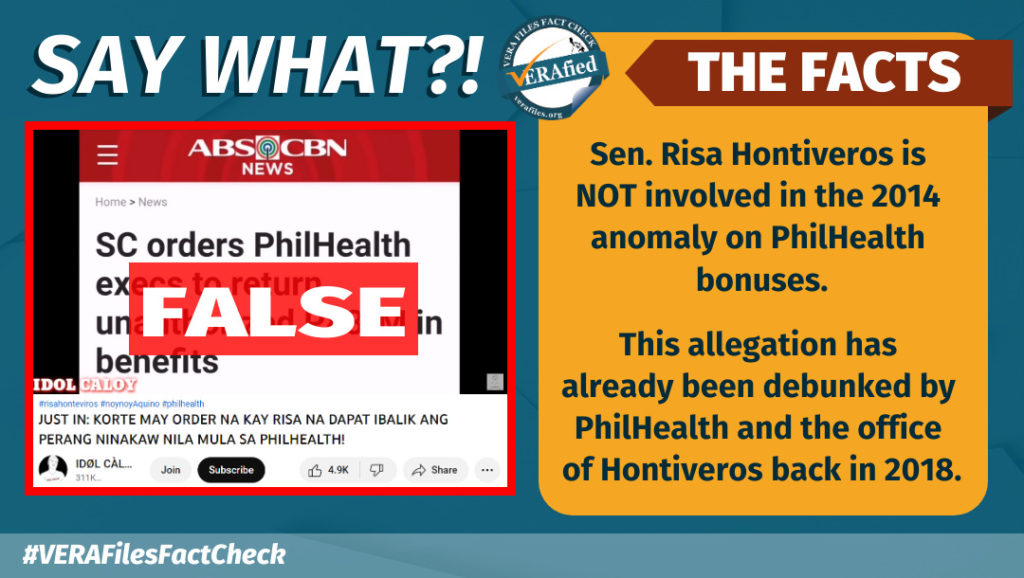 In a 2018 email to VERA Files Fact Check, PhilHealth corporate communications manager Rey Baleña said Hontiveros was not among the officials named in the COA decisions.
"Former Board Member and now Senator Risa Hontiveros is not included in the subject Notice of Disallowance (ND)," he said.
The office of Hontiveros also debunked this in another 2018 email: 
"Senator Risa Hontiveros is not party to the case wherein the COA has ordered the officials of PhilHealth to return P163.85 million in alleged unauthorized bonuses and allowances. The said bonuses were approved before Sen. Hontiveros' term as member of PhilHealth's board." 
The video continues to spread this week as President Ferdinand Marcos ordered PhilHealth to suspend the scheduled increase in membership contributions this year due to the economic challenges brought by the COVID-19 pandemic.
YouTube channel IDØL CÀLØY (created on Feb. 23, 2019) published the video with the erroneous claim, garnering over 6,000 interactions and 160,000 views. It was also shared by Facebook pages IDOL CALOY official (March 8, 2021), its counterpart page, and Duterte News Info (Sept. 13, 2021).
Have you seen any dubious claims, photos, memes, or online posts that you want us to verify? Fill out this reader request form or send it to 'VERA, the truth bot' on Viber.
(Editor's Note: VERA Files has partnered with Facebook to fight the spread of disinformation. Find out more about this partnership and our methodology.)