(UPDATED) Four Facebook pages posted links to impostor CNN Philippines webpages allegedly advertising a drug for diabetes that normalizes blood sugar levels within 10 minutes.
"We have looked into this, and we are in no way connected to the medicine brand which supposedly cures diabetes," Lara Tan, CNN Philippines' digital executive producer, told VERA Files Fact Check via email.
There is no cure for diabetes, according to the U.S. Centers for Disease Control and Prevention (CDC) and the U.S. National Institutes of Health. It can be managed, however, through proper diet, exercise, and monitoring of blood sugar. 
The fake articles are promoting a drug called Glucosoft, which could allegedly treat diabetes, but this does not appear in the Food and Drug Administration's list of certified drugs, nor is it in the Monthly Index of Medical Specialities drug database. 
Rappler has previously debunked this claim.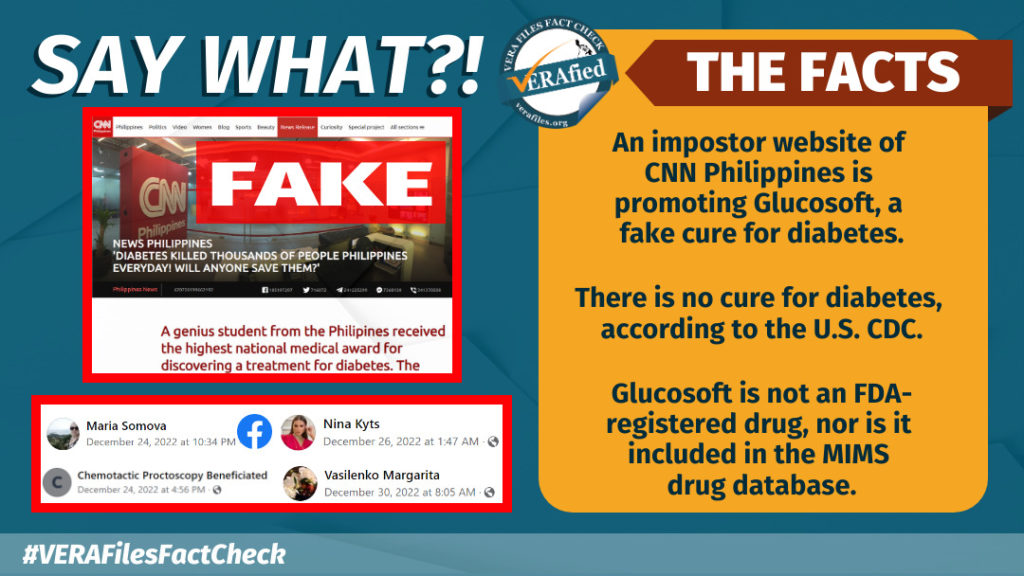 The impostor news pages – which urged netizens to order Glucosoft through a form –  used the weblinks emilyczbanks.space, josephgpdcain.shop, and cynthiapedavis.space. CNN Philippines' official website is cnnphilippines.com.
The bogus website was made to look like former senatorial candidate and doctor Minguita Padilla talked about the bogus product at length during a CNN Philippines interview. This is also not true. 
Padilla guested in an Oct. 19, 2021 episode of CNN Philippines' The Final Word, where she only talked about what made her run for the Senate and her plans to address corruption.
From Dec. 24 to 26, Facebook pages Maria Somova (created on Oct. 22, 2022), Chemotactic Proctoscopy (July 8, 2020), Vasilenko Margarita (Nov. 13, 2022), and Nina Kyts (Nov. 25, 2022) posted the links to the bogus sites.
The four posts, which appeared during the holiday season, got a total of 16,000 interactions.
(UPDATE: On Jan. 18, VERA Files Fact Check flagged a similar version of this claim published by the website cynthiapedavis.space. Instead of Glucosoft, the product it promoted was called GlucoPRO, which is also not FDA-approved and is not a cure for diabetes.)
Have you seen any dubious claims, photos, memes, or online posts that you want us to verify? Fill out this reader request form or send it to 'VERA, the truth bot' on Viber.
(Editor's Note: VERA Files has partnered with Facebook to fight the spread of disinformation. Find out more about this partnership and our methodology.)