Websites imitating ABS-CBN News posted a story on a diabetes remedy supposedly endorsed by former National Task Force against COVID-19 special adviser Tony Leachon. The article is fabricated. 
The fake story was posted by the sites hlthshop.club and pilippro.shop that imitate the layout of the official ABS-CBN News website. It circulated on Facebook (FB) as early as March 5. 
The article carried a supposed interview of Leachon where he discouraged the use of metformin-based diabetes drugs and instead endorsed a product called Glucoactive. It claims Glucoactive is a "natural anti-diabetic remedy" that contains "all the vitamins, macro-and microelements essential to fight type 2 diabetes." 
There is currently no cure for diabetes but it can be managed, according to the U.S. Centers for Disease Control and Prevention and the U.S. National Institutes of Health.
Glucoactive is not a registered food nor drug product with the Food and Drug Administration.
(Read related story: Bogus CNN PH pages being used to promote FAKE diabetes cure)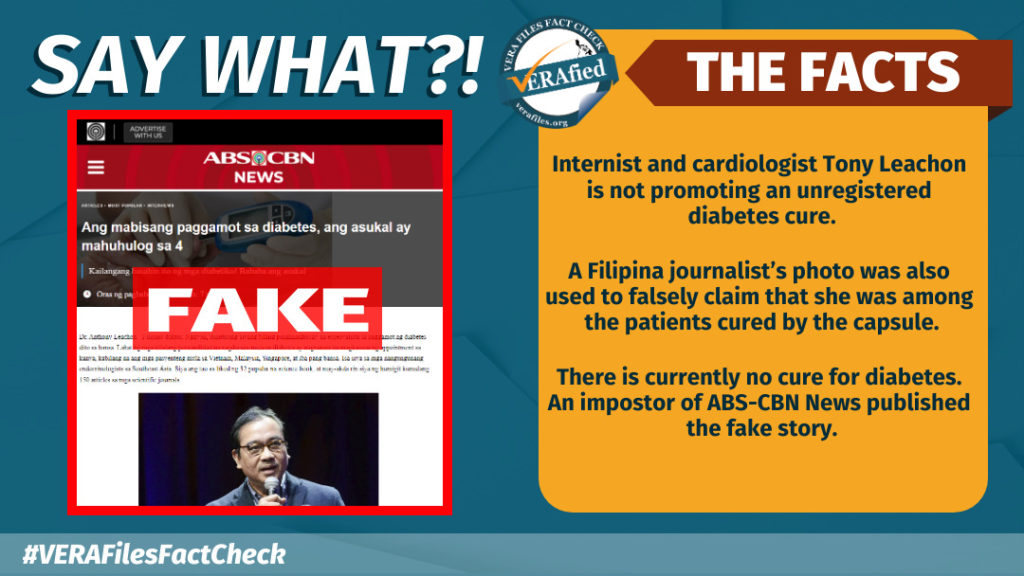 Fabricated interview
In recent FB posts addressing similar fake ads, Leachon said he does not endorse any products or supplements, and urged the public to only rely on his official social media channels. 
In an April 17 Viber message to VERA Files, Leachon confirmed that the circulating article is yet another post that uses his name to disinform netizens.
"I have been the subject of many fake news and misinformation. Several media organizations are helping me combat the massive proliferation of these fraudulent marketing ads to deceive the public and take advantage of their lack of awareness," Leachon said.
Fake testimony
A patient's testimony in the report is also fabricated. The photo shows journalist and The SUN-Hong Kong editor Daisy Mandap, not a Filipina senior citizen who "took" Glucoactive capsules "endorsed by Leachon" that "cured" her diabetes. 
Mandap, who is neither a diabetes patient nor 67 years old, denounced in a private FB post the circulating article and said the photo was taken from an unrelated 2017 South China Morning Post article. 
The "Philippine Diabetes Research Laboratory, Inc" mentioned in the article also does not exist. 
The bogus website promised netizens discounts and asked them to provide their personal information to avail of the product.
This scam format of fake interviews and testimonies has been used by bad actors since 2021 to promote fake health products, only changing the names of the website, doctor and patient in each iteration.
This is the fifth scam that posed as a news organization to promote medicines debunked by VERA Files Fact Check this year. (Read Another 'ANC' impostor site peddles cure for hypertension, clogged blood vessels)
Have you seen any dubious claims, photos, memes, or online posts that you want us to verify? Fill out this reader request form or send it to 'VERA, the truth bot' on Viber.
(Editor's Note: VERA Files has partnered with Facebook to fight the spread of disinformation. Find out more about this partnership and our methodology.)