A Facebook (FB) page is circulating a fraudulent advertisement about a milk product that allegedly treats gout within a week and reduces uric acid levels after using it for a month.  
FB page Golden Gout + posted about Golden Gout Colostrum on Oct. 14, and claimed the product was the "number one solution to gout problems" in the United States, Canada, United Kingdom, and France. The "FDA" seal of approval flashed throughout the accompanying video.
There is no cure for gout, a type of inflammatory arthritis, according to the U.S. Centers for Disease Control and Prevention. However, it can be managed and treated by taking anti-inflammatory medicine, avoiding alcohol and foods high in purine, and doing physical activity.
Golden Gout Colostrum is not on the Food and Drug Administration's (FDA) list of registered food and drug products.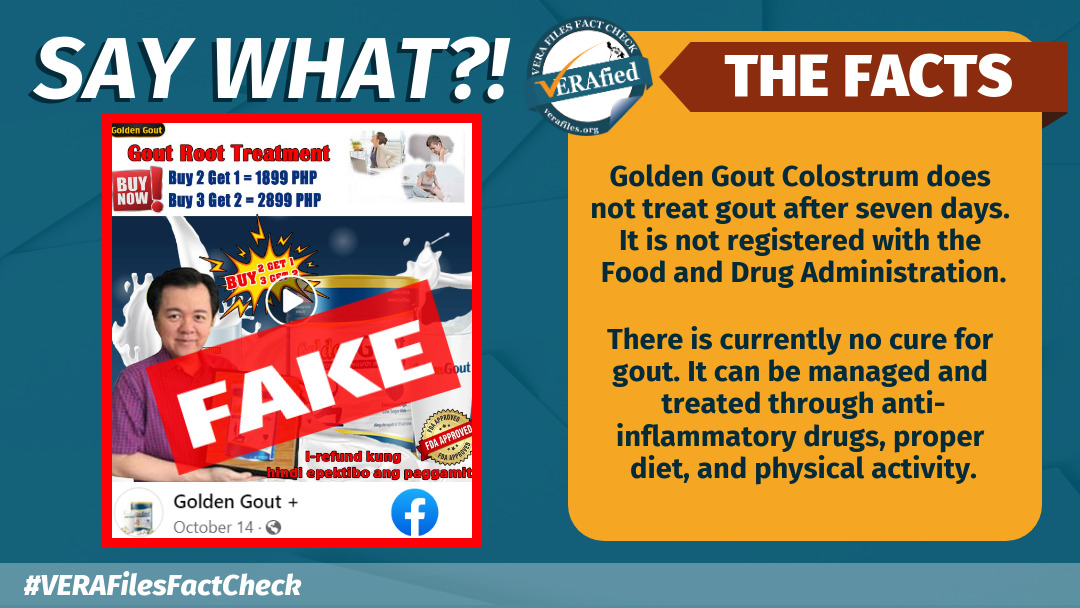 The introduction to the fake ad used part of a May 23 Med Talk episode by CNN Philippines on gout. Its thumbnail used a photo of cardiologist Willie Ong to make it look like he endorsed the product. 
To further add legitimacy to the post, a promoter in the ad claimed that the "Department of Food Safety" and the "Department of Nutrition and Health Protection" licensed the product. 
There are no such agencies in the Philippines. It is the FDA which certifies food and drug products.
The fake ad received 12,000 reactions, 2,500 comments, and 2.2 million views. It appeared eight days after Willie Ong and his wife, general practitioner Liza Ramoso-Ong, published a vlog outlining which foods should be eaten and avoided by people with gout.
Rappler has previously debunked a version of the fake ad. 
Golden Gout + (created on Jan. 10, 2020) was originally created under the Vietnamese name Chill mỗi ngày (Chill every day), according to its page transparency details.
Have you seen any dubious claims, photos, memes, or online posts that you want us to verify? Fill out this reader request form or send it to 'VERA, the truth bot' on Viber.
(Editor's Note: VERA Files has partnered with Facebook to fight the spread of disinformation. Find out more about this partnership and our methodology.)