The untrue claim that the late president Ferdinand Marcos obtained "the highest score ever in the history of Philippine bar exams" was revived a day after the Supreme Court (SC) announced the 2022 Bar Examination passers.
Infographics posted on three Facebook (FB) pages and a Twitter account erroneously stated this:
"UP Diliman student, Ferdinand Marcos took the 1939 bar exam and his unofficial grade was almost 98%. This was the highest score ever in history of Philippine bar exams (sic) at that time so he was apparently called to appear before the Supreme Court for an oral re-examination after which his official grade was released as 92.35%." 
Retired Justice Florence D. Regalado, who got a grade of 96.7% in 1954, "still holds the highest score in the Philippine Bar Examinations," the SC's Office of the Bar Confidant told VERA Files Fact Check in 2021.
VERA Files Fact Check and Agence France-Presse previously debunked this claim.
(Read: Post revives FALSE claim ex-president Marcos scored 98.01% in bar exams and ​​Video with FALSE pro-Marcos claims revived)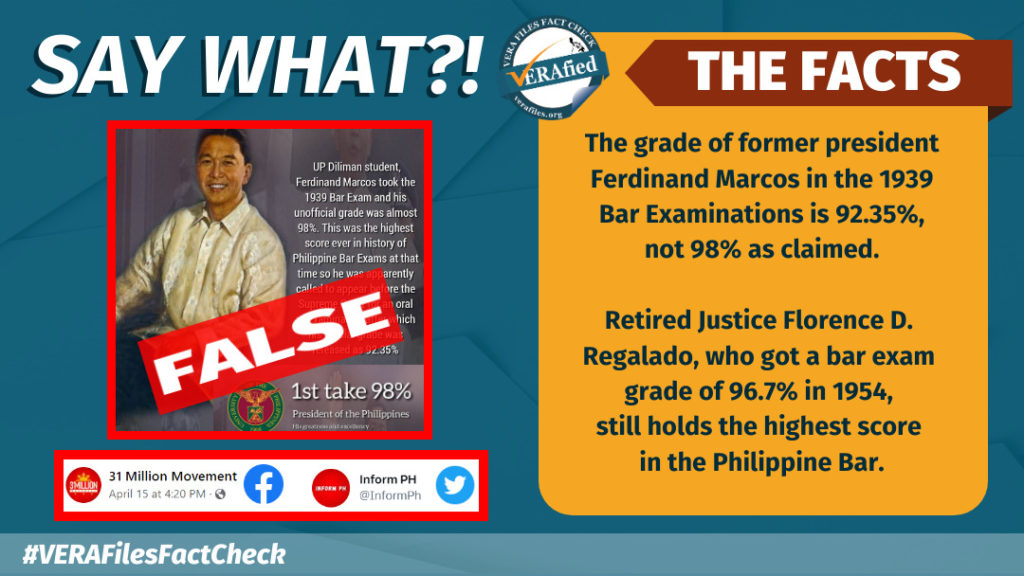 Marcos, who topped the 1939 bar exams, only got a grade of 92.35%, according to old news reports by the Philippine Collegian and the now-defunct newspaper, The Philippines Herald. 
The unsupported claim that he was called in for an "oral re-examination" came from the first version of the 1964 Marcos-commissioned autobiography For Every Tear A Victory by Hartzell Spence, according to Miguel Paolo Reyes, a researcher for the Marcos Regime Research Group at the University of the Philippines' Third World Studies Center.
Facebook pages PBBM Daily Updates (created on Jan. 10, 2023), 31 Million Movement (created in May 15, 2022), a Facebook user, and Twitter account Inform PH (created in October 2021) shared the infographic containing these claims. 
Their posts collectively got 465,433 interactions.
Have you seen any dubious claims, photos, memes, or online posts that you want us to verify? Fill out this reader request form or send it to 'VERA, the truth bot' on Viber.
(Editor's Note: VERA Files has partnered with Facebook to fight the spread of disinformation. Find out more about this partnership and our methodology.)