A 2018 graphic featuring a non-verbatim quote from former defense secretary Juan Ponce Enrile on the existence of oligarchy in the country pre-Martial Law was revived by a Facebook (FB) page last month. This needs context.
FB page Pres. Ferdinand Emmanual E. Marcos posted on July 11 a quote card that read: "They the Oligarch controls [sic] everything. They control the economy, the agriculture, the Communication (including the media, the newspapers, and the radio), the Meralco, the industrialization of the country and many facets of industry."
Enrile made this remark during a Sept. 20, 2018 one-on-one interview with former senator Ferdinand "Bongbong" Marcos, Jr. The interview did not tackle the situation during Martial Law.
When Marcos Sr declared Martial Law on Sept. 23, 1972, his government seized control of multiple news publications and public utilities such as electricity, telephone, water, railway, and air transport companies.
At the time, the Lopez Family owned sugarcane plantations, newspapers, television network ABS-CBN, and the Manila Electric Company (Meralco). The Lopezes were forced to relinquish control of ABS-CBN and Meralco after Marcos imprisoned their heir, Eugenio Lopez Jr.
But martial rule ushered in a new system called crony capitalism involving friends and relatives of Ferdinand and Imelda Marcos who managed to acquire wealth and economic power through favors and privileges from the government.
A 1997 documentary called Batas Militar said Marcos' cronies got exclusive government deals and business ventures in the areas of infrastructure, agriculture, car distribution and media, among others.
The FB page, in its caption, misleadingly attributed Enrile's statement on oligarchs to Bongbong Marcos, whose photo was used in the graphic.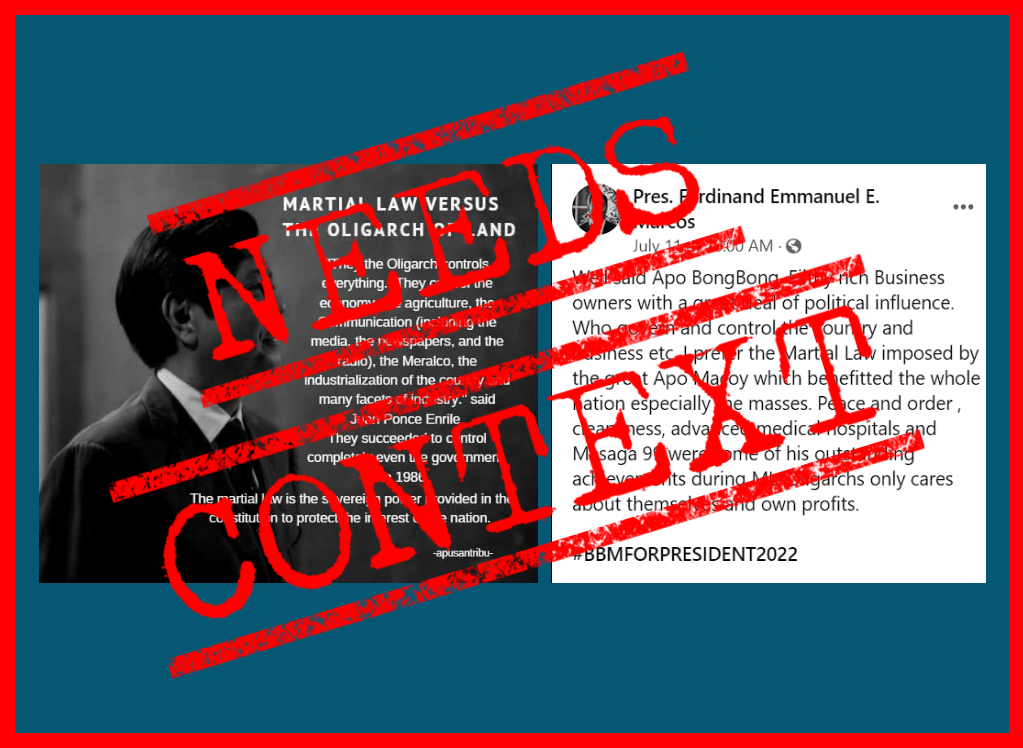 The graphic also featured this quote: "The martial law is the sovereign power provided in the constitution to protect the interest of the nation."
Neither Bongbong Marcos nor Enrile had said this. No such statement figured in official public records or social media accounts, nor were there media reports attributing the quote to them.

A mix of cursory search and reverse image search revealed the graphic was first posted by FB pages Sovereign Filipino and Bagong Lipunan on Sept. 21, 2018, garnering nearly 3,800 FB interactions.
Pres. Ferdinand Emmanuel E. Marcos' FB post garnered 11,000 reactions, 375 comments, and 1,400 shares. It emerged two days after Sen. Imee Marcos said in a July 9 CNN Philippines interview that Bongbong Marcos will run for the 2022 elections, but he has yet to decide on what position.
FB page Sovereign Filipino, originally named SANG-AYON, was created in March 2018; Pres. Ferdinand Emmanuel E. Marcos in May 2012, and Bagong Lipunan in December 2014.
(Editor's Note: VERA Files has partnered with Facebook to fight the spread of disinformation. Find out more about this partnership and our methodology.)