Posts claiming presidential aspirant Ferdinand "Bongbong" Marcos, Jr., in his six years as senator authored only one bill that became law, are misleading.
The earliest post that made the rounds on Facebook (FB) was published by a netizen on Sept. 24. It carried a photo of Marcos from his early years, as well as the caption:
Bongbong Marcos was a senator from 2010 to 2016 and he authored a grand total of: one bill
16th Congress Senate Bill No. 1186 POSTPONEMENT OF THE SANGGUNIANG KABATAAN ELECTIONS
Filed on July 30, 2013.
So why should he be president again?
The user later edited the text to say "one passed law" instead of "one bill." The revision also included a clarification stating Marcos "authored 52 bills" but SB No. 1186 "was the only one to go into law as a republic act," citing a February 2015 Rappler article as its source.
But several netizens, including page R E S I B O, already took a screenshot of the post's original caption before it was revised. This was later published as a separate FB post.
Another version published by page Ang Kapal Na Nga, Ang Kupal Pa used a screenshot of a netizen's comment carrying the same text as the caption above, accompanied with a meme from American television show Big Bang Theory that says "It's funny because it's true."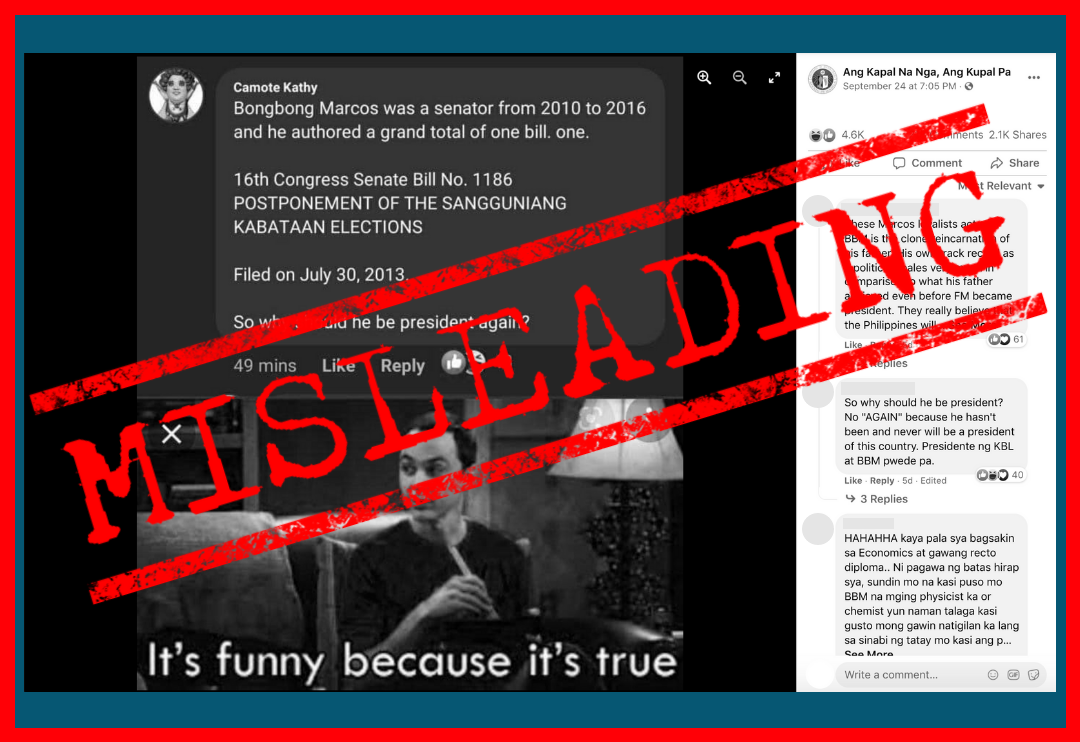 Marcos served in the Senate from 2010 to 2016, covering both the 15th and 16th Congress. In his first three years, he was listed as an author of 49 Senate bills and a co-author of two.
Six of the bills he authored and one he co-authored were passed into law.
During the second half of his term, he authored 70 bills and co-authored one. Of this number, eight were enacted, including SB No. 1186 which became Republic Act No. 10632, or the Postponement of the Sangguniang Kabataan Elections. The seven others were:
The inaccurate FB posts emerged the same day Marcos was endorsed by the Kilusang Bagong Lipunan — a party founded by his father and late dictator Ferdinand Marcos — as its presidential bet in the 2022 polls.
The netizen's post got almost 8,000 engagements from social media users. Page Ang Kapal Na Nga, Ang Kupal Pa's post, on the other hand, has almost 7,000 interactions, while R E S I B O's post got over 1,300 engagements from netizens.
Ang Kapal Na Nga, Ang Kupal Pa and R E S I B O were created in January 2014 and June 2020, respectively.
(Editor's Note: VERA Files has partnered with Facebook to fight the spread of disinformation. Find out more about this partnership and our methodology.)
Have you seen any dubious claims, photos, memes, or online posts that you want us to verify? Send us a message here or here.