President Rodrigo Duterte has not announced a name change for the Ninoy Aquino International Airport (NAIA), contrary to the headline of a circulating YouTube video. VERA Files Fact Check has debunked similar claims last February and March, and in September 2018.
The Aug. 1 video posted by YouTube channel PH BREAKING NEWS had this incorrect title, made to look like it was breaking news: "KAKAPASOK LANG (Just in): BREAKING! GOODNEWS PRES DUTERTE PAPALITAN ANG PANGALAN NG NAIA AIRPORT AQUINO IYAK (to replace the name of NAIA Airport, Aquino cries)."
It spuriously used in its thumbnail a screengrab of Kris Aquino reacting to an earthquake in April 2019, and was made to look like she was crying. Aquino is the youngest daughter of the late Sen. Benigno "Ninoy" Aquino Jr., who was assassinated at the tarmac of the then Manila International Airport in 1983 on his return from self-exile in the United States.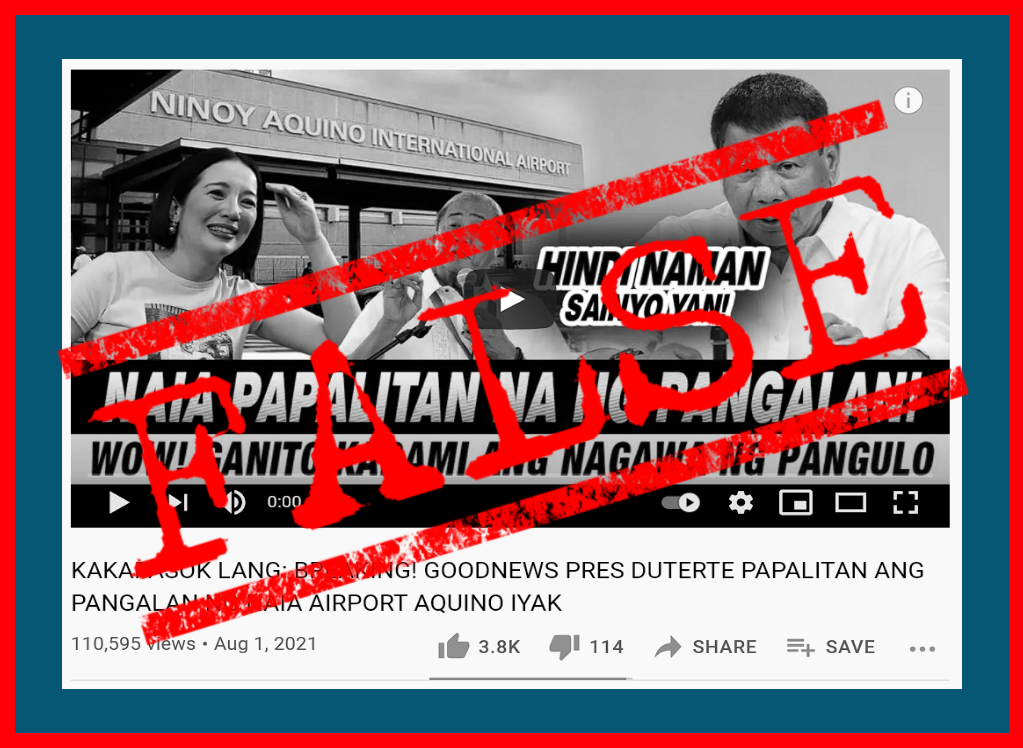 The channel's content, a 9-minute clip from Duterte's 95-minute Talk to the People address on July 28, only showed Transportation Secretary Arthur Tugade enumerating the administration's transportation projects.
Duterte did not propose to rename NAIA during the meeting, and neither has he done so in recent speeches. Tugade also made no such suggestion.
Either a presidential proclamation or a law passed by Congress is needed to change the public airport's name. A bill filed in 2020 at the House of Representatives proposing to rename NAIA as Pandaigdigang Paliparan ng Pilipinas (International Airport of the Philippines) remains pending at the committee level.
The erroneous YouTube video garnered over 122,000 views, emerging the same day as masses were held nationwide to commemorate the 40th day since the death of the late President Benigno "Noynoy" Aquino III, the only son of Ninoy.
PH BREAKING NEWS, which has previously published disinformation, was created in July 2013.
(Editor's Note: VERA Files has partnered with Facebook to fight the spread of disinformation. Find out more about this partnership and our methodology.)