A website article claims President-elect Ferdinand "Bongbong" Marcos Jr. will revert the name of the Ninoy Aquino International Airport (NAIA) to Manila International Airport (MIA).
On June 12, an article made the rounds online with the spurious headline: "Papalitan Na? Pres. Marcos papalitan na ang NAIA to MIA, Atty. Gadon ilibas (sic) na ang mga Ebedensiya (sic) (Will it be changed? President Marcos to rename NAIA to MIA, Atty. Gadon has evidence)."
Embedded in the article is an 11-minute YouTube video that included so-called "evidence" from Atty. Larry Gadon and bore the untrue title: "JUST IN: GOODNEWS! PRES MARCOS PAPALITAN ang NAIA to MIA? Atty.GADON may EBDENSYA (sic) PINKLAWAN IYAK (President Marcos to change NAIA to MIA? Atty. Gadon has evidence; [Supporters of Vice President Leni Robredo] CRY)"
There has been no official statement from the incoming administration of Marcos on renaming the country's main international gateway. Neither has there been any recent news report from a legitimate media organization on the alleged name change of the airport.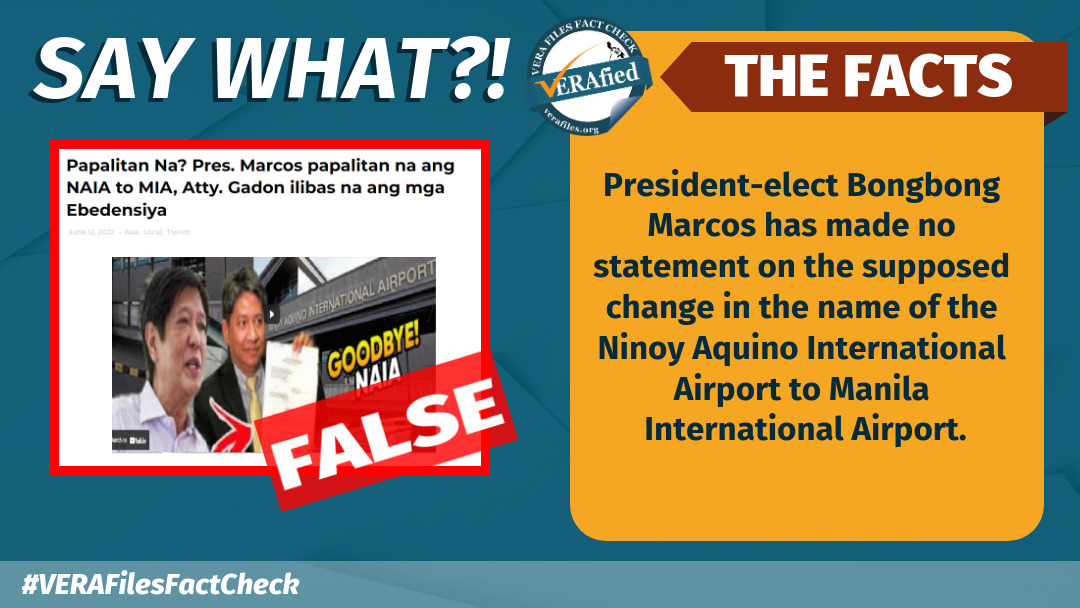 The proof touted by the video was from a June 2020 DZAR interview of Gadon, where the controversial lawyer said he was glad Congress was taking action to rename the international airport. He previously submitted a petition seeking to nullify Republic Act No. 6639, enacted in 1987, to rename MIA to NAIA. In September of the same year, the Supreme Court unanimously junked the petition for "lack of merit."
Gadon was referring to House Bill (HB) No. 7031 seeking to rename NAIA to Paliparang Pandaigdig ng Pilipinas, which was filed by three lawmakers, including presidential son Davao City 1st District Representative Paolo Duterte. Just last April, the Duterte Youth Partylist filed HB 10833, which sought to change the airport's name back to MIA.
Both bills remained pending at the committee level when the 18th Congress adjourned sine die this month.
VERA Files Fact Check debunked a similar erroneous claim on renaming the airport last year. (Read VERA FILES FACT CHECK: NAIA NOT being renamed Manila Int'l Airport)
Shortly before the false article appeared this month, the Department of Transportation announced that ride-hailing app Grab Philippines will provide free shuttle rides to passengers arriving at NAIA Terminals 2 and 3 starting on June 15.
The article was published on the website Balitang Pinaz and has garnered more than 4,930 reactions, 1,760 comments, and 120 shares, according to social media monitoring tool CrowdTangle. The video, uploaded by the YouTube channel BANAT NEWS TV, received more than 248,000 views. Its top traffic generators are Facebook pages Duterte Loyal Supporters (created on Sept. 20, 2016), Tatay Digong – Official (Sept. 21, 2016), and Philippines CCTV & DASH CAM Spotted (Sept. 10, 2016).
Have you seen any dubious claims, photos, memes, or online posts that you want us to verify? Fill out this reader request form.
(Editor's Note: VERA Files has partnered with Facebook to fight the spread of disinformation. Find out more about this partnership and our methodology.)