Another Facebook (FB) video is falsely claiming that President Ferdinand "Bongbong" Marcos confirmed the renaming of Ninoy Aquino International Airport (NAIA) back to Manila International Airport (MIA). 
Posted on Sept. 17, the video carried the caption: "Just In : Sawakas Goodnews Kumpirmad0 Na Pres Marcos Naia To Mia Atty Gadon Pirmado Na Aquino Iyak." (Just In: Finally Good News It's Confirmed Pres Marcos Naia To Mia Atty Gadon Already Signed Aquino Cry.)
The accompanying narration said the news of reverting the international gateway to its original name shocked Liberal Party fanatics.
It is false. There are no reports of Marcos confirming or signing anything to rename NAIA to MIA. In a Sept.13 interview, the president stressed that renaming the airport is not among his priorities. 
"I have no strong feelings about it. I mean if people want to rename the airport and if you get public support for it, then yes, go ahead. If not, then no," he said.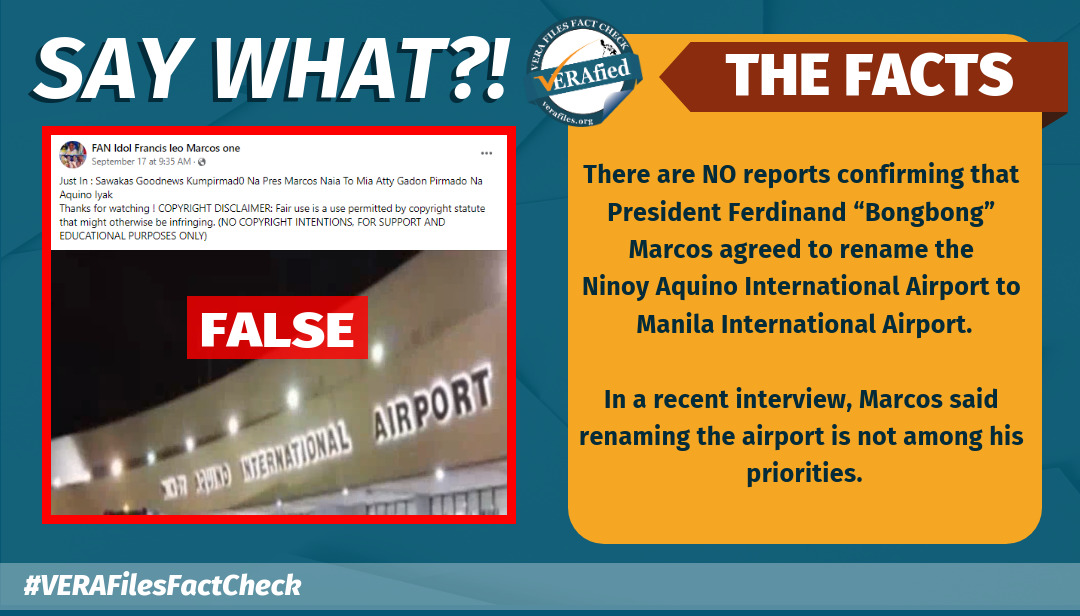 The video only discussed a six-year-old Change.org petition for the name change, which now has 150,714 signatories.
In 2020, the Supreme Court dismissed the petition of lawyer Larry Gadon to nullify the law that renamed MIA to NAIA for lack of merit.
Duterte Youth Partylist Rep. Drixie Cardema refiled the bill in August 2022 pushing for the name change, but this remains pending with the Committee on Transportation. 
VERA Files has fact-checked false claims about renaming NAIA to MIA numerous times. This year alone, VERA Files has released three fact-checks regarding the issue. (Read: VERA FILES FACT CHECK: NAIA has NOT been renamed Manila Int'l Airport) (Read: VERA FILES FACT CHECK: Gadon has NOT succeeded in petition to rename NAIA) (Read VERA FILES FACT CHECK: NAIA will NOT be renamed Manila Int'l Airport again)
The videos were posted by previously fact-checked pages FAN Idol Francis leo Marcos one (created on May 21, 2020) and Love Idol (June 12, 2020 as Love RAFY Idol). FB page Philippines New (Nov. 28, 2019 as Meow Meow) also posted the same content. The videos collectively garnered 12,142 views, 1237 reactions, 253 comments and 118 shares.
YouTuber Showbiz News Update TV (Mar. 22, 2022) also uploaded the video, reaching 12,637 views.
Have you seen any dubious claims, photos, memes, or online posts that you want us to verify? Fill out this reader request form.
(Editor's Note: VERA Files has partnered with Facebook to fight the spread of disinformation. Find out more about this partnership and our methodology.)