Two days after Vice President and Education Secretary Sara Duterte delivered the Basic Education Report (BER) 2023 on Jan. 30, a YouTube video falsely claimed that she, along with President Ferdinand "Bongbong" Marcos, abolished the K to 12 education system. 
The 8-minute and 35-second video posted on Feb. 1,  carried the headline: 
"KAKAPASOK LANG GRABE! PBBM at VPSARA NILUSOB ang DEPED, K-12 PROGRAM ni PNOY OFFICIAL ng TINANGGAL (JUST IN EXTREME! PBBM and VPSARA BARGED into DEPED, PNOY'S K-12 PROGRAM OFFICIALLY REMOVED)?!" 
The thumbnail also featured photos of Marcos, made to look like he was holding a document, and Duterte juxtaposed with images of late former president Benigno "Noynoy" Aquino III who signed the program into law in 2013 and former vice president Leni Robredo. It also showed a file photo of the facade of the Department of Education (DepEd) building. 
The thumbnail bore the text: 
"SAWAKAS! TANGGAL NA K-12 PROGRAM BIGLAANG UTOS NG PALASYO (FINALLY! NOW REMOVED K-12 PROGRAM. SUDDEN ORDER FROM THE PALACE) CONFIRMED! GOODBYE K-12!."
This is not true. Duterte announced during the presentation of the BER 2023 that the DepEd will revise the K to 12 program, not abolish it. 
"We will revise the K to 12 Curriculum to make them more responsive to our aspiration as a nation, to develop lifelong learners who are imbued with 21st-century skills, discipline, and patriotism," she said. This part was left out in the false video.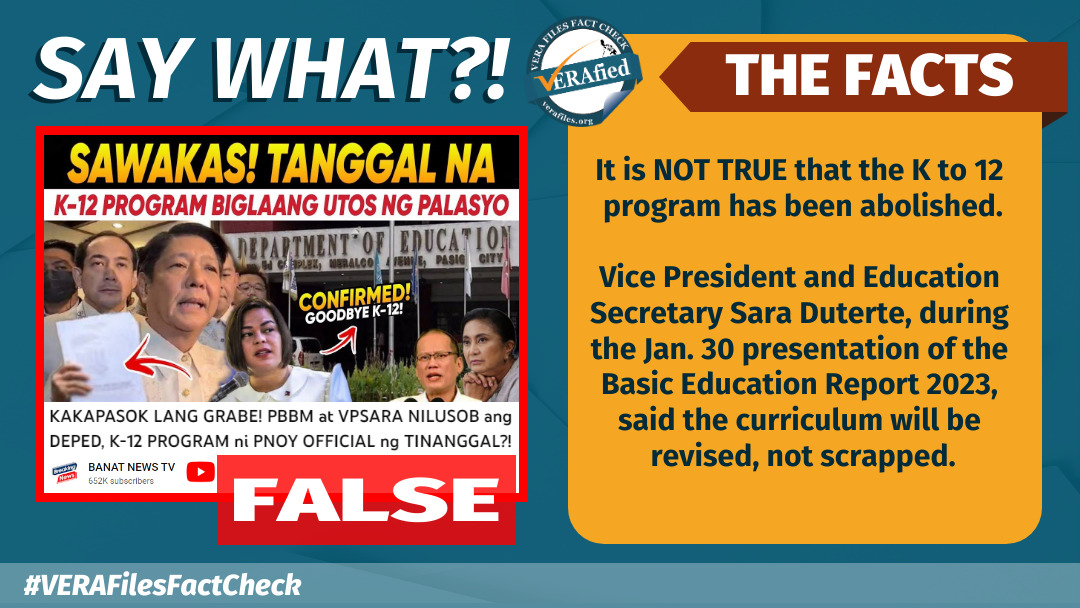 At the 2:59-minute mark, the video only flashed the portion where Duterte talked about the findings of the ongoing K to 12 curriculum review, the importance of upscaling teachers and addressing the literacy issue among others. This clip was shown with the text "GOODNEWS! K-12 PROGRAM TUTULDUKAN NA! PRES BBM at VPSARA UMAKSYON NA (K-12 PROGRAM WILL BE OVER. PRES BBM and VPSARA ALREADY TOOK ACTION)!" 
The video began with audio clips from a Jan. 31 Bombo Radyo Philippines news report about Marcos leading a groundbreaking ceremony under his housing program in Quezon City and commending the DepEd's work related to the BER 2023. There was no mention of scrapping the K to 12 curriculum.
Aside from presenting accomplishments as well as problems faced by the education sector when she unveiled the BER 2023, Duterte also launched the MATATAG agenda that aims to: 
"MAke the curriculum relevant to produce competent, job-ready, active and responsible citizens." 

"TAke steps to accelerate the delivery of basic education services and provision of facilities." 

"TAke good care of learners by promoting learner well-being, inclusive education, and a positive learning environment."

"Give support to teachers to teach better."
The video posted by YouTube channel BANAT NEWS TV (created on Dec. 26, 2015) has 30,549 views as of writing. Netizens also reposted the link on Facebook. 
Other inaccurate information on the K to 12 program has also been fact-checked by VERA Files. (Read related story VERA FILES FACT CHECK: Posts FALSELY claim Tulfo abolished K to 12 program)
Have you seen any dubious claims, photos, memes, or online posts that you want us to verify? Fill out this reader request form.
(Editor's Note: VERA Files has partnered with Facebook to fight the spread of disinformation. Find out more about this partnership and our methodology.)