A video uploaded on YouTube and reposted in part by a Facebook page claimed that U.S. president Joe Biden discussed the so-called Marcos wealth, including gold, when he met with President Ferdinand Marcos Jr. on the sidelines of  the 77th United Nations General Assembly (UNGA).
The incorrect video that appeared after the two leaders' bilateral meeting last Sept. 22, carried this headline:
"MARCOS WEALTH ANG KATOTOHANAN! utang ng AMERICA sa ginto ni MARCOS MABABAYARAN NA? (Marcos wealth: the truth! America's debt on Marcos gold to be paid?),  was posted on Sept. 23 by YouTube channel Foodie Neth (created on March 24, 2020) and reposted by FB page ADF 2.0 (created on November 20, 2020). 
The late dictator Ferdinand Marcos Sr was found to have stashed away hundreds of millions of dollars and other investments in Switzerland and the United States during his presidency. A claim in the video that America has to pay debts to Marcos in the form of gold kept in the US Federal Reserve System is erroneous.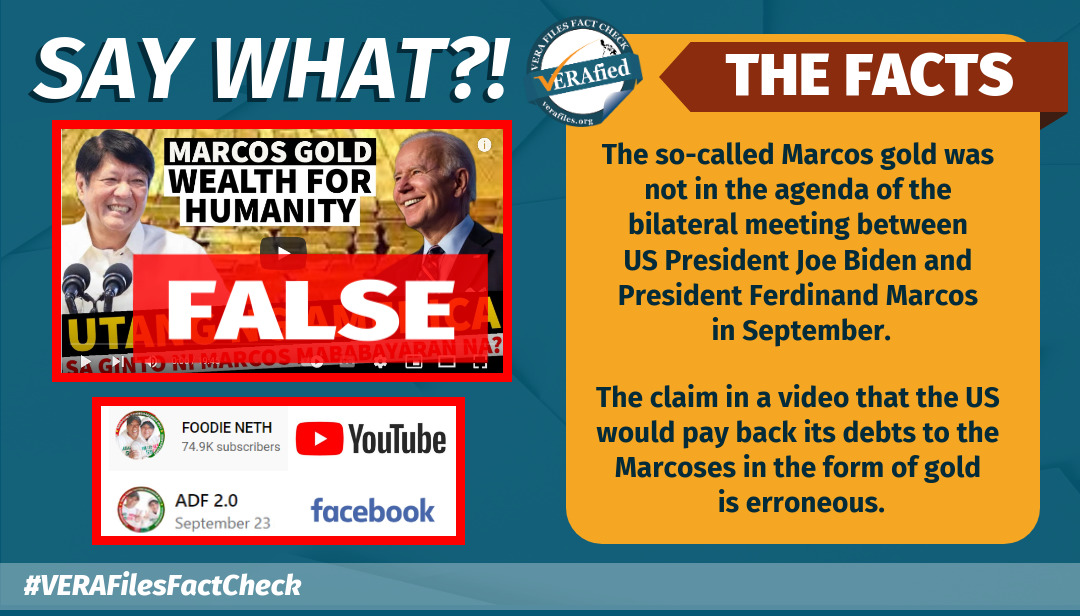 The so-called Marcos wealth was not part of the agenda when Biden and Marcos Jr. met up in New York last month. Instead, the two leaders talked about the importance of the U.S – Philippine alliance and developments in the South China Sea.
They also covered the possible bilateral cooperation in energy security, climate action, and infrastructure. Both parties also discussed Russia's war against Ukraine, the crisis in Myanmar, and the importance of human rights.
Another false claim that has been debunked was that Marcos Jr was the only leader who had an audience with the US president. "Tanging si Pangulong Ferdinand Marcos Jr. lang ang pinayagang makatagpo ng pinuno ng Amerika… (Only President Ferdinand Marcos Jr. was allowed to meet the U.S. president," the video's voice-over claimed.

VERA Files Fact Check and other media have reported that Biden also met with other world leaders during the UNGA, specifically the leaders of Britain, France, South Korea, Japan, as well as the U.N. Secretary-General António Guterres.
YouTube channel Foodie Neth's video got a total of 1,555 interactions, while FB page ADF 2.0's video garnered over 85,480 interactions.
Have you seen any dubious claims, photos, memes, or online posts that you want us to verify? Fill out this reader request form.
(Editor's Note: VERA Files has partnered with Facebook to fight the spread of disinformation. Find out more about this partnership and our methodology.)