A video falsely claims that the Senate served a subpoena to President Ferdinand "Bongbong" Marcos over a controversial order to import sugar. It also erroneously claimed that the Senate was plotting to imprison him.
In a Sept. 8 video by YouTube channel Boss Balita TV about "news kept secret by Vice President Sara Duterte," a narrator said: 
"Nakakagulat…Biglaang pagkakasubpoena sa pangulo matapos niyang makabalik sa Palasyo ikinagulat…Plano siyang ikulong ng Senado!"

(Shocking…sudden subpoena received by the president after returning to the Palace shocking…the Senate plans to imprison him!) 
It appeared two days after the Senate blue ribbon committee held a hearing on Sept. 6 on the botched Sugar Order No. 4 to import 300,000 metric tons of sugar.
The four-minute video is wrong. No subpoena was issued to request Marcos' presence.
Senators wanted to compel Executive Secretary Vic Rodriguez to appear at the hearing to answer questions about the order, signed by suspended Agriculture undersecretary Leocadio Sebastian on behalf of the president.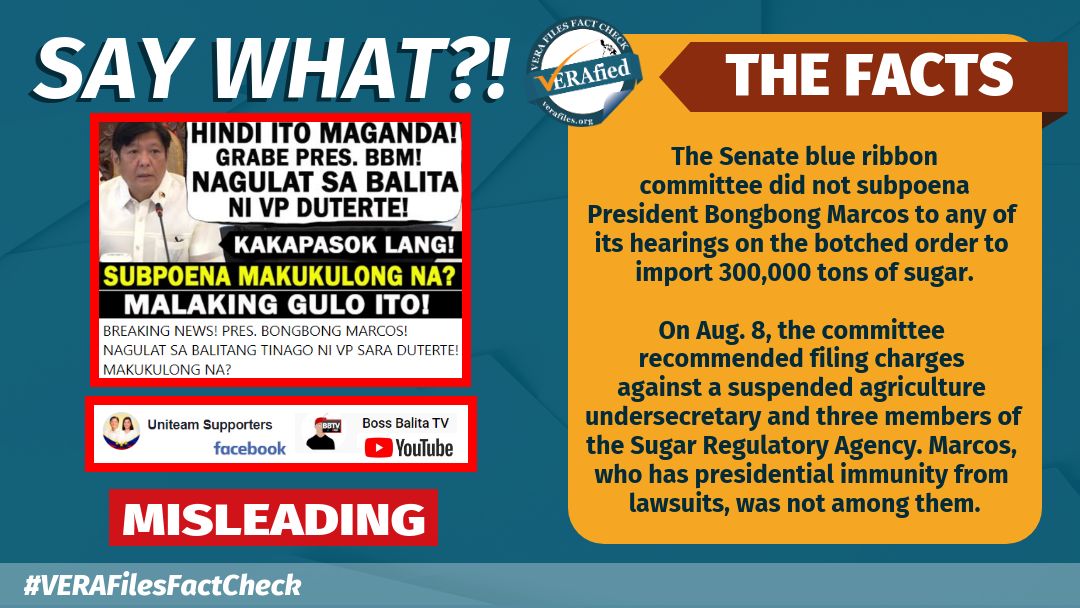 Prior to this, Rodriguez snubbed two Senate blue ribbon hearings, citing orders from Marcos to do so.
Additionally, the video's narrator falsely claimed that the Senate wanted to have the president arrested. On Sept. 8, the Senate blue ribbon committee recommended filing cases against Sebastian, former SRA Administrator Hermenegildo Serafica, and former SRA board members Roland Beltran and Aurelio Gerardo Valderrama Jr.
The Supreme Court has ruled that presidents of the Philippines enjoy presidential immunity against lawsuits. 
As support for its wrong claims, the four-minute video used footage from the Sept. 6 Senate hearing, which showed Rodriguez denying Serafica's claim about Marcos suggesting to import 600,000 metric tons of sugar. It also used a clip of Senate President Juan Miguel "Migz" Zubiri questioning why Serafica only mentioned this claim after three hearings. 
Boss Balita TV (created on July 15, 2021) posted the video on YouTube, which got over 122,500 views. Facebook page Uniteam Supporters (created on May 19, 2022) reuploaded the misleading video on Sept. 9, which garnered over 192,590 interactions.
Have you seen any dubious claims, photos, memes, or online posts that you want us to verify? Fill out this reader request form.
(Editor's Note: VERA Files has partnered with Facebook to fight the spread of disinformation. Find out more about this partnership and our methodology.)