A Facebook (FB) Reel falsely claimed that President Ferdinand Marcos claimed interest from the World Bank. 
The erroneous FB reel used Manila Bulletin's video of Marcos ringing the New York Stock Exchange (NYSE) closing bell on Sept. 19 (Sept. 20 Philippine time). It appeared three days after Marcos met with World Bank officials in New York. 
Captioned "BBM at World Bank," the video carried text that read: "Pres. BBM nag-wdraw ng interest sa world bank (President Marcos withdraws interest from the World Bank). 
It is false. The World Bank is not a commercial bank that accepts deposits, which earn interest based on a deposit interest rate that an individual or entity can withdraw. There is also no connection between the NYSE and the World Bank.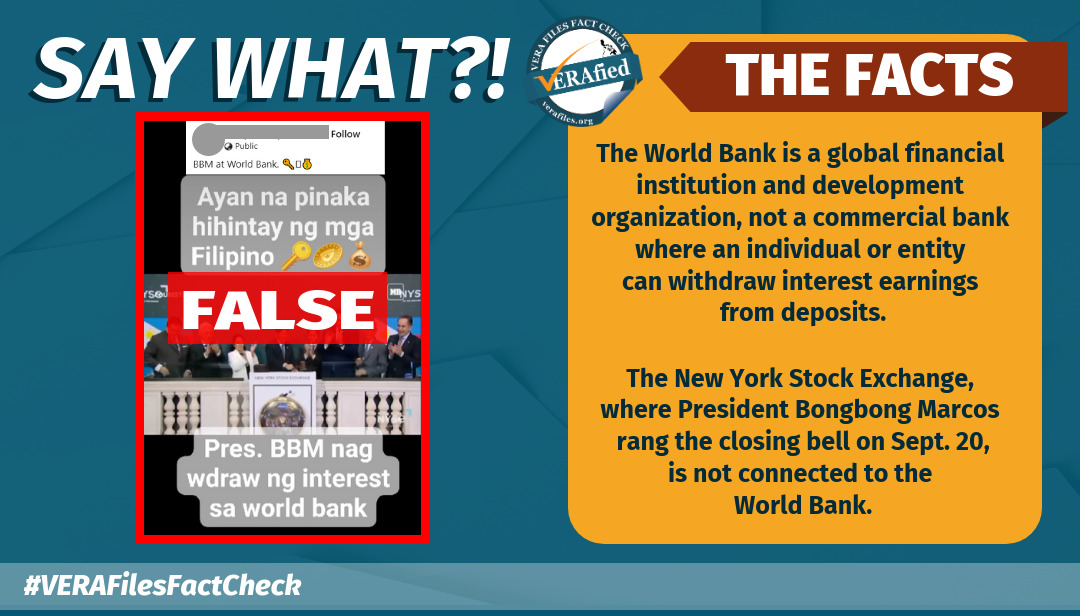 World Bank
Founded in July 1944 as a result of the Bretton Woods Conference, the World Bank is a financial institution, the primary purpose of which is to support economic development by providing loans for development projects in low-income and middle-income countries. 
The World Bank charges and sets an interest rate when a member country makes a direct loan. The bank grants low-interest rates for middle-income countries, while it does not charge interest on top of the loan for poor and developing countries, stated an explainer. 
New York Stock Exchange 
The New York Stock Exchange (NYSE) traces its origins to the May 17, 1792, Buttonwood Agreement. It is not among the five institutions that comprise the World Bank group. 
Corporations regularly ring the NYSE Bell to signify the opening and closing of trading in the NYSE. Leaders of Ukraine, Columbia, Japan, and Vietnam also rang the NYSE bell this 2022.
The incorrect FB video got 86,600 reactions, 125 comments, and 14,000 shares. In the comments section, some netizens called it "fake news."
Have you seen any dubious claims, photos, memes, or online posts that you want us to verify? Fill out this reader request form.
(Editor's Note: VERA Files has partnered with Facebook to fight the spread of disinformation. Find out more about this partnership and our methodology.)