A graphic announcing the National Police Commission (Napolcom) entrance examination and online registration dates for police recruits is making the rounds on Facebook (FB). It is false. 
The post appeared on an FB page on Oct. 9, claiming the Philippine National Police Entrance Examination (PNPE) will be on Nov. 26, and online registration is from Oct. 6 to 26. 
The post bearing the logo of Napolcom also carried the caption: "LOOK: NAPOLCOM ENTRANCE EXAM is now Ongoing!"
The false post also contains links to an online shopping website and to the Napolcom Online Information System (NORIS) official registration website. 
Napolcom has yet to release an official announcement for the examination and online registration dates for its entrance and promotional exams. 
Napolcom advises the public to only refer to their official website, main FB page, and regional offices' official pages regarding announcements.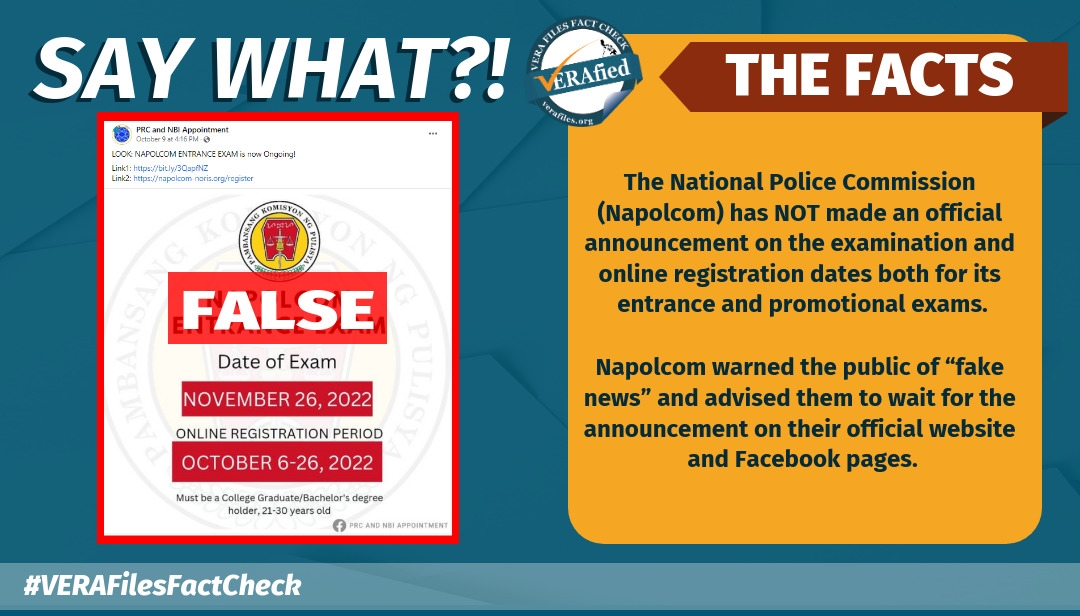 In a phone interview on Oct. 11, an official from Napolcom's Public Information Division, Personnel and Administrative Service also told VERA Files they were awaiting final approval from the Department of Information and Communications Technology (DICT) of their new registration system.
"We have not come up with an official announcement as to the examination date – the entrance and the promotional exam. In fact, our head of agency right now is proposing clearance to the DICT because we have a new system [NORIS] in place and we already tested it. However, the integrity of our system must be checked by the proper authority which is the DICT. Without the clearance of DICT, we cannot proceed with the examination," the official said. 
The official admitted that they inadvertently issued a guideline last week that contained a date "that should've not been written," and has since been taken down. It also took down an Oct. 11 announcement posted on their website.
Several FB pages have shared the unofficial dates, with some adding links to reviewers on online shopping sites. Napolcom previously posted an advisory that the commission "has not accredited any review center to conduct review classes nor published examination materials for the PNP Entrance and Promotional Examination." 
Several netizens have gone to the registration site to register even without the official announcement.
The post by the newly created FB page PRC and NBI Appointment (created Oct. 9, 2022) has garnered 2,300 reactions, 4,800 comments and 14,000 shares. Another page, Napolcom Examination Update (Oct. 10, 2022) reposted the graphic.
Have you seen any dubious claims, photos, memes, or online posts that you want us to verify? Fill out this reader request form.
Editor's Note: VERA Files has partnered with Facebook to fight the spread of disinformation. Find out more about this partnership and our methodology.)