Three statements on policies allegedly adopted during the administration of the late president Corazon Aquino are part of a video circulating online. 
Originally posted on May 13 by YouTube channel KAPATID AVINDZ, reuploaded by a TikTok user, and reposted by Facebook (FB) page Mr. Realtaker two days later, the video claimed that:
The practice of contractualization was approved during the Aquino administration; 

Reserved Officers' Training Corps (ROTC) was made voluntary during her term; and 

The Bataan Nuclear Power Plant (BNPP) was not allowed to operate during her administration to prevent losses for Meralco and maintain the Cojuanco's control over the energy sector.
Not true. Former president Ferdinand Marcos Sr. signed a presidential order allowing labor contractualization. ROTC was made mandatory in 1991 during Aquino's term, and it became optional under a law signed by former president Gloria Arroyo in January 2002. Health and safety concerns were cited as reasons why the BNPP never became operational.
These claims were previously debunked by VERA Files Fact Check and Rappler.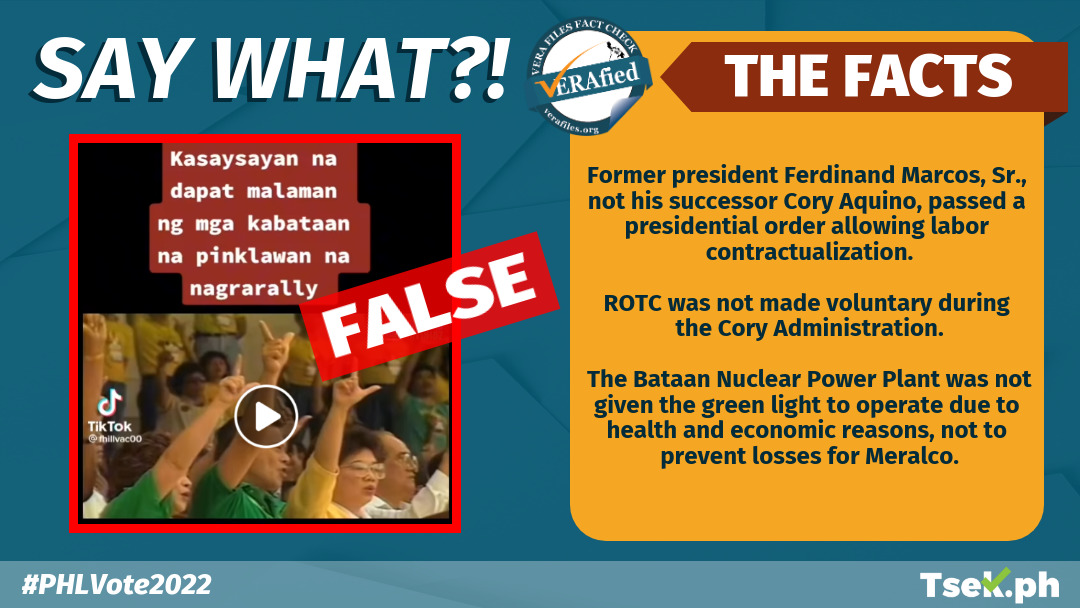 On contractualization 
Contractualization should be attributed to Marcos, not Aquino. The late dictator signed Presidential Decree No. 442 in 1974, which allowed businesses to employ contractual workers via contractor or subtractor companies as stated in Article 106 of the decree. 
Although Republic Act No. 6715 was signed into law in 1989 during the Aquino administration to amend the Labor Code, it did not mention anything about contractualization nor did it amend P.D. 442's provisions on the matter. 
On ROTC
Contrary to the video's claim, Republic Act No. 9163 of 2002 made ROTC voluntary for all college students. This became law after the death of University of Santo Tomas student Mark Welson Chua exposed corruption in his university's ROTC program.
Republic Act No. 7077 became effective in 1991. Article VII, Section 39 of this law made two years of basic ROTC military training mandatory for all college students designated as enlisted military reservists, while another two years of advanced, voluntary ROTC was made available for officer reservists.
On the BNPP 
Former president Aquino issued Executive Order No. 55 in 1986 to mothball the BNPP for reasons of "safety and economy" and not because of the Cojuangcos' alleged desire to keep a hold on the energy industry. 
At the time, the BNPP was declared unsafe due to its poor build quality and its site location near Mount Natib in Bataan, was deemed hazardous. 
Aquino also issued an executive order to pay off $1.2 billion of unpaid debt used to finance the power plant's construction. The debt was only fully paid in 2007.
[READ: VERA FILES FACT SHEET: A sleeping power giant, Bataan Nuclear Power Plant explained] 
Presumptive president Ferdinand "Bongbong" Marcos Jr. vowed to speed up the adoption of nuclear power should he become chief executive, according to an Agence France-Presse article published before the elections and carried by foreign media organizations.
KAPITAN AVINDZ' erroneous video received over 156,000 views, while the TikTok video got over 2.2 million views and the FB video got a total of more than 310,700 interactions.
KAPITAN AVINDZ was created on May 1, 2019, Mr. Realtaker on Nov. 7, 2021.
Have you seen any dubious claims, photos, memes, or online posts that you want us to verify? Fill out this reader request form.
(Editor's Note: VERA Files has partnered with Facebook to fight the spread of disinformation. Find out more about this partnership and our methodology.)