A Facebook (FB) post praising former President Ferdinand Marcos for creating a law that instituted the 13th month pay, while taking a swipe at his successor, Corazon Aquino, for "passing the law on the contractualization of workers," is peddling inaccurate information.
It was Marcos' Presidential Decree No. 442, the Labor Code of the Philippines, that introduced the practice of labor contractualization, through the provisions on contracting and subcontracting in Articles 106 to 109.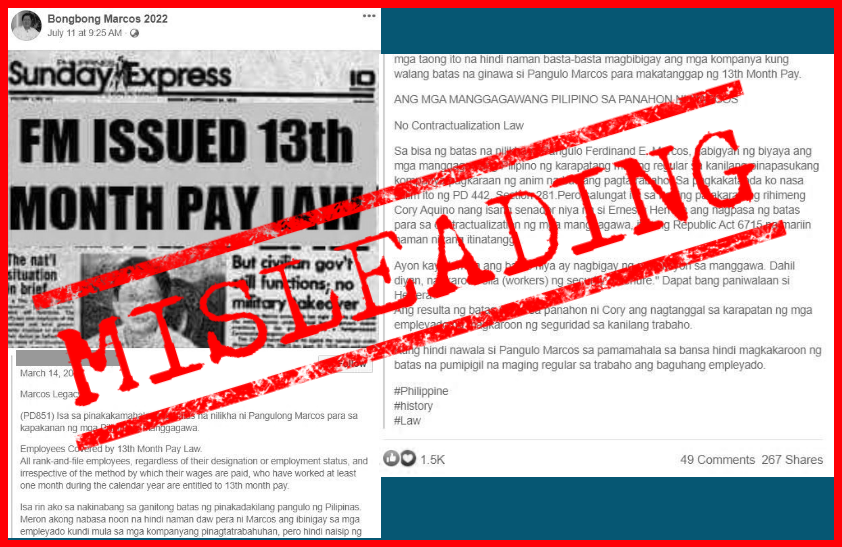 This allowed the termination of services of a worker engaged in probationary employment for a just cause or "when he fails to qualify as a regular employee" in accordance with the employer's standards, before the end of the six-month period.
A similar claim has been debunked in the past. (See VERA FILES FACT CHECK: Marcos, not Cory, signed 'endo' law)
It was the Aquino-era Republic Act No. 6715, which made the first amendments to the Labor Code, which the post misleadingly referred to as the "contractualization law."
It was not the measure that introduced the now-exploited practice in the private sector, although it has received criticism for not touching on Articles 106 to 109 in PD 442.
The circulating misleading post was published by a netizen as early as March 2017. FB users began recycling the three-year-old post near the end of June, when Sen. Imee Marcos urged the Labor department to look into alleged labor violations in call centers during the COVID-19 pandemic.
The old post, which has received over 700 interactions, continues to be shared. One such revival was made by the page Bongbong Marcos 2022 on July 11, which has gotten over 1,200 reactions.
A reverse image search also shows that the post's accompanying image of a Philippine Daily Express newspaper was manipulated. Its original copy can be traced to a Wikimedia Commons image: it was the newspaper's Sept. 24, 1972 issue in which the headline read, "FM Declares Martial Law." It was edited to read: "FM issued 13th month pay law."
Bongbong Marcos 2022 was created on Jan. 21, 2014. Its name was changed on Sept. 20, 2017 from Bongbong Marcos 2016.
(Editor's Note: VERA Files has partnered with Facebook to fight the spread of disinformation. Find out more about this partnership and our methodology.)