A vlogger on Facebook used a YouTube video that falsely claimed that the late dictator Ferdinand Marcos Sr. promised to give away his wealth to the Filipino people. 
Official legal documents prove otherwise. Marcos' last will and testaments dated 1982 and 1988 show that the former president only entrusted his wealth to his immediate family and not to his countrymen, according to the University of the Philippines' Third World Studies Center (UP TWSC).
In the erroneous video originally posted July 20 by YouTube channel Sa Iyong Araw, the voice- over narrator quoted businesswoman and Marcos loyalist Serafia "Cherry" Cobarrubias' claim that "on his deathbed, former president Marcos mentioned that 3% of his wealth would go to his family while the remaining 97% would go to the Filipino people." Cobarrubias made this false claim during a May 17 episode of The Rita Gadi Show.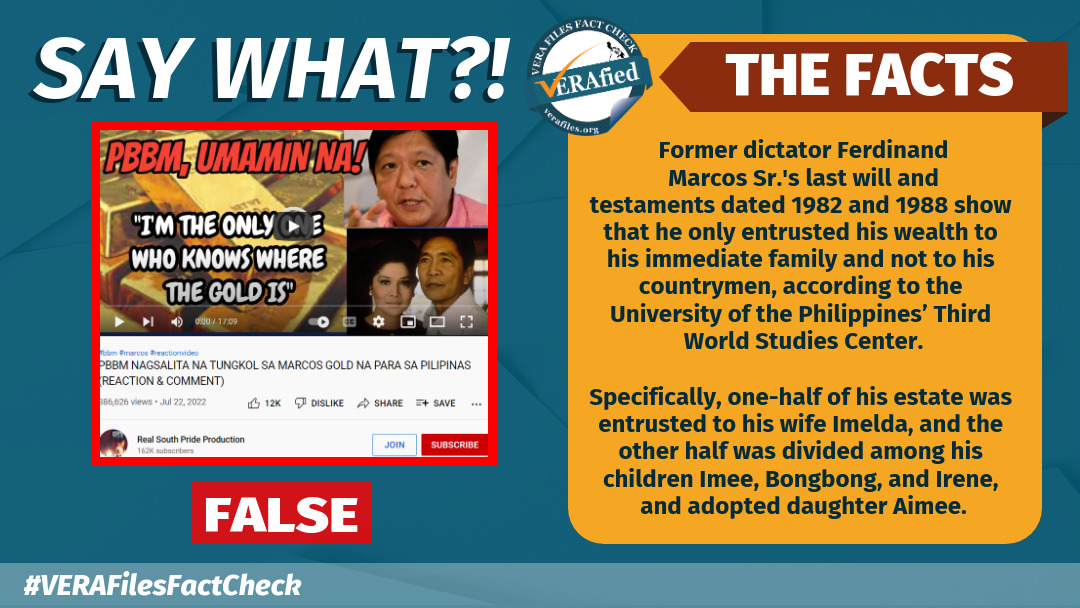 Marcos' 1988 last will and testament shows that he explicitly entrusted one-half of his estate to his wife Imelda Marcos, and the other half to his children Imee, Bongbong, Irene, and adopted daughter Aimee. It also named Mrs. Marcos and Bongbong as guardians, trustees, and executors of all of his properties. 
An earlier version of the former president's last will and testament dated March 1982, of which the Presidential Commission on Good Governance has a full copy, contained details of the wealth given entirely to his wife and children, according to the UP TWSC.
The 1982 will also contained a provision revoking any other wills Marcos signed, executed, or published. This effectively withdrew any possible wills of Marcos to distribute his wealth to the Filipino people prior to 1982, the UP TWSC added.
YouTube channel Sa Iyong Araw (created on April 2, 2021) posted the original false video on July 20, getting over 264,400 views. It was used by the vlogger behind another YouTube channel Real South Pride Production (created on March 16, 2015) which had 386,600 views. 
Facebook group Duterte Info Update (created on June 16, 2022)  reuploaded the Real South Pride Production video on July 24, garnering a total of over 116,600 interactions. All three videos appeared around the time other pro-Marcos vloggers posted videos about Marcos gold.
Have you seen any dubious claims, photos, memes, or online posts that you want us to verify? Fill out this reader request form.
(Editor's Note: VERA Files has partnered with Facebook to fight the spread of disinformation. Find out more about this partnership and our methodology.)