A blog link shared on Facebook (FB) insinuated that Kabataan Partylist Rep. Raoul Manuel was jailed after President Ferdinand Marcos Jr. took action. This is false. 
On Oct. 10, multiple FB pages and groups reposted a blog link with the headline: "JUST IN: KULONG NA! PRES MARCOS UMAKSYON AGAD! BOYING REMULLA IKULONG SI RAOUL MANUEL! QUIBOLOY NA (JAILED! PRES MARCOS TOOK ACTION RIGHT AWAY! BOYING REMULLA JAIL RAOUL MANUEL! QUIBOLOY NA)!"
The blog link also contained a graphic quoting Justice Secretary Jesus Crispin Remulla saying that Manuel will soon be put to jail and a text supporting the supposed detention.
Also embedded in the 21-minute YouTube video were clips from SMNI News Channel. 
The first clip showed Pastor Apollo Quiboloy pushing for Manuel to be charged and jailed for "slandering" and "accusing" Marcos Jr. of "killing journalist Percy Lapid."
It also used a video of National Youth Commission Chair Ronald Cardema's interview where he denied Manuel's corruption allegations against the commission. (Read: VERA FILES FACT CHECK: Cardema falsely claims no disallowances were issued to NYC). He also red-tagged Kabataan Partylist for allegedly recruiting youths to the New People's Army and expressed support for the proposed mandatory Reserve Officers' Training Corps program. 
The video showed no evidence of Manuel being jailed. There are also no official reports about Marcos Jr. or Remulla taking action or filing a case to put Manuel behind bars.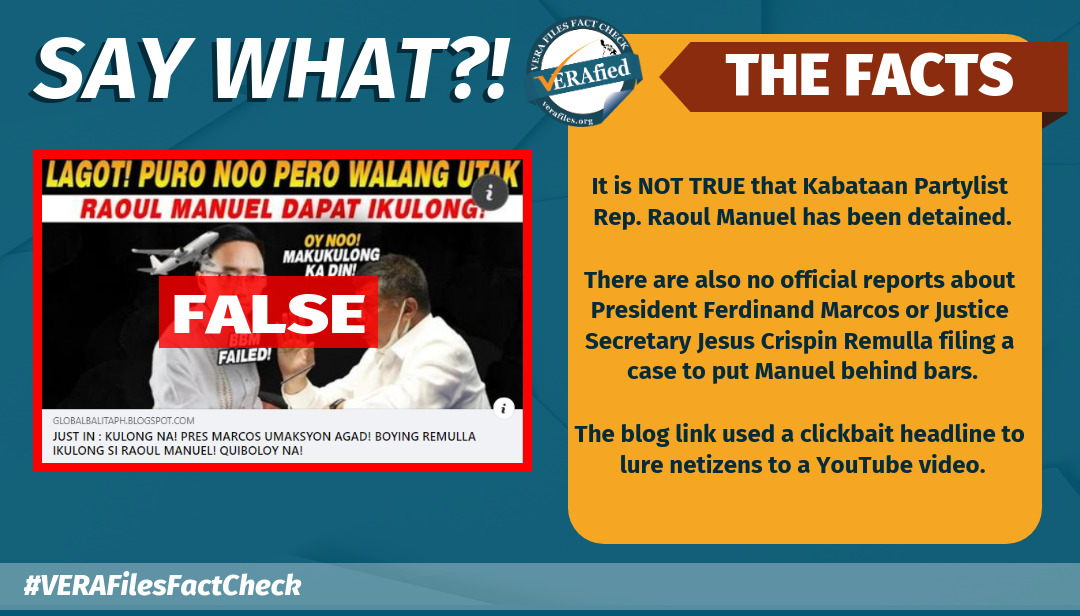 There is no record of any arrest warrant issued against Manuel. He is actively participating in many activities as seen from his posts on his official social media accounts as of Oct. 11.
While there is no official statement from Marcos Jr., Chief Presidential Legal Counsel Juan Ponce Enrile, in an Oct. 8 talk show, said he will file a case against Manuel if the president tells him to do so. This after Manuel, in a protest, condemned the killing of Lapid and another journalist under the current administration. He said Marcos Jr. is no different from Ferdinand Marcos Sr. "who kills journalists and critical Filipinos."
The blog links were shared a week after Lapid was shot dead in his vehicle in Las Piñas City. The National Capital Region Police Office is currently investigating the slay case. 
Twenty FB pages, including Rodante Marcoleta Solid Supporters (created on April 30, 2021) and previously fact-checked Bbm-Sara Uniteam Official 2022 (created on Jan. 14, 2022) shared the blog link by Global Balita PH. It has also reached 26 FB groups including previously fact-checked Mike Defensor For Senator Movement (created on August 6, 2020 as Mike Defensor Supporters) and The Big 5 Supporters – Marcoleta, Defensor, Barzaga, Remulla & Bautista (created on June 28, 2020).
The FB posts have garnered 4,148 total interactions, according to the social media monitoring tool CrowdTangle. The embedded YouTube video by BULGAR BALITA TV (created on Jul 18, 2013) has also reached 27,000 views. 
Have you seen any dubious claims, photos, memes, or online posts that you want us to verify? Fill out this reader request form.
(Editor's Note: VERA Files has partnered with Facebook to fight the spread of disinformation. Find out more about this partnership and our methodology.)