A Facebook (FB) page has falsely claimed that a new banknote with a 150 face value featuring the face of Dr. Jose Rizal will be issued.
On May 30, the page published a collage of peso bills and a coin. Aside from a fake note with Rizal's face, the post included a P500 bill with a tarsier, a P5,000 note featuring Lapu-Lapu's face and a P100 coin. It also bore the caption: "[M]ay mga bagong mukha na naman ang pera ng Pilipinas" (Philippine money has new faces again).
In a 2012 press statement, the Bangko Sentral ng Pilipinas (BSP) said images of a P150 banknote is "fictitious." It further said the bank "has never issued nor is planning to issue such type of a banknote."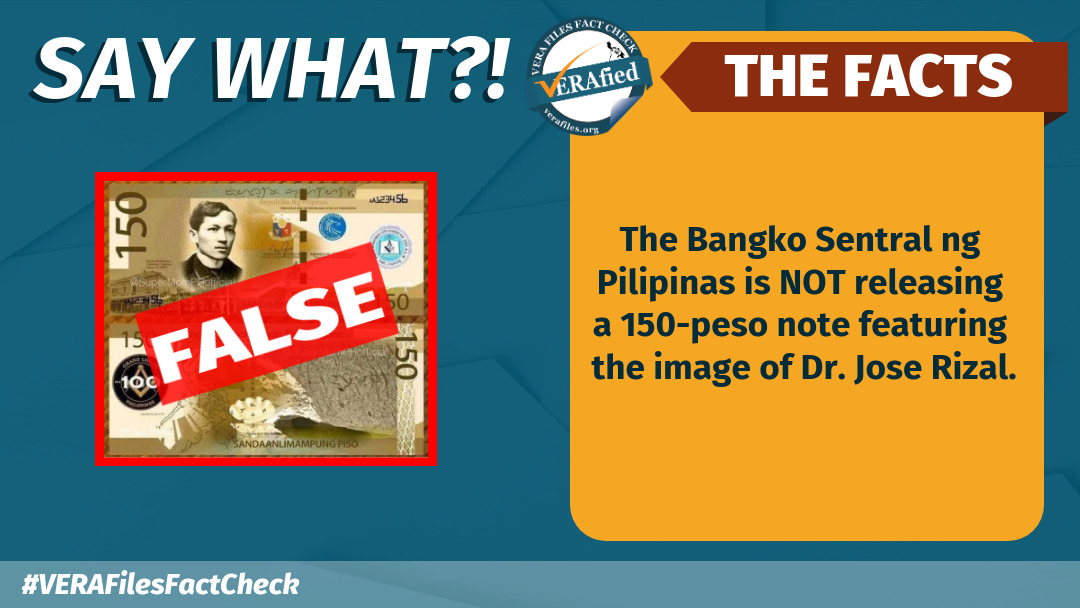 A 2011 Malaya Business Insight column mentioned a proposal submitted to the BSP governor for a P150 bill carrying the portrait of Rizal "to promote the 150th birth anniversary of the Philippine national hero." A couple of 2011 Baybayin.com articles featured design proposals for the banknote. In 2012, the BSP released a commemorative coin instead to celebrate Rizal's sesquicentennial birth anniversary.
According to a bank officer of BSP's Currency Analysis and Issuance Group, the P500 bill with a tarsier's image is fake. (Read VERA FILES FACT CHECK: This P500 banknote design featuring a tarsier is FAKE)
The P5000 note bearing Lapu-Lapu's face is real and was unveiled by the BSP last year to commemorate the 500th anniversary of the victory in the Battle of Mactan. 
Likewise, the P100 coin is a commemorative currency released in 2016, celebrating the 100th anniversary of the founding of PhilTrust bank, one of the oldest banks in the Philippines.
Both commemorative currencies are non-circulating legal tender.
The BSP website has a section featuring its new generation currency series. 
The post with fabricated images of Philippine banknotes appeared after the BSP announced the issuance of polymer banknotes in limited quantities to banks in the following weeks. The BSP expects 500 million pieces of polymer banknotes circulating alongside P1000 paper banknotes by 2023.
The FB page SuperMom (created on June 1, 2019) posted the fabricated images and has garnered more than 8,300 reactions, 980 comments, and 4,400 shares.
Have you seen any dubious claims, photos, memes, or online posts that you want us to verify? Fill out this reader request form.
(Editor's Note: VERA Files has partnered with Facebook to fight the spread of disinformation. Find out more about this partnership and our methodology.)