A Facebook (FB) video rehashed an old news story about a case filed against former President Benigno "Noynoy" Aquino III and six others based on a fake document. 
Graft and plunder charges were filed in the Office of the Ombudsman on Jan. 7, 2017 against Aquino, former Interior Secretary Mar Roxas, Senator Franklin Drilon, Senator Leila De Lima and three officials of the Bangko Sentral ng Pilipinas (BSP).
The charges were filed based on a "BSP Circular No. 49 of 2014" that allegedly allowed the Aquino administration to deposit and ship 3,500 metric tons of gold to the Bank of Thailand.
As reported in multiple news articles, BSP Assistant Governor and General Counsel Elmore Capule called the alleged BSP circular "spurious" because: 
There was no BSP Circular No. 49 issued in 2014, but there was in 1994, which referred to a different subject matter; 

Republic Acts No. 7655 and 7735 cited in the fake circular were about increasing the minimum wage of housekeepers and the creation of a high school in Davao City, respectively;
The subject matter, about producing US Dollar currency notes, is also out of BSP's jurisdiction. 
VERA Files Fact Check has previously debunked this incorrect claim.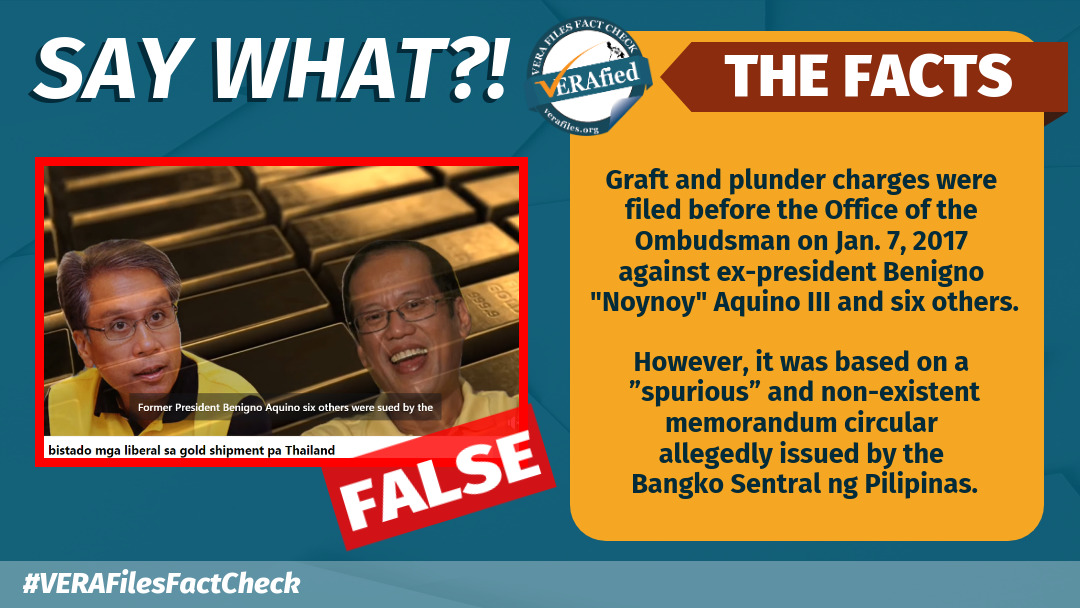 The fabricated BSP circular was first posted by a Facebook user on June 11, 2016, but was unable to provide any proof that would authenticate the documents. 
Posted on May 26 by FB page Showbizdiariestv (created on April 8, 2021), the false video got over 1,900 reactions, 365 comments, 1,000 shares, and 46,000 views.
Have you seen any dubious claims, photos, memes, or online posts that you want us to verify? Fill out this reader request form.
(Editor's Note: VERA Files has partnered with Facebook to fight the spread of disinformation. Find out more about this partnership and our methodology.)