A video of a building demolition in Saudi Arabia was posted on Tiktok and passed off as part of the devastation caused by the Feb. 6 earthquake in Turkey. 
On Feb. 9 and 10, two FB users published as reels a short clip of a large gray building collapsing into the ground and creating a huge gust of dust while several cars are seen driving past it along a busy road.
One of the videos bore the caption "#PrayForTurkey." These videos continue to gain traction, receiving over 492,000 recent views this week, according to FB. 
A reverse image search shows that this was actually taken in Saudi Arabia.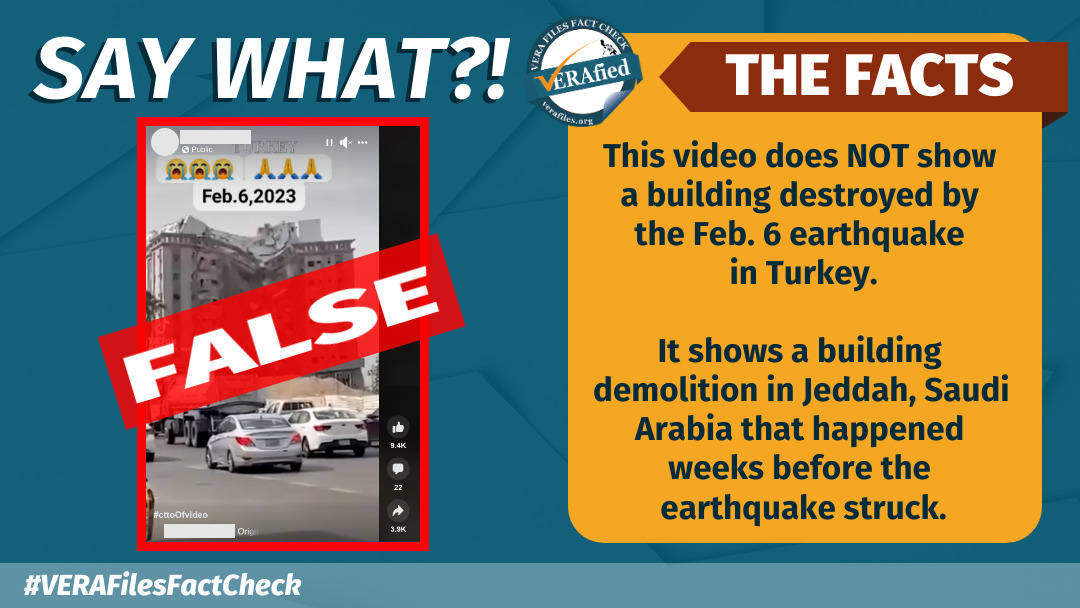 Weeks before the tragic earthquake struck Turkey, a TikTok user published the same video of the demolition on Jan. 16. It carried the following caption in Arabic script: "Jeddah Cleo 3 Old Mecca Road"
A search on Google Street View shows the gray building is located exactly along Old Mecca Al Moukarramah Road in Jeddah, Saudi Arabia. Both the bank and the tire shop can be seen in this 2017 capture.
Since 2021, the Saudi Arabian government has been razing and redeveloping swaths of residential land in Jeddah in hopes of attracting more tourists and wealthy foreigners.
The short videos with quake-related false claims emerged a week after a 7.8 magnitude earthquake hit Turkey, killing thousands. The Department of Foreign Affairs has confirmed that two Filipinos were among the fatalities.
The short reels published by the FB netizens collectively garnered over 17,800 reactions, 280 comments, 5,690 shares and 2.3 million views.
Have you seen any dubious claims, photos, memes, or online posts that you want us to verify? Fill out this reader request form.
(Editor's Note: VERA Files has partnered with Facebook to fight the spread of disinformation. Find out more about this partnership and our methodology.)