No action was taken by President Ferdinand "Bongbong" Marcos and Vice President and Department of Education (DepEd) Secretary Sara Duterte-Carpio against the University of the Philippines (UP) Diliman for allegedly disobeying orders on conducting full face-to-face classes.
Posted on Oct. 17, the 19-minute Facebook (FB) video carried the headline: 
"HALA! PRES MARCOS VP SARA TINAP0S (sic) MGA BUG0K (sic) SA UP! 'AYAW SUMUNOD, ISARADO NA LANG!' (Oh, no! PRES MARCOS VP SARA PUT AN END TO BAD EGGS IN UP! 'DOES NOT WANT TO FOLLOW, JUST SHUT IT DOWN!')" 
At the start of the video, the narrator falsely claimed that the current administration, angered by UP Diliman's refusal to follow the order to hold face-to-face classes, took steps to punish the university. 
He said the state university defied an order of the president, coursed through the vice president, to resume face-to-face classes, a demonstration of how bratty both students and officials of the university were. It was the opportune time to cleanse the educational institution that was not only recruiting rebels but also showed little respect for the government.
The video contained spliced clips of the Oct. 13 budget hearing for UP's proposed 2023 budget led by Sen. Pia Cayetano with UP President Danilo Concepcion and Commission on Higher Education (CHED) Chair Prospero de Vera III in attendance. 
Cayetano questioned why "UP is not in the forefront of returning to face-to-face classes" when circumstances were already ideal. Concepcion explained that not all students and professors favored face-to-face classes due to the pandemic, prompting the university to continue holding classes online. But he said they would try their best to follow Cayetano's suggestions this semester. 
The video did not present evidence that the Marcos-Duterte tandem took action against UP Diliman for not following orders. 
It is also not true that UP Diliman disobeyed Duterte's "full face-to-face classes" directive as it is a Higher Education Institution (HEI) under CHED, not DepEd. (Read VERA FILES FACT CHECK: Once more, Sara Duterte-Carpio flip-flops on 'mandatory' face-to-face classes by November).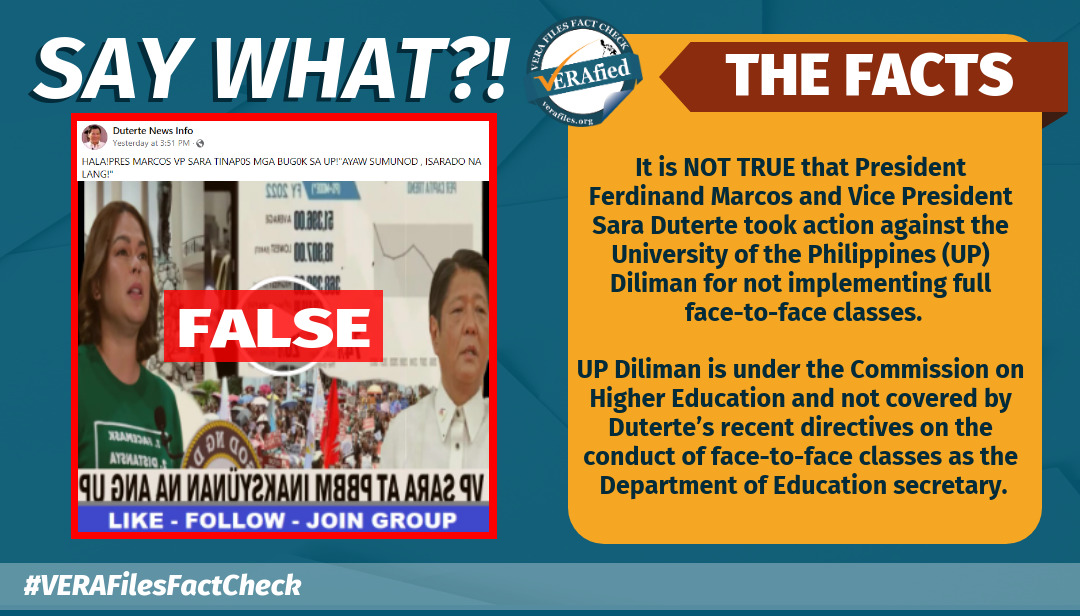 The UP System is implementing blended learning for the first semester of Academic Year 2022-2023. 
This is in line with CHED Memorandum Order No. 01 Series of 2022 posted on their website allowing HEIs to "conduct limited face-to-face classes for all programs" and "choose which [flexible] learning modalities should they operationalize."
UP has announced that it will "allow 100% face-to-face classes in undergraduate courses in the second semester" after Cayetano raised the concern in an earlier budget hearing.
The video posted by the previously fact-checked FB page Duterte News Info (created Sept. 13, 2021) has garnered 416,000 views, 18,000 reactions, 7,100 comments and 1,700 shares. It was reposted by other FB pages like Duterte News Info TV (Sept. 24, 2020) and Breaking New Live (June 4, 2020). It has also reached groups like Marcos Volunteers Movement Alliance (Jan 8, 2021) and SOLIID (sic) MARCOS LOYALIST INTERNATIONAL CEBU CHAPTER (Dec. 20, 2020 as MARCOS LOYALIST CEBU CHAPTER).  The video was also uploaded on YouTube by the channel BhilyTV (July 4, 2012) garnering 11,000 views.  
Have you seen any dubious claims, photos, memes, or online posts that you want us to verify? Fill out this reader request form.
(Editor's Note: VERA Files has partnered with Facebook to fight the spread of disinformation. Find out more about this partnership and our methodology.)