Viral TikTok videos supposedly showing the suspect and his mother, in the rape and murder of overseas Filipino worker (OFW) Jullebee Ranara in Kuwait are false. The man and woman in the video collage are unrelated to the case.
TikTok Video 1
TikTok user @woainiiweng posted on Jan. 28 a video and photo collage that includes a clip of a screaming  woman, along with an Arabic text superimposed on it, and passed this off as the murder suspect's mother. 
The woman is actually the mother of Palestinian soccer player Ahmad Atef Daraghmeh who was killed by Israeli forces last December. 
There was also a photo in the video showing a young man being arrested by police. But this was in Nepal, not Kuwait. 
The video has Ranara's photos with captions on how the pregnant OFW was reportedly killed, burned and thrown into the desert by her employer's 17-year-old son. Department of Migrant Workers spokesperson Toby Nebrida also said in an interview that Ranara still managed to talk to her family on Jan. 20, or two days before her body was retrieved.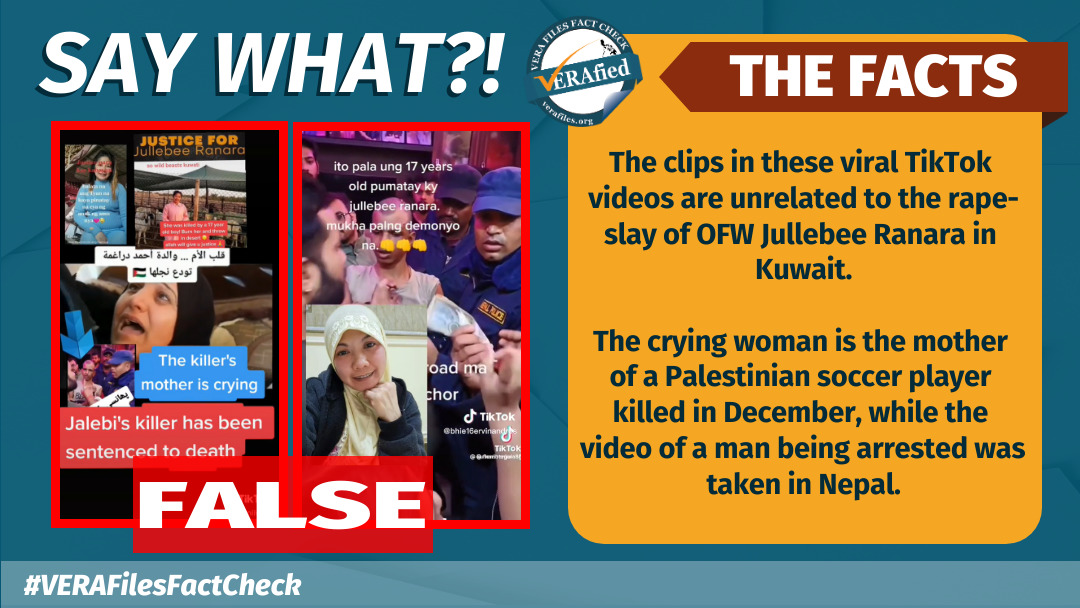 The video with the Arabic text that translates to "A mother's heart… Ahmed Daraghmeh's mother bid farewell to her son" was uploaded by TikTok user @mohmmad_derbany_dr on Dec. 12. A longer version on YouTube also bore paltodaytv.com's logo where it originated.
TikTok Video 2
Another video showing a man's arrest was uploaded by TikTok user @bhie16ervinandros, similarly claiming that he was Ranara's killer. This is false. 
This video, from a Nov. 23 copy that is now unavailable, was uploaded by TikTok user @kumaribanjara35 bearing a Gujarati caption that translates to "my house thief in Nepalgunj, Newroad," which is in Nepal. 
Ranara's body arrived in the Philippines on Jan. 27 and was autopsied by the National Bureau of Investigation on Jan. 28. 
The TikTok videos posted by users @woainiiweng and @bhie16ervinandros garnered 12.4 million and 109,000 views, respectively. Screenshots and copies of the videos are still circulating on Facebook. 
VERA Files earlier debunked a similar video of a man it claimed as a suspect in the Ranara murder case. (READ VERA Files Fact Check: FB video shows wrong suspect, NOT alleged killer of OFW in Kuwait)
Have you seen any dubious claims, photos, memes, or online posts that you want us to verify? Fill out this reader request form.
(Editor's Note: VERA Files has partnered with Facebook to fight the spread of disinformation. Find out more about this partnership and our methodology.)