Following the death of Queen Elizabeth II, an old satirical quote card of the former monarch congratulating President Ferdinand "Bongbong" Marcos Jr. for winning in the May 2022 national elections is misleading netizens anew.
A TikTok account on Sept. 11 reposted the fabricated quote card with the text "Wow, maka BBM si Queen Elizabeth" (Wow, Queen Elizabeth supports BBM) and the caption "Queen Elizabeth is for BBM #queenelizabeth2 #londontiktok #MAHARLIKA #PBBM,"
The satirical statement attributed to the late queen read: "Today, I wear red to express my congratulations to the Philippines' President-elect Ferdinand Marcos Jr. I know that he is a good leader. Unfortunately, the oligarchs are destroying his name, and the netizens just keep complaining. Therefore, I can say, Philippines doesn't have the worse governance. It has the worst citizens."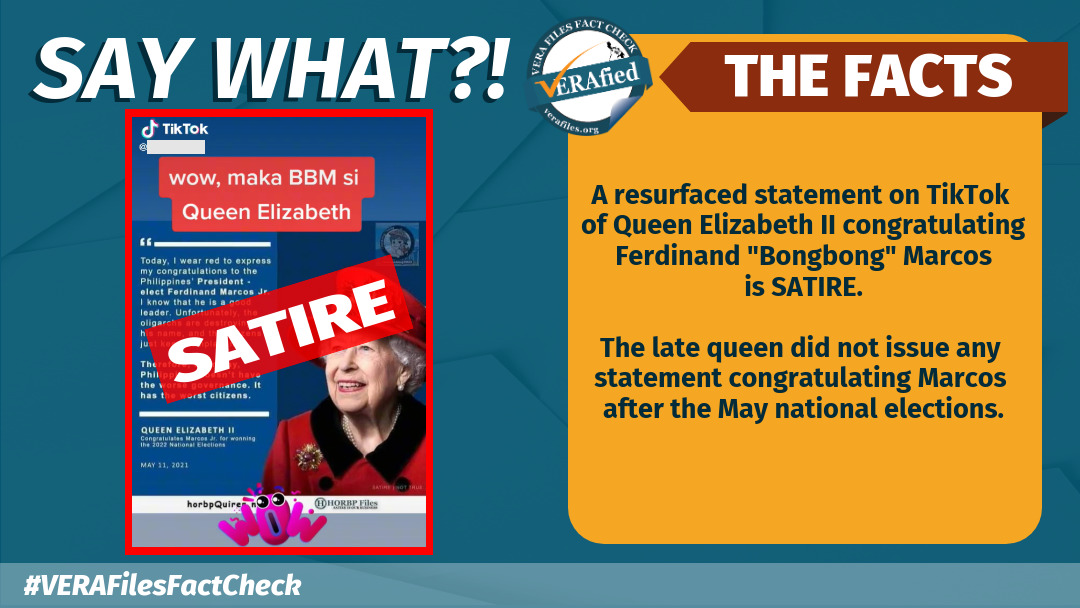 Queen Elizabeth II made no such statement.
 The card carried the date May 11, 2021 although it originally circulated on Facebook (FB) after the May 2022 elections. It also used logos of "horpbQuirer.net" and "HORBP Files" copying Inquirer.net and VERA Files. On the top right corner, it also has the logo of pro-administration blogger Thinking Pinoy. 
The quote card was labeled as "satire" and "not true," albeit in small and barely noticeable prints. 
Last May, when the satire first emerged, the British Embassy in Manila told VERA files that the post was erroneous. "Posts claiming that Her Majesty The Queen has released an official statement on the recently-concluded 2022 Philippine National Elections are incorrect," it said.
The TikTok video's comment section shows that several netizens believed the statement was true, with some even associating the fake statement with Former First Lady Imelda Romualdez Marcos' alleged friendship with the Queen.
The fake quote card, which was also carried by FB pages and groups, was reposted on TikTok three days after Queen Elizabeth II's passing on Sept. 8 at the age of 96.
The TikTok post is rapidly gaining engagements and now has 54,100 views, 4,906 reactions, 196 comments and 161 reposts.
Have you seen any dubious claims, photos, memes, or online posts that you want us to verify? Fill out this reader request form.
(Editor's Note: VERA Files has partnered with Facebook to fight the spread of disinformation. Find out more about this partnership and our methodology.)