A satirical Facebook (FB) page claiming presidential candidate Ferdinand "Bongbong" Marcos Jr. promised to lower the country's unemployment rate to zero is misleading netizens into believing it to be true.
On Labor Day, FB page Philippine Daily Sun (created on Jan. 19, 2022) published a satirical post where Marcos supposedly said he will create jobs by asking a couple of companies to open up more branches. But the companies named are non-existent and are often used in humor posts and memes.
The satirical post's headline: "BONGBONG MARCOS PROMISES FILIPINOS MORE JOBS, PLANS TO OPEN MORE BRANCHES OF KRUSTY KRAB AND EDI SA PUSO MO (in your heart)."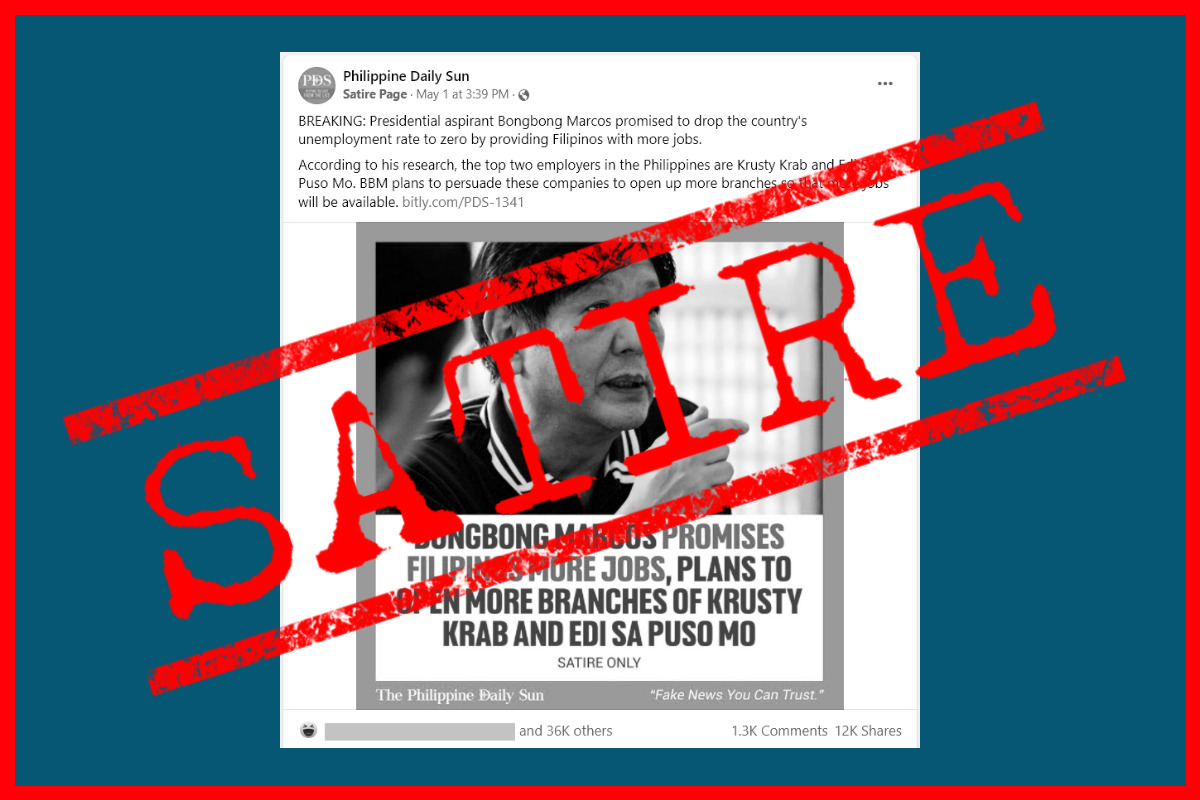 Marcos has not made such a remark. This is not found in any official statement, news release or media interview. The satirical FB page made it clear the post was "satire only." Philippine Daily Sun explicitly states it is a satirical FB page and labels itself "fake news you can trust."
So-called companies Krusty Krab and Edi Sa Puso Mo are actually commonly seen on FB jokingly listed by users as the company they work for.
Still, some netizens believed the post is real and criticized Marcos for daring to vow such a huge undertaking despite being "jobless" himself.
This is not the first time Philippine Daily Sun managed to mislead some netizens with its satirical content. (Read VERA FILES FACT CHECK: The University of Oxford did NOT put up 'Marcos did not graduate here' signage)
The post appeared a few days after Marcos declined to debate with Vice President Leni Robredo, preferring instead to bring his message directly to the people. Marcos has ducked out of all the debates conducted by the Commission on Elections and some independent organizations.
The satire was also republished by FB page The Amigo Tv (created on May 8, 2020). Along with Philippine Daily Sun's original post, it has garnered more than 36,800 reactions, 1,200 comments and 12,000 shares.
Have you seen any dubious claims, photos, memes, or online posts that you want us to verify? Fill out this reader request form.
(Editor's Note: VERA Files has partnered with Facebook to fight the spread of disinformation. Find out more about this partnership and our methodology.)