A Facebook (FB) video claimed that Sweden will transfer a batch of self-propelled artillery units to Ukraine. This claim has no basis. 
FB page Philippines Defense Forces Forum (created on July 30, 2012) posted the two-minute video on April 26, labeling it as "breaking". The video carried no information or explanation about the supposed military aid and merely showed footage of an ARCHER firing three rounds of 155mm projectiles with an impact timer, and photo inserts of similar weapons systems. 
The video footage was taken from an Oct. 9 demo video of BAE Systems, Inc., that developed the ARCHER. BAE Systems, Inc. is a prime contractor to the U.S. Department of Defense. 
No official documents or statements from Sweden's or Ukraine's Ministry of Defence websites report anything about transferring ARCHER artillery systems (FH77BW L52) to Ukraine. 
The video appeared a day after Twitter user @theragex first made the false claim on April 25 without citing any primary source.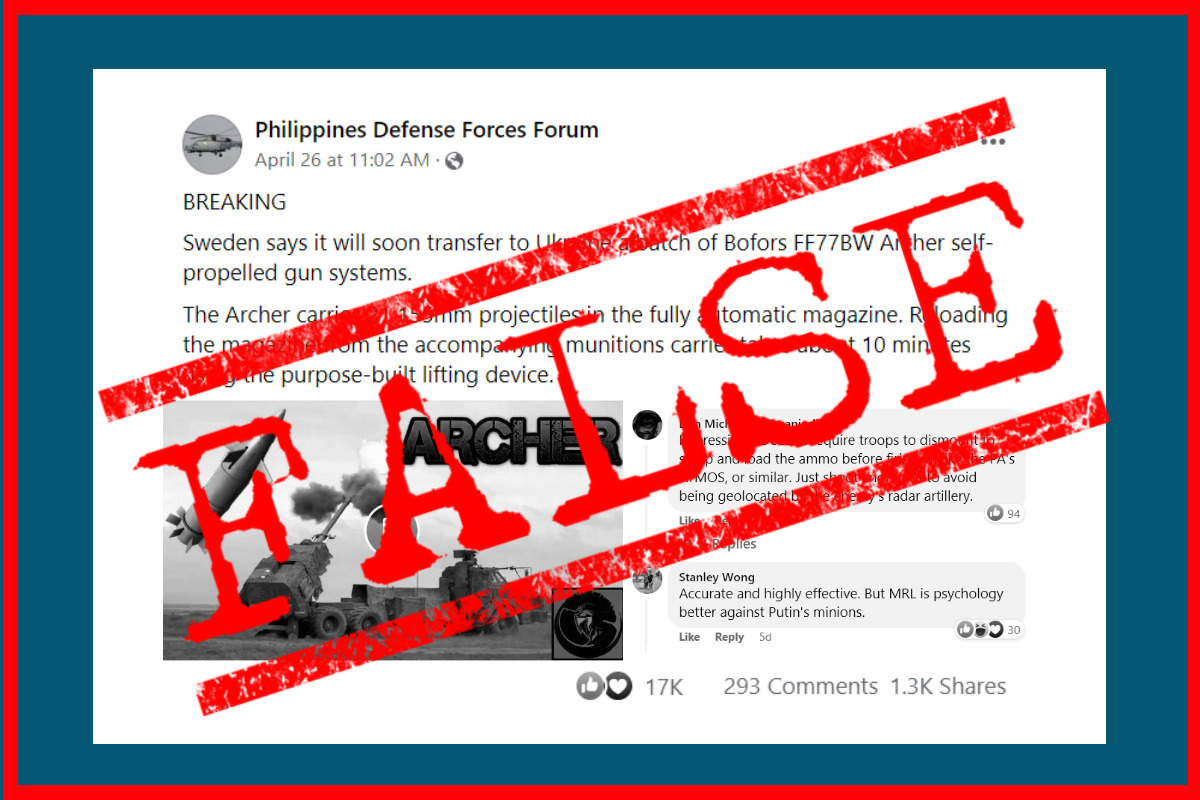 The Swedish government announced on Feb. 27 that it would provide 5,000 Bofors AT-4 anti-tank weapons, 5,000 helmets, and 135,000 field rations to Ukraine. 
The Bofors AT-4 that Sweden announced it will provide Ukraine is not the same as Bofors FF77BW Archer, nor do they belong to the same AT4 family. The former is a lightweight, man-portable and fully disposable weapon. The video showed a self-propelled howitzer.
The erroneous claim appeared almost a week after Ukraine's Western allies promised to send artillery. On April 21, the United States said it would provide 72 155 millimeter (mm) howitzers and 144,000 artillery rounds. A day later, Canada announced that it would send an unspecified number of M777 howitzers that use 155-millimeter rounds.
Developed by BAE Systems' Weapons Systems – previously known as Bofors, the ARCHER artillery system is a fully-automated, highly-mobile, towed howitzer unit that fires 155 mm artillery shells with a range of over 50 kilometers.
Philippines Defense Forces Forum's FB video, which was sourced from an Oct. 9, 2020 YouTube video of BAE Systems, Inc., got a total of 17,000 reactions, 293 comments, and 450,000 views. 
In the comments section of the FB video, Swedish citizens said the claim was false, while some Filipino netizens praised the weapon.