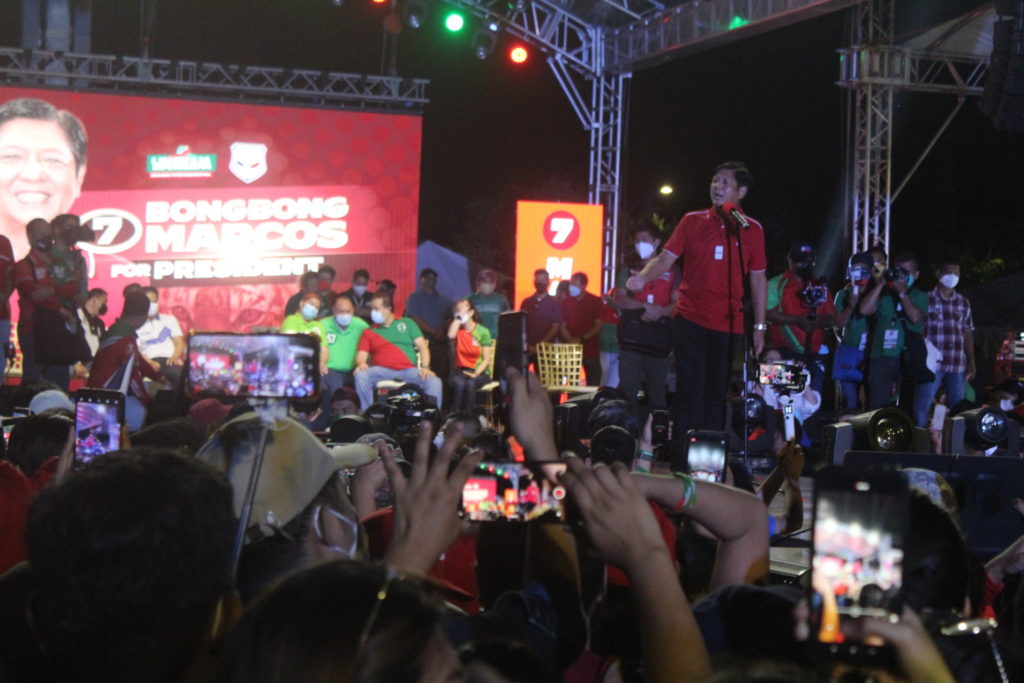 Former senator and Partido Federal ng Pilipinas (PFP) presidential candidate Ferdinand "Bongbong" Marcos, Jr. finally secured the endorsement of Laguna Gov. Ramil Hernandez during the UniTeam Grand Rally held at the Biñan Football Stadium on Thursday, April 21. 
Hernandez introduced the frontrunner as "president Ferdinand 'Bongbong' Marcos, Jr." before a sizable crowd made up of longtime supporters of the Marcoses, and the younger breed of voters from the 4th most vote-rich province in the country.
There are 2,045,687 registered voters in this Southern Tagalog province. Marcos beat his rival Vice President Leni Robredo in Laguna by a slim margin of around 50,000 votes in the 2016 vice presidential race.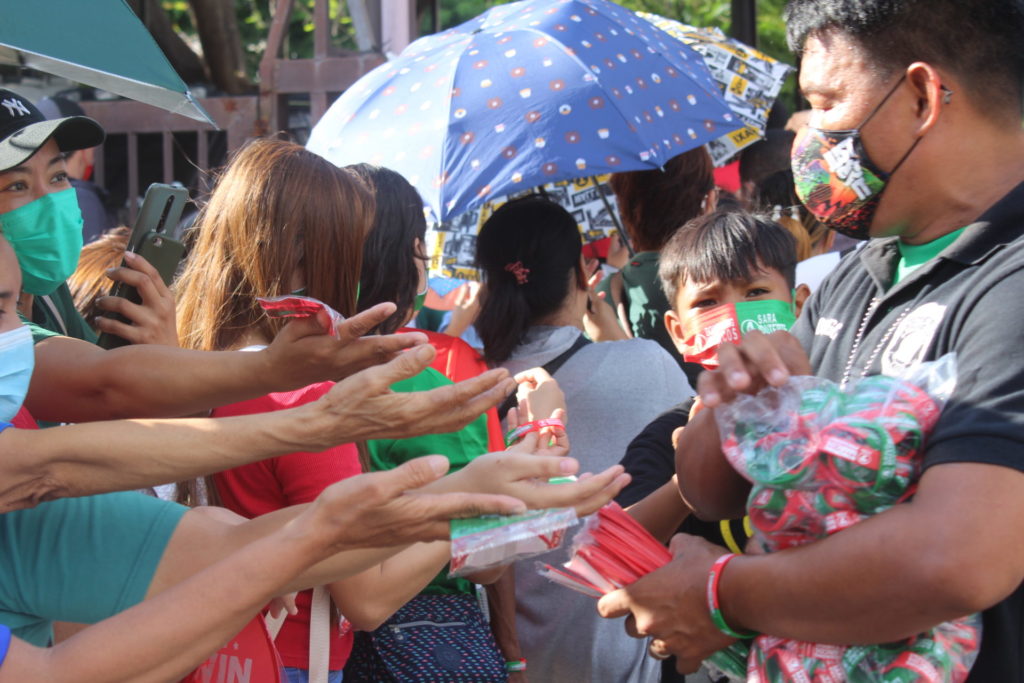 Davao City Mayor and Lakas – Christian Muslim Democrats (Lakas-CMD) party vice presidential bet Sara Duterte previously bagged the endorsement of Hernandez, president of the provincial chapter of the Partido Demokratikong Pilipino – Lakas ng Bayan (PDP-Laban).
The Grand Rally, Hernandez said, was "hosted" by Biñan City Rep. Marlyn 'Len' Alonte and Mayor Arman Dimaguila, although the two local leaders have yet to formally endorse the tandem. If they do, all three Biñan mayoral candidates will be backing Marcos' presidential bid.
Already a winner?
The rally venue is the 6,000 sq-meter Biñan football field near the City Hall, with an estimated capacity of 20,000 to 30,000. Rallyists were already at the venue before 2:00 pm, but most trooped in around 5:00 pm, and the 3,000 bleacher seats were first to fill up. The field was not even half-filled by the time the program formally started at 6:00 pm.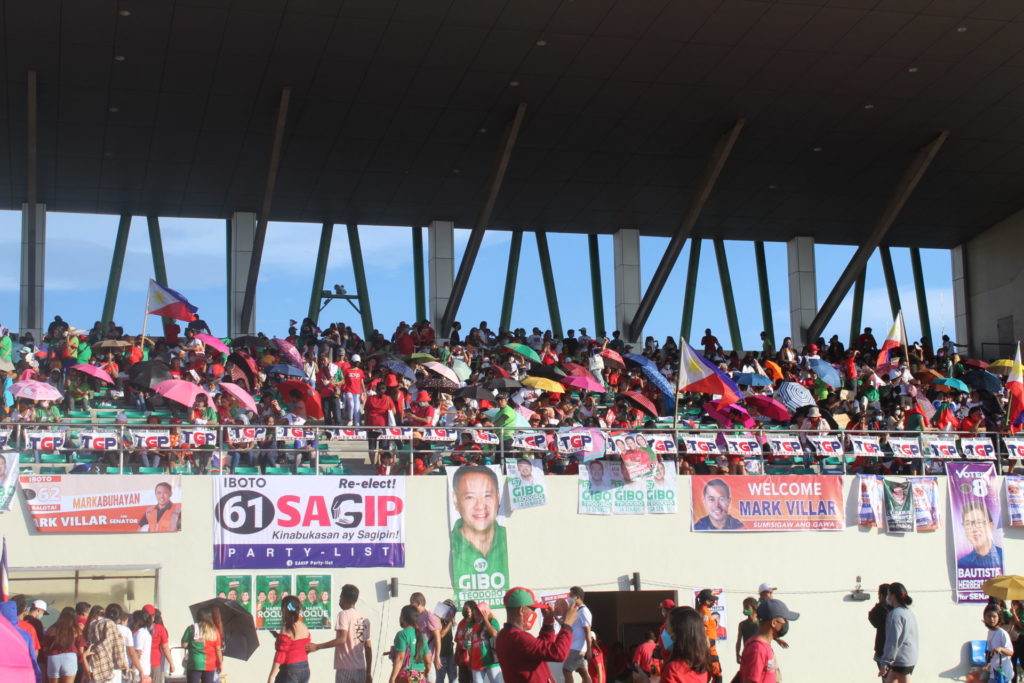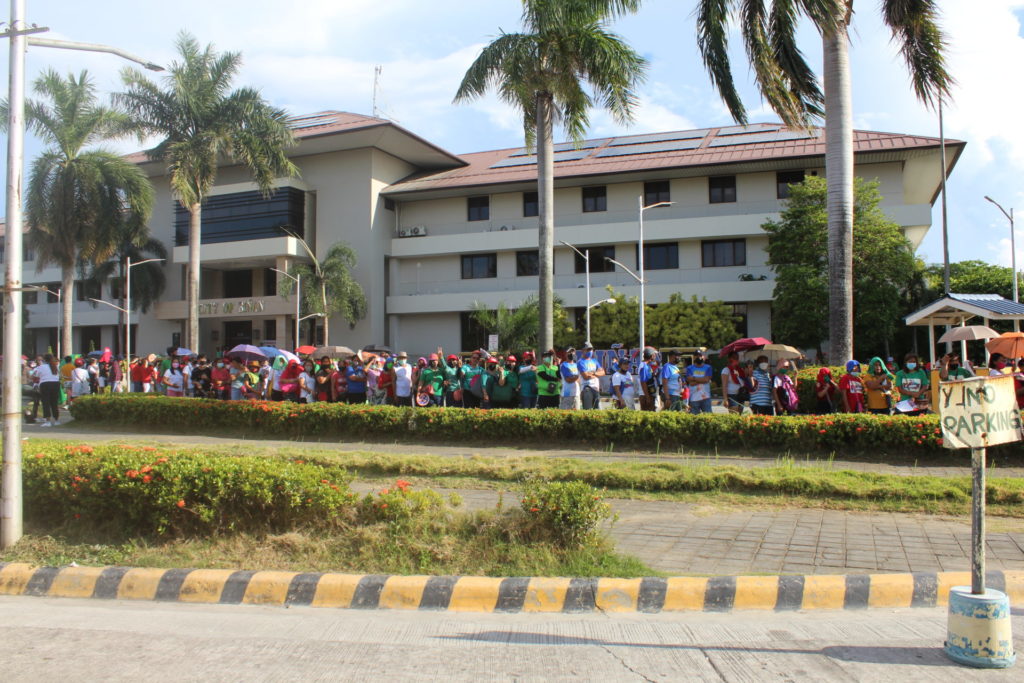 VERA Files observed that the numbers peaked as senatorial candidates started speaking, although the venue was just about half-full. Speeches were interspersed with musical performances. After actor-rapper Andrew E. performed and introduced Duterte, many of the audience members started leaving the venue. Many just chuckled when asked why. One quipped "Panalo na naman! (They're already winners!)" when interviewed by VERA Files.  
Duterte was on stage for 33 minutes, using up most of her time introducing the entire UniTeam senatorial slate – Herbert Bautista, Jinggoy Estrada, Gibo Teodoro, Win Gatchalian, Larry Gadon, and Harry Roque were the only ones present at the venue – and reading the placards created by the audience members.
The Davao City mayor wrapped up her speech with a reprise of the message she usually delivers: that she brings in her leadership the lessons of equality learned from her parents: "Sa aking pagtatrabaho, pantay-pantay ang lahat. Walang mahirap, walang mayaman. Pare-pareho po tayong lahat — Pilipino. (In fulfilling my job, everyone is equal. There are no poor. There is no rich. We are all the same — Filipinos.)"
She ended her address requesting the crowd for two things: to love our country, and to help in her vice presidential bid.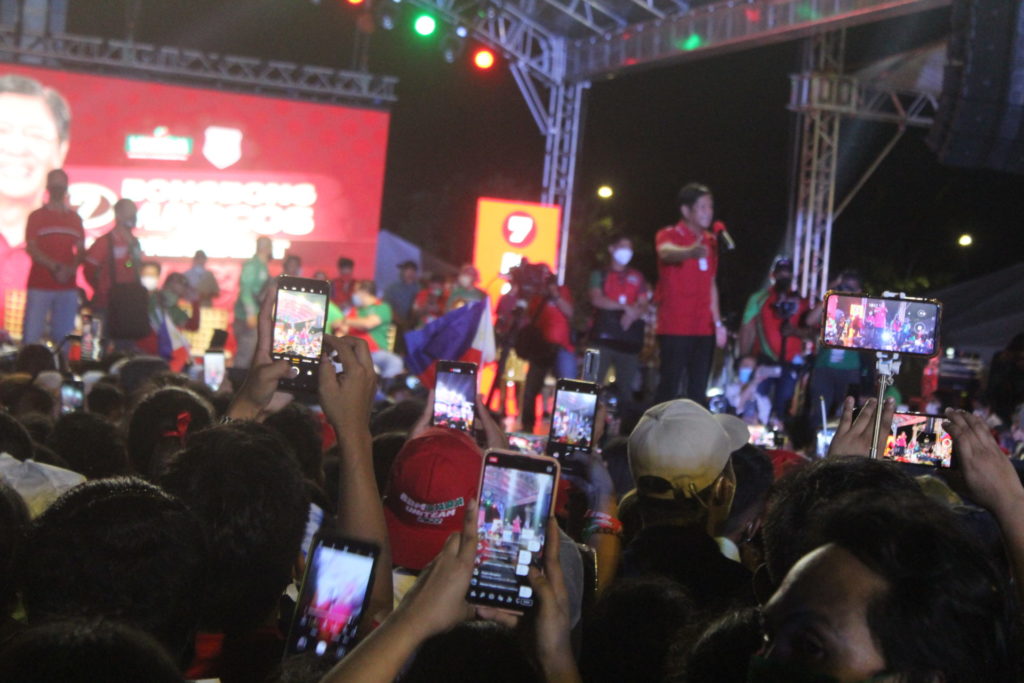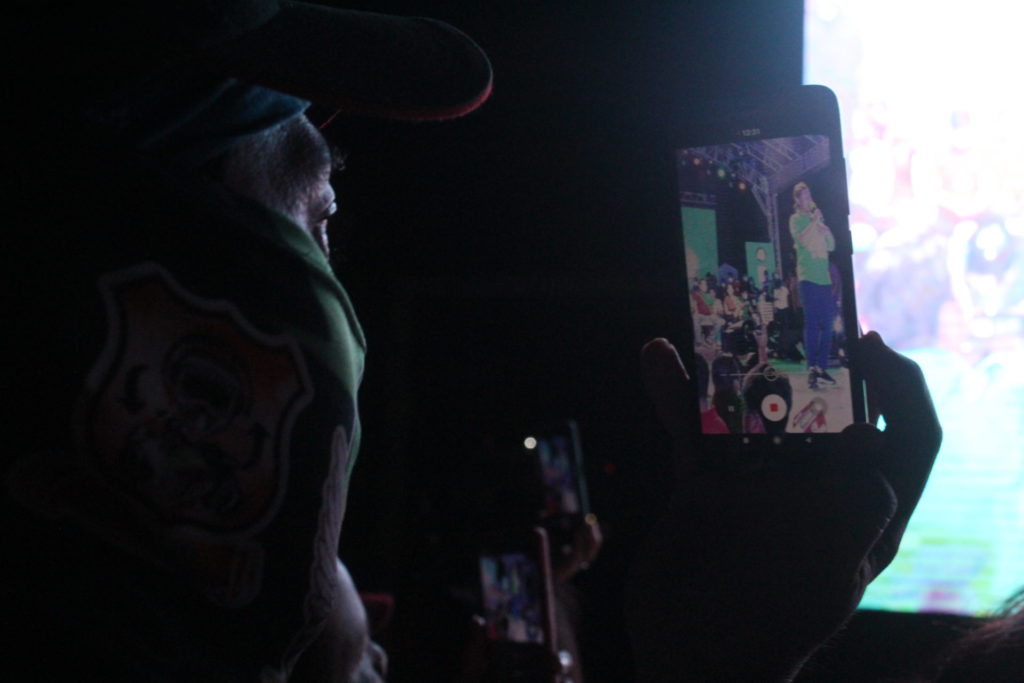 Marcos, who appeared for only 18 minutes, started off by complimenting Biñanenses and noting how the venue was teeming ("punong-puno") with supporters. This was as a lot of attendees were already lining up at the stadium's exits.
Marcos mostly repeated his unity-brimmed proclamation rally speech, with the only added value being quick summaries of his platform on creating more jobs, helping small business owners recover, strengthening the agriculture sector to ensure enough food supply, continuing the 'Build, Build, Build' program of the current administration, and improving the country's Internet infrastructure.
His promise to relieve the Filipinos from paying high electricity bills got the most cheers from the crowd: "Kailangan makahanap ng paraan na bawasan ang singil sa kuryente para hindi na masyadong mahirapan ang taumbayan. (We need to find a way to cut electricity costs to reduce the burden on people.)"
The speech ended with his usual claim on how unity will bring progress to the country: "'Pag makamtan po natin itong pangarap ng pagkakaisa, mararamdaman po nating lahat na sama-sama po tayong babangon muli. (When we achieve our dream of unity, then we can rise again as one.)"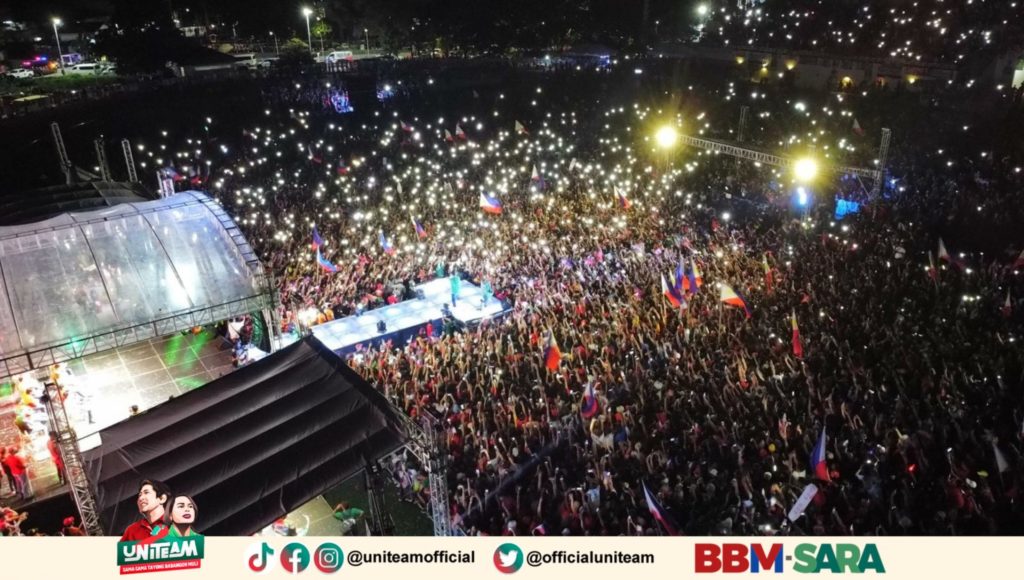 Sr. Insp. Bob Ortiz, Biñan City Deputy Chief of Police, said the rally was generally peaceful with no violent incidents reported. He acknowledged property losses, saying it was unavoidable in heavily-crowded events.
Security officers earlier warned the people to take care of valuables, especially cell phones and wallets. VERA Files overheard that two phones have been reported lost or stolen.
Early entertainers were Internet personality DJ Loonyo and OPM band Silent Sanctuary. The host shouted, "Totoo ang tao dito! (Real people are here!)", and the crowd answered, "Walang photoshop! (No photoshop done!)" alluding to rallies of rival camps that allegedly manipulate crowd images to bloat audience numbers.
Marcos Loyalists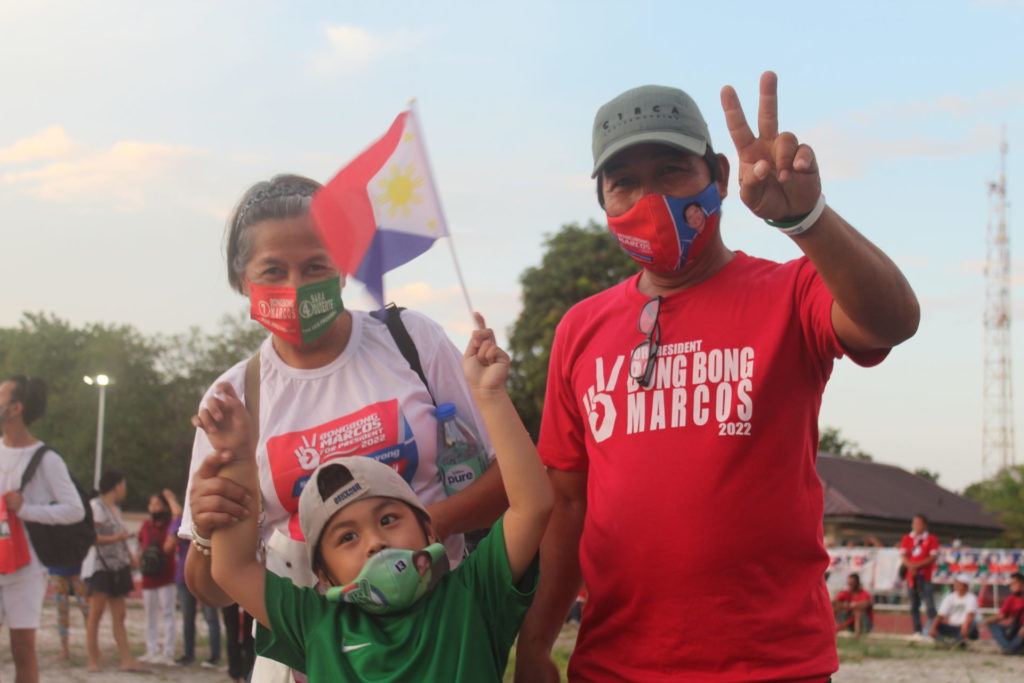 Among the rally participants the 50 – 70 age group was predominant. These are mostly Marcos loyalists, who continue to support and defend the Marcos family, especially the late dictator.
Manalo couple Mario, 55, and Evangeline, 59, came with their four-year-old grandson from neighboring town Santa Rosa. Mario, a welder, said his wife considers herself a Marcos loyalist, who believes the younger Marcos will continue what his father started.
He expressed disdain for the opposition. "Kailangan mapalitan na iyang mga dilawan na 'yan dahil 'yan ang nagpahirap sa atin (There's a need to change the yellow army because they were the ones who made life difficult for us.)"
He likewise rejected that Marcos was an oppressive leader. The Marcoses did not cause hardship, he insisted. Then, prices of goods were inexpensive. "At nung panahon ni Marcos Sr. nagmula ang mga infrastructure projects. (It was during the time of Marcos Sr when infrastructure projects started.)"
Another Marcos loyalist couple – Alfonso, 71, and Helen Caboborac – has attended other UniTeam rallies in Cavite and Las Piñas. Helen, 67, a former bank employee, suffered and survived a stroke. She brings her own seat to rallies because of her condition. Her husband is a retired seaman.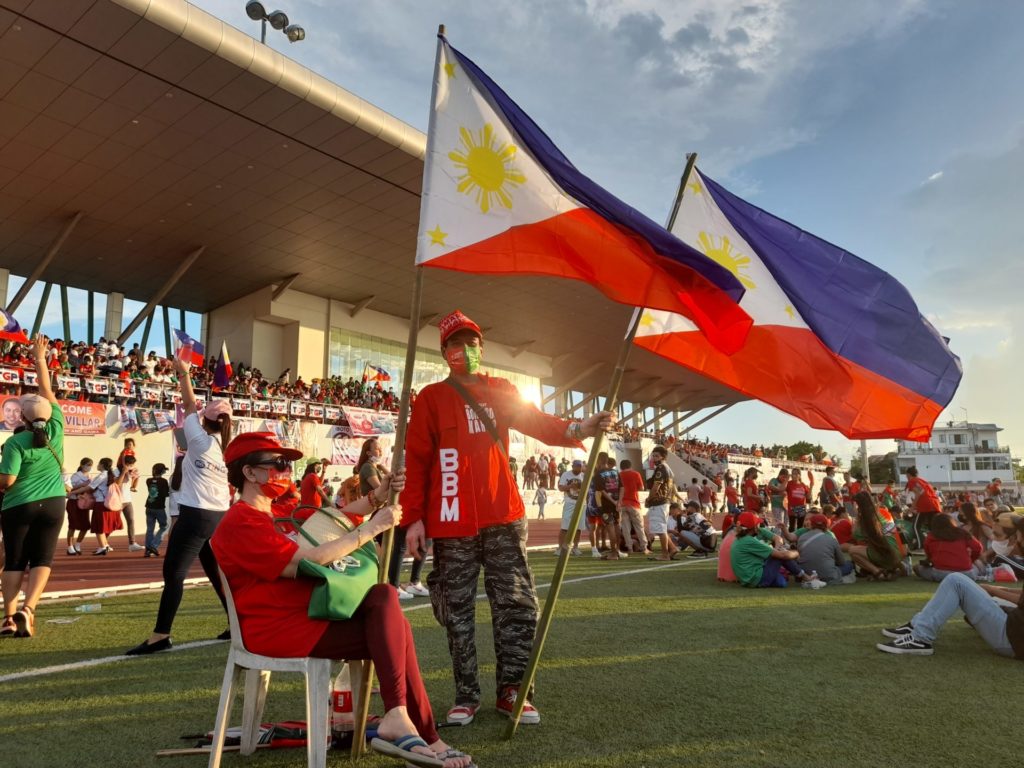 She describes the younger Marcos as very kind and humble. "Kahit tinitira na siya ng mga pangit na tirada sa kaniya, hindi siya naaapektuhan. Instead ine-encourage pa niya ang mga follower niya na maging mabait. (Even when they're hurling unpleasant things at him, he isn't affected. Instead, he encourages his followers to also be kind.)"
And Helen refuses to believe Marcos Sr. was a thief, insisting the allegations of ill-gotten wealth have not been proven. "Wala pang nagpapatunay na sila ay nagnakaw. (No one has proven they stole anything.) Not even the court." This is a false claim that has been debunked repeatedly by VERA Files Fact Check. Aside from reading the news, most of her information comes from veteran radio commentator Totoy Talastas.
No mudslinging
Many of Marcos' supporters agree that his appeal is because he doesn't hit his rivals, whether in interviews or during rally speeches.
"Hindi nagbabato ng hindi maganda sa kanilang mga kalaban (They don't badmouth their opponents)," says 57-year-old vendor Melinda Reyes. Her mother, Julita Hicana, 76, seconded this. "Mabait. Hindi siya naninira (Kind…he doesn't malign others)," she said of Marcos.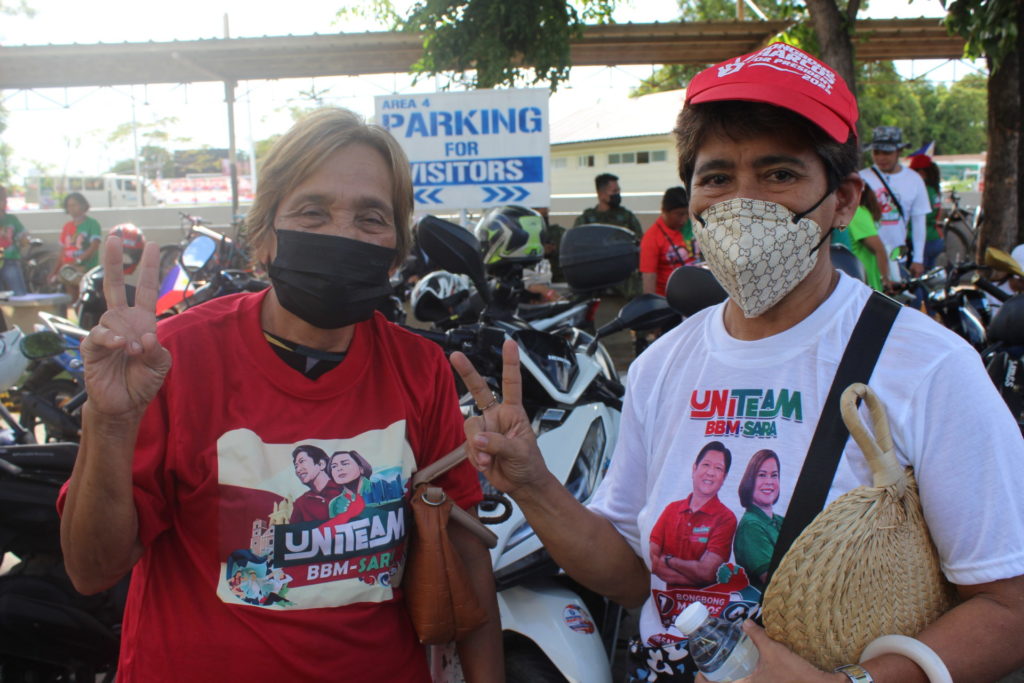 Both were emotional when asked why they favored the late strongman's scion. However, Hicana admitted she was a Marcos Sr. loyalist, the main factor why she supported the son. Besides this, the older woman is aware that she will have to wait until Marcos Jr. assumes office — if he wins — to speak of his achievements.
But Reyes is optimistic of a brighter future once their presidential bet wins. She lamented that other administrations after Marcos did not do enough to improve the plight of the poor. She expressed hope for a better life under a Marcos Jr. presidency: "Sa aming mahihirap, tumaas naman kami kahit papaano. (That among the poor, there will be some improvement.)"
Revise history
A group of senior high school students loudly declared their support for the UniTeam. Like the two older women, their support is likewise due to Marcos not engaging in political mudslinging. "Si Marcos kasi, tahimik lang siya. Hindi siya nanininira ng ibang kandidato (Marcos is just quiet. He does not speak ill of other candidates)," said 22-year-old Miguel Fabian. 
They were more bold in saying the 64-year-old candidate was a sure winner. "Sure po. Hindi siya matatalo (For sure, he will not lose)," Patrick Ramos, 18, told VERA Files.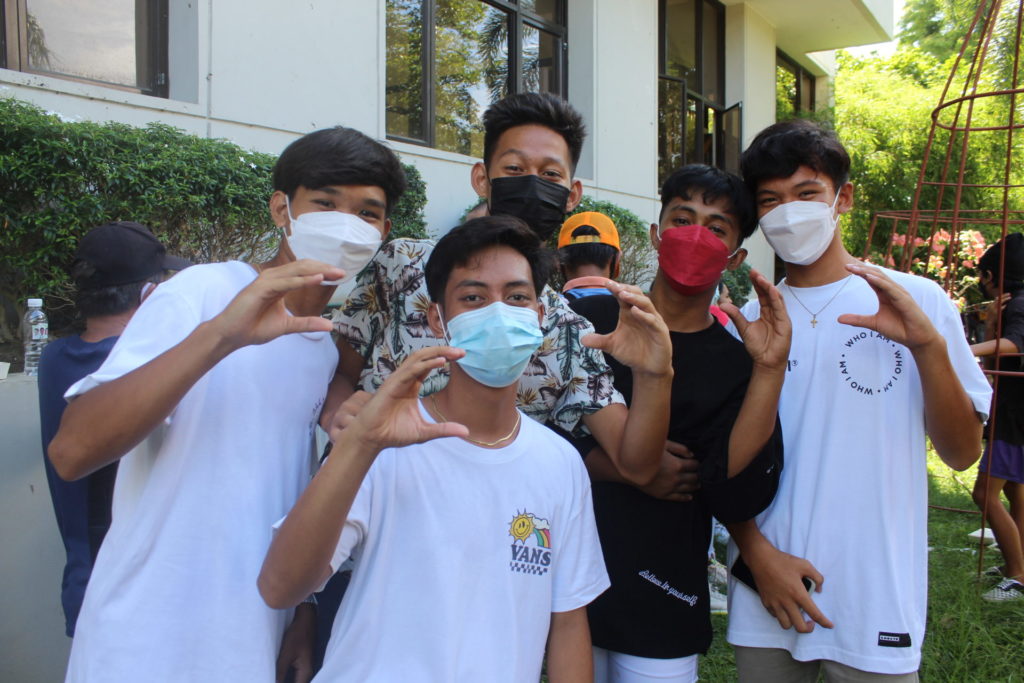 Asked what they were looking forward to if Marcos wins, they said ready employment once they graduate and better educational facilities in marginalized communities.  
The young voters dismissed allegations of atrocities and corruption during Martial Law. Even after hearing stories from their parents, they rationalized that it was likely because the victims violated laws which led to incarceration or torture.
They also did not appreciate that what schools taught about Martial Law was mainly negative. The students expressed hope Marcos will correct this if he wins. "Itama po sana nila kung manalo po sila. Itama po nila iyong mga tinuturo. I-revise po iyong history kung ano po yung totoo. (They should rectify what is being taught in schools if they win. They must revise history to reflect the truth.)"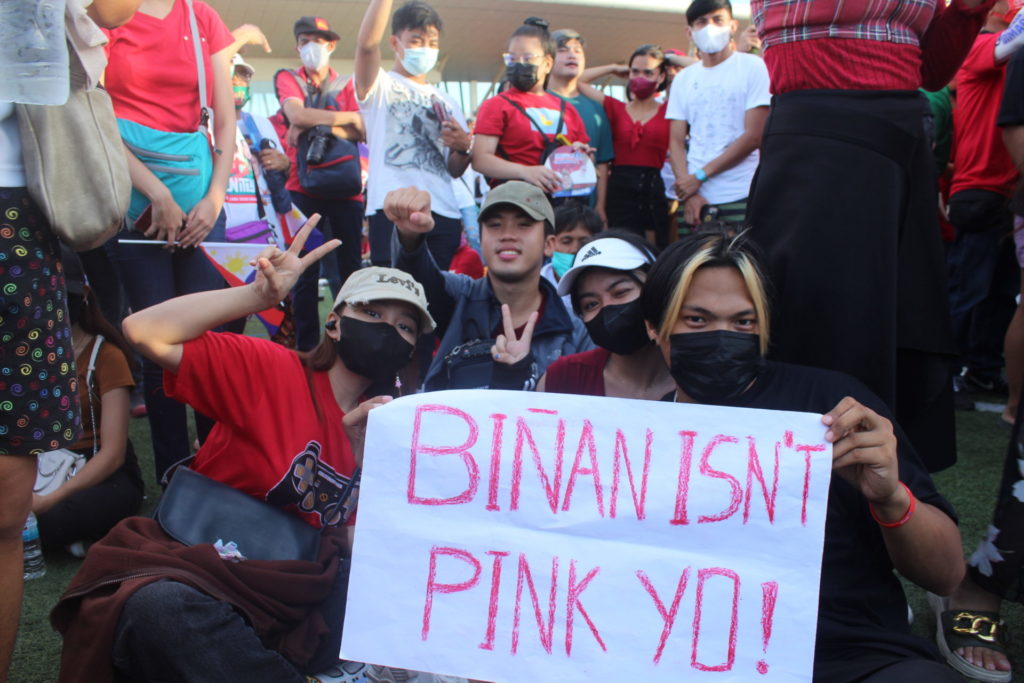 A non-voter speaks
While it was hardly surprising to see many of the older generation present during the rally, seeing teenagers not yet eligible to vote was. Grade 9 student Alisa Jane Nuñez came with eight of her friends.  She attended on behalf of her mother, a Marcos supporter who had babysitting duties that day.
Should Marcos win, Nuñez hopes he would launch programs for the youth, particularly those who cannot afford to go to school. Like the other young supporters of Marcos, she does not believe the allegations against the senior Marcos.
Instead she believes a lot of good came during the Marcos administration that led to the country's progress. Her source of information? The internet, specifically TikTok. A teacher likewise convinced her the elder Marcos was responsible for developing the Philippines then. "Siya po iyong nagpalakas ng mga military po dito. Siya rin po iyong mga nagpatayo ng mga gusali. (He strengthened the military and started several infrastructure projects.)" Aware of allegations against Marcos Sr. committing atrocities, Nuñez said the late dictator may have done wrong but this was offset by the good he accomplished. "May mali po pero mas lamang pa rin po sa akin 'yong nagawa po nilang tama. (Yes, he did something wrong but for me, what he did right outweighs that.)"