Another video is again spreading false claims that the Aquino administration lost all cases against the late president Ferdinand Marcos Sr, yet it still proceeded with the sequestration of Marcos property.
It further misleads by claiming that Marcos was acquitted in the international court.
VERA Files Fact Check has debunked several related claims on the Marcos cases.
The video, which was posted by YouTube channel Kaalam PH (created on Aug. 1, 2019) on Feb. 18 and re-uploaded by Tiktok user bongbongsarasupport and Facebook page Pakyawa uy (created on Jan. 7, 2022), carried these inaccurate claims:
Marcos won over 900+ cases filed by the Aquino administration.
Not true. He and his family lost graft and corruption cases in the Supreme Court (SC) and Sandiganbayan, most notably a 2003 SC case declaring that a total of US$658 million hidden by the Marcoses in Swiss banks was unlawfully acquired.
The Philippine government sequestered property from the Marcos family without winning any cases in court.
This is incorrect. The properties of the Marcoses ruled as ill-gotten wealth were sequestered by the government, as ordered by the SC and Sandiganbayan, to wit:
In 2017, the SC affirmed the Sandiganbayan's 2014 ruling to forfeit Mrs. Marcos' jewelry belonging to the Malacañang Collection; and
In 2019, the Sandiganbayan ordered the forfeiture of paintings and artworks worth US$24.33 million.
3. Marcos was acquitted in international court.
It's misleading. While Imelda Marcos was acquitted of fraud and racketeering charges on July 3, 1990 by a federal court in New York, juror Theodore Kutzy told the Los Angeles Times that the jury would have convicted Mr. Marcos if he were in the trial. The former president died on Sept 28, 1989 in Hawaii.
The Marcoses lost cases in international courts, prompting the return of properties confirmed as stolen from the Philippines' treasury. A 1997 Swiss Federal Court ruling ordered the return of Marcos assets worth US$500 million, while Judge Paul G. Levy of New Jersey ordered the return of an estate worth around $1 million and $480,000 on September 13, 1986.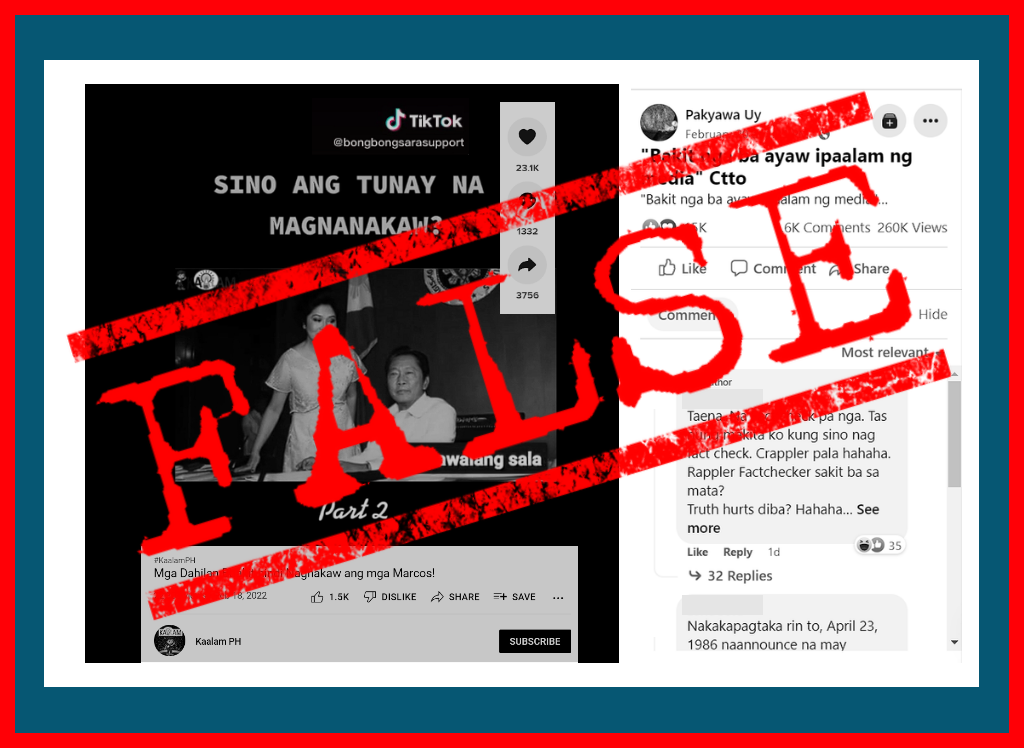 Kaalam PH's false video garnered 240,000 views on YouTube. An edited version uploaded to TikTok on Feb. 22 got nearly 228,400 interactions, while a copy uploaded to Facebook on Feb. 20 got 285,600 interactions.
The videos appeared after Sen. Tito Sotto commented during a Feb. 17 press conference that those who are trying to put a spin on political events in the country are guilty of disinformation.
Have you seen any dubious claims, photos, memes, or online posts that you want us to verify? Fill out this reader request form or send it to 'VERA, the truth bot' on Viber.
(Editor's Note: VERA Files has partnered with Facebook to fight the spread of disinformation. Find out more about this partnership and our methodology.)