A year-old Facebook video claiming there is no proof that the Marcos family amassed ill-gotten wealth because they won all cases filed against them by the Philippine government has resurfaced online.
This oft-repeated claim is false.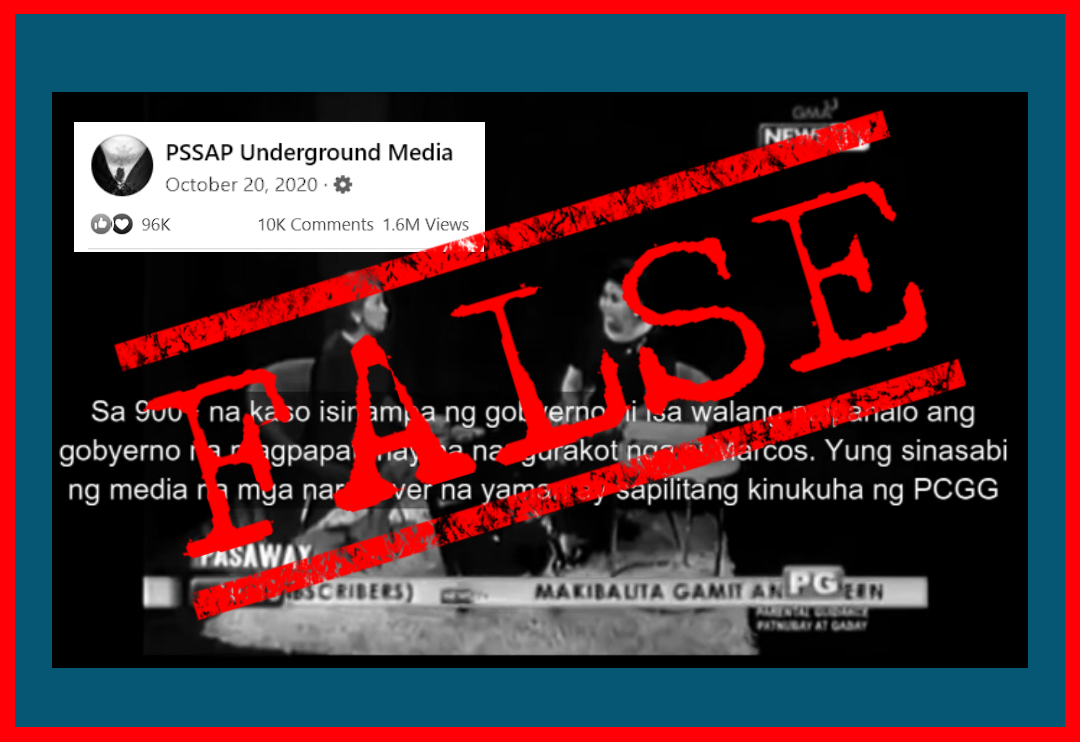 Posted by the pro-Marcos Facebook (FB) page PSSAP Underground Media on Oct. 20, 2020, the video included this erroneous statement from former first lady Imelda Marcos: "Merong akong mga kaso… ilang daang kaso, mga 500, 800, puro panalo. The Trial of the Century, nanalo ako. Wala akong nakaw, walang nakaw ang mga Marcos."
(I had a few hundred cases, 500, 800. I won it all. The Trial of the Century, I won. I stole nothing. The Marcoses did not steal anything.)
In its caption, it was declared that Mrs. Marcos won all "986+" cases filed against her by the administration of Corazon Aquino.
Mrs. Marcos won in the 1990 New York federal court trial, where she was found not guilty of racketeering and fraud for allegedly looting over $200 million from the Philippine treasury and investing it in the United States, international media reported.
However, the Marcoses lost several court cases before the Supreme Court (SC) and the Sandiganbayan, which tackled graft and corruption charges against public officers and employees. VERA Files Fact Check previously debunked posts making similar false claims in November and earlier this month.
Between 2003 and 2017, the SC:
(Read: VERA FILES FACT CHECK: Not all cases vs Marcos ill-gotten wealth dismissed by SC)
Likewise, the Sandiganbayan has:
(Read: VERA FILES FACT CHECK: Court rulings against the Marcoses belie claims they had no ill-gotten wealth)
The Marcoses also lost in many other cases filed by the government, which sought the recovery of shares, salaries, and government funds declared ill-gotten and flagged as illegal agreements made during the Marcos era.
The entire list can be viewed here, and include among others:
#

Court

Summary of the Case

Date

Sources

1

Sandiganbayan

Ferdinand Marcos personally ordered the withdrawal of and pocketed P10 million from the National Food Authority.

Imelda Marcos was ordered to return the ill-gotten funds.

Sept. 9, 2010

2

Supreme Court

111,415 shares of the Philippine Telecommunications Investment Corporation registered in the name of Prime Holdings Inc. were declared as "bearing the character of ill-gotten wealth"

Jan. 20, 2006

3

Sandiganbayan

Ferdinand Marcos acquired ill-gotten wealth in the form of shares in Eastern Telecommunications Philippines, Inc., Polygon Investors and Managers, Inc. and Aerocom Investors and Managers, Inc., concealing his identity by using as dummy businessmen Jose L. Africa and Manuel H. Nieto, Jr.

Dec. 4, 2019

4

Sandiganbayan & Supreme Court

Marcos crony Eduardo "Danding" Cojuangco obtained 46,626 shares of Manila Bulletin using ill-gotten wealth.

Cojuangco and two other Marcos associates, Jose Campos and Cesar Zalamea, also amassed ill-gotten wealth in the form of 198,052.5 Manila Bulletin shares

Nov. 23, 2005
The erroneous video received 96,000 reactions, 10,000 comments, and 1.6 million views. It could have reached 10.84 million people, according to social media monitoring tool CrowdTangle.
Copies of the video and its inaccurate caption gained renewed traction beginning Nov. 8, data from CrowdTangle showed. At the time, Mrs. Marcos' son Bongbong said in a press conference that he was confident the petitions seeking his disqualification from running in the 2022 elections would eventually be dismissed.
There are at least eight petitions filed with the Commission on Elections challenging the candidacy of Bongbong, who is seeking the presidency in next year's polls.
The PSSAP Underground Media's FB page was created on Oct. 14, 2015.
Have you seen any dubious claims, photos, memes, or online posts that you want us to verify? Fill out this reader request form or send it to 'VERA, the truth bot' on Viber.
(Editor's Note: VERA Files has partnered with Facebook to fight the spread of disinformation. Find out more about this partnership and our methodology.)