Contrary to the claim in a Facebook (FB) post, the Commission on Audit (COA) did conduct an audit of foreign donations intended for the victims of supertyphoon Yolanda (international name: Haiyan) that ravaged parts of the Visayas in November 2013.
A Nov. 10 FB graphic uploaded by a netizen carried text that read: "walang COA audit yung bilyones donated by other countries (billions of dollars donated by other countries were not audited by COA)."
A request to verify this claim came through VERA Files' Viber Misinformation Tip Line.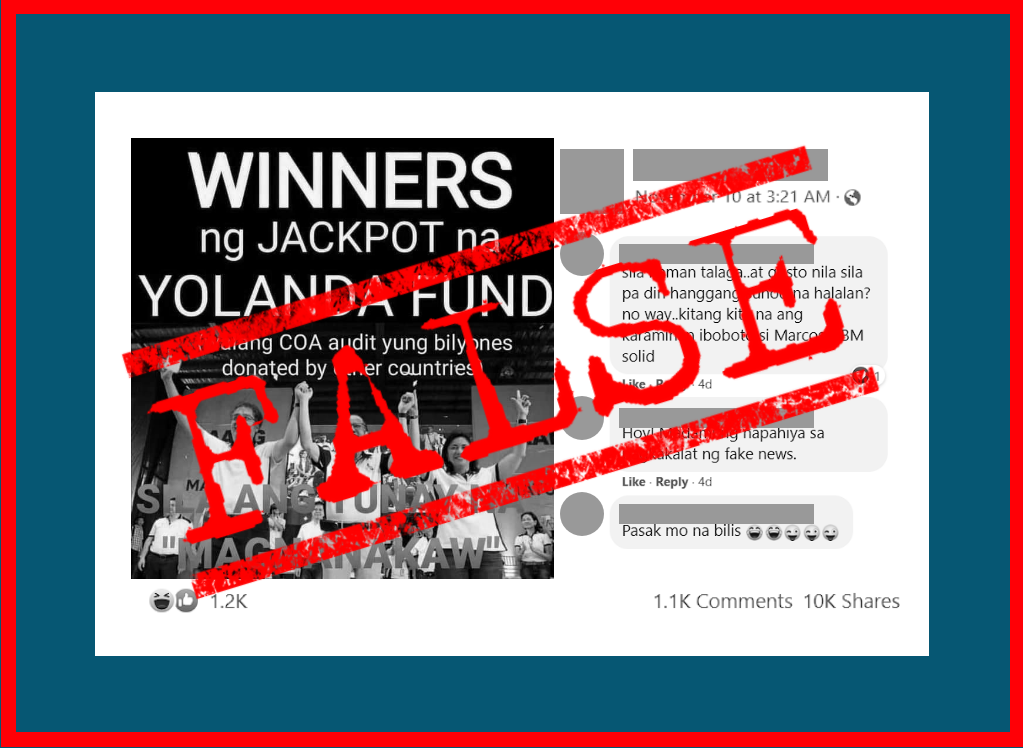 Based on its 2014 report, COA created audit teams that focused on the sources and receipt of foreign aid, the release of local funds by the budget department and other offices, the inter-agency transfer of funds, procurement and logistics, and the distribution of goods and services.
On Nov. 18, 2013, former president Benigno "Noynoy" Aquino III's administration launched the Foreign Aid Transparency Hub (FAiTH), an online portal that tracked donation pledges and cash/non-cash aid provided by foreign countries and organizations.
But as the 2014 COA report noted, FAiTH only tracked foreign donations distributed to government agencies, and not those coursed through local government units, private entities, religious organizations, and other non-government organizations.
The audit commission also acknowledged the difficulties in tracking the flow of aid and found that some funds lodged with some national agencies and local government units were unutilized.
The Aquino government was criticized for its slow and inefficient distribution of the Yolanda funds and slow rehabilitation efforts. Government officials were also accused of pocketing the money allotted for the victims of the typhoon that struck on Nov. 8, 2013, killing more than 6,300 people mostly in Samar and Leyte provinces.
The erroneous graphic garnered a total of 1,200 reactions, 1,100 comments, and 10,000 shares on FB. It emerged two days after the 8th anniversary of Yolanda.
Have you seen any dubious claims, photos, memes, or online posts that you want us to verify? Fill out this reader request form.

(Editor's Note: VERA Files has partnered with Facebook to fight the spread of disinformation. Find out more about this partnership and our methodology.)