A Facebook (FB) post carrying a two-photo collage — one of a trash-filled body of water and another of a white-sand beach with people taking a stroll — is misleading. The filthy bay image is supposed to reflect the condition of the Manila Bay over the past 30 years, or before the time of President Rodrigo Duterte while the other photo is intended to show the current state of the popular bay. The truth is both were taken under Duterte's watch..
The image of the trash-laden bay was shot by a The Philippine Star photographer in September 2018, about two years into Duterte's term, after Typhoon Ompong (international name: Mangkhut) caused garbage and driftwood to accumulate near the seawall of Manila Bay.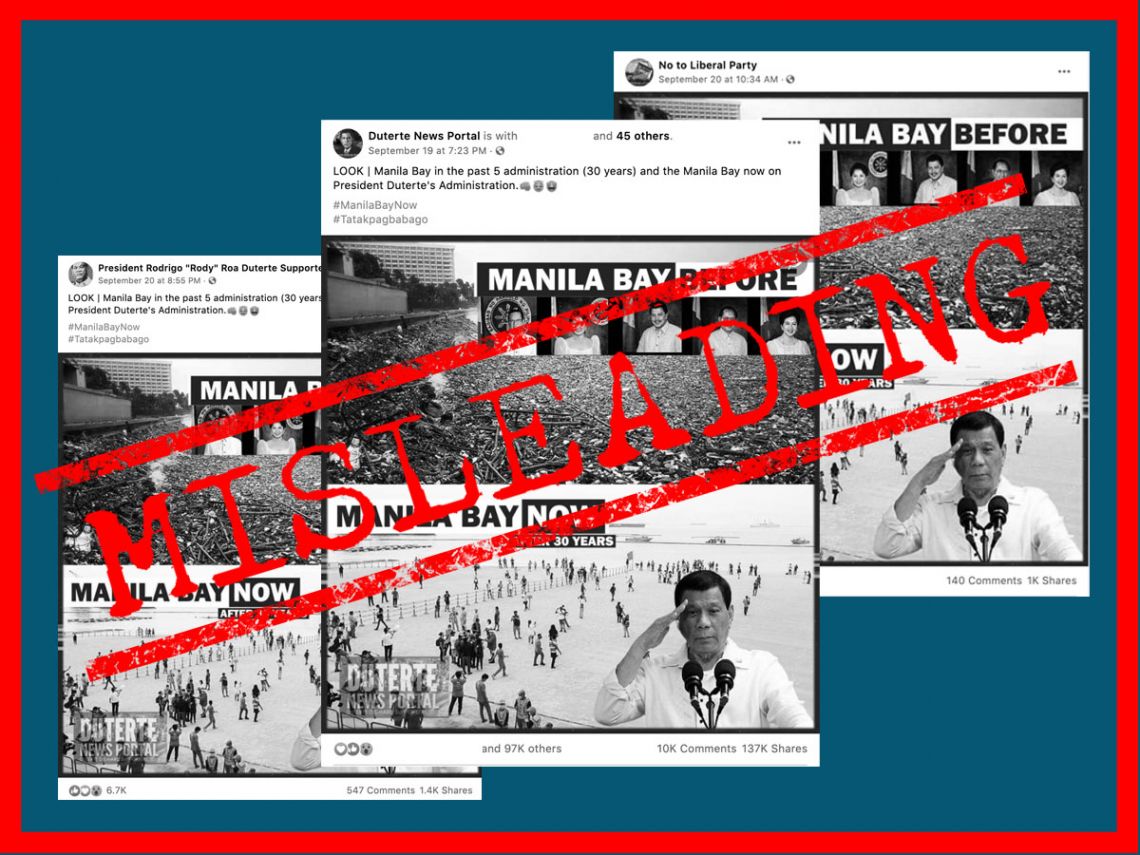 FB page Duterte News Portal's Sept. 19 post falsely labeled the upper picture as taken "Before Duterte," and included photo insets of five former presidents: from Corazon Aquino to her son, Benigno Aquino III.
It was compared with a "During Duterte" photo below showing people on the artificial beach created on a portion of the bay. A reverse image search revealed it was originally published on Manila Bulletin's Twitter account (@manilabulletin) also on Sept. 19, when the controversial beach made of crushed dolomite was temporarily opened to the public.
The four-day-old post has been shared a whopping 134,000 times, and could have reached over 8.5 million people. It has garnered around 95,000 reactions and nearly 10,000 comments, mostly praising Duterte. It has also been reuploaded by FB groups No to Liberal Party and President Rodrigo "Rody" Roa Duterte Supporters.
This is the fifth time this year that The Philippine Star's post-Ompong picture of Manila Bay has been used to mislead people into thinking it was taken before Duterte's term.
Duterte News Portal was created in December 2016.
(Editor's Note: VERA Files has partnered with Facebook to fight the spread of disinformation. Find out more about this partnership and our methodology.)