In an attempt to show how the Manila Bay looks now compared with its condition before President Rodrigo Duterte took office, one netizen and Facebook page used a photo of a spotless white sand beach and an image of the bay's garbage-filled shore. The comparison is misleading.
The 'before' photo, carried by the June 17 posts of Duterte Social Media Supporter and one other netizen, was published originally by local media network UNTV in August 2018, or two years into Duterte's term.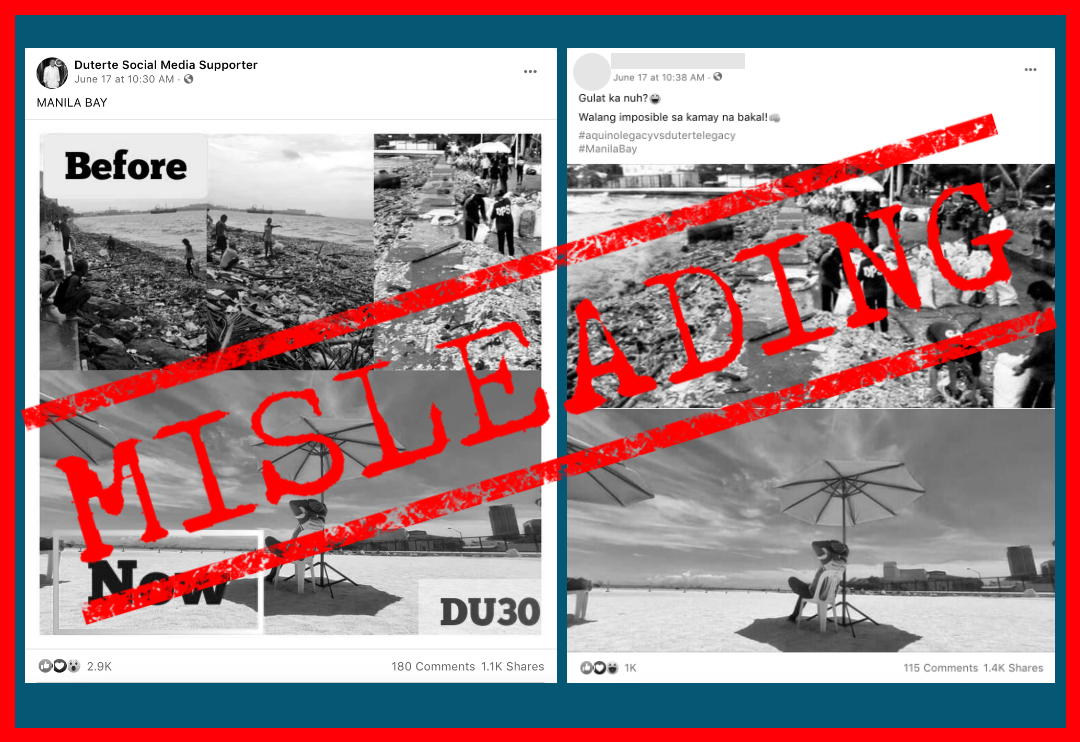 According to the accompanying article, the image was captured after "the onslaught of monsoon rains" which caused the accumulation of garbage along the Baywalk.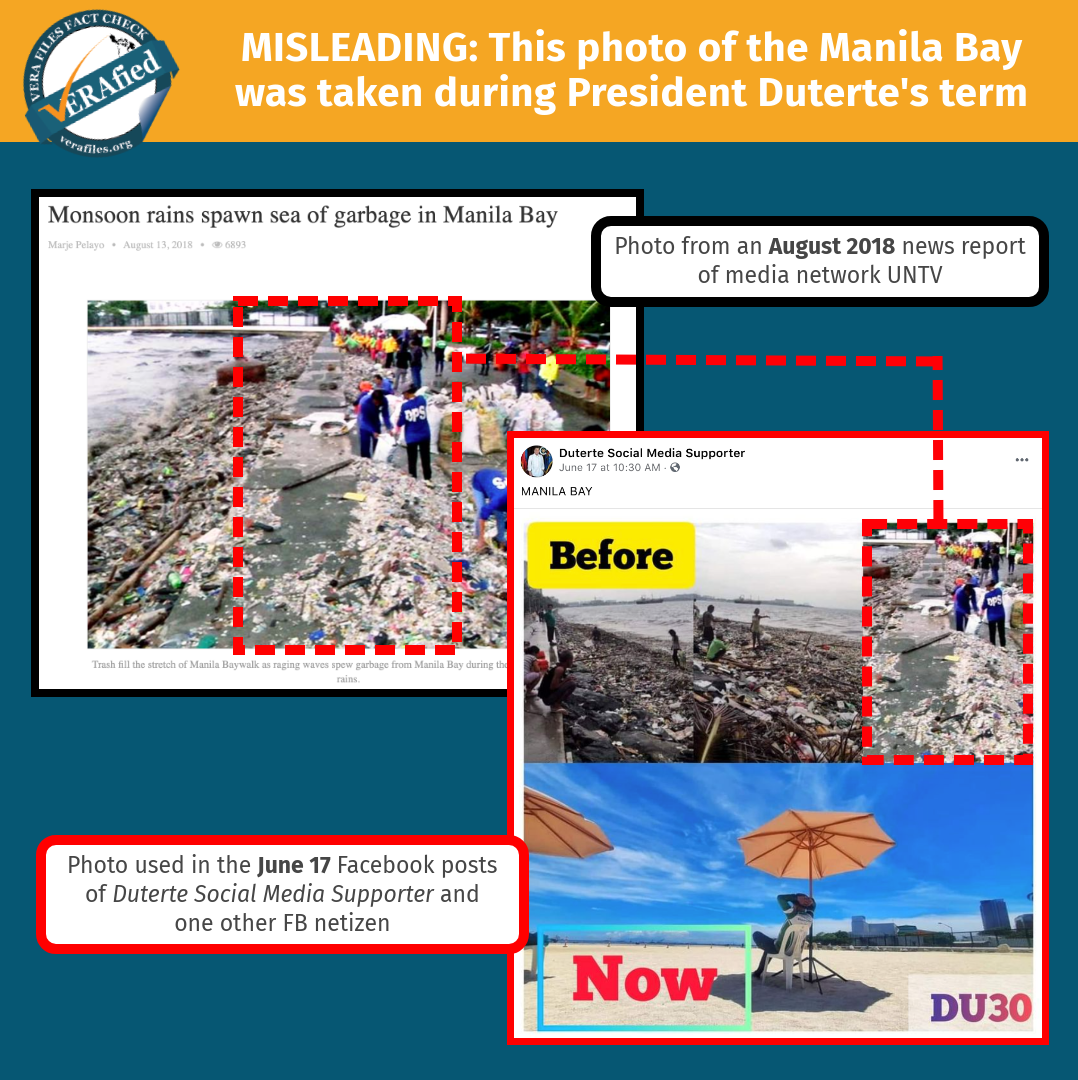 Meanwhile, the 'now' photo showing a spotless white sand beach was taken only last June 16, when Environment Secretary Roy Cimatu paid a visit to the Manila Bay dolomite beach situated at the United States Embassy-end of the Baywalk. Photos from media reports that day show the same beach umbrellas seen in the image carried by the misleading FB posts.
Two other photos of a dingy Manila Bay shoreline were used in Duterte Social Media Supporter's version of the post. They also showed the aftermath of monsoon rains and were lifted from a September 2014 tweet of ABS-CBN News Channel.
However, while these two images were really taken before Duterte became the country's chief executive, the part of the Baywalk from where these photos were snapped is approximately 550 meters or over half a kilometer away from where the controversial Manila Bay dolomite beach is located.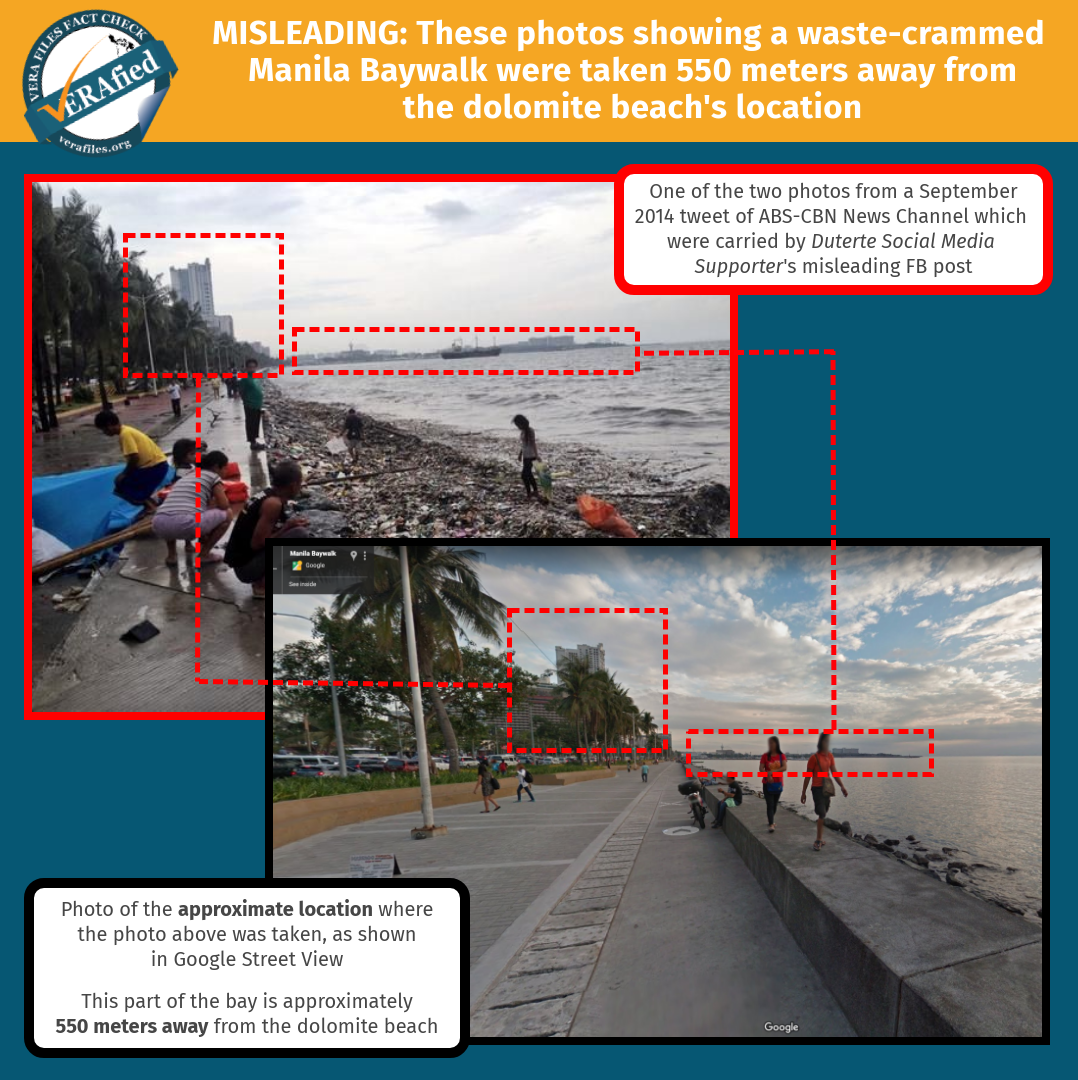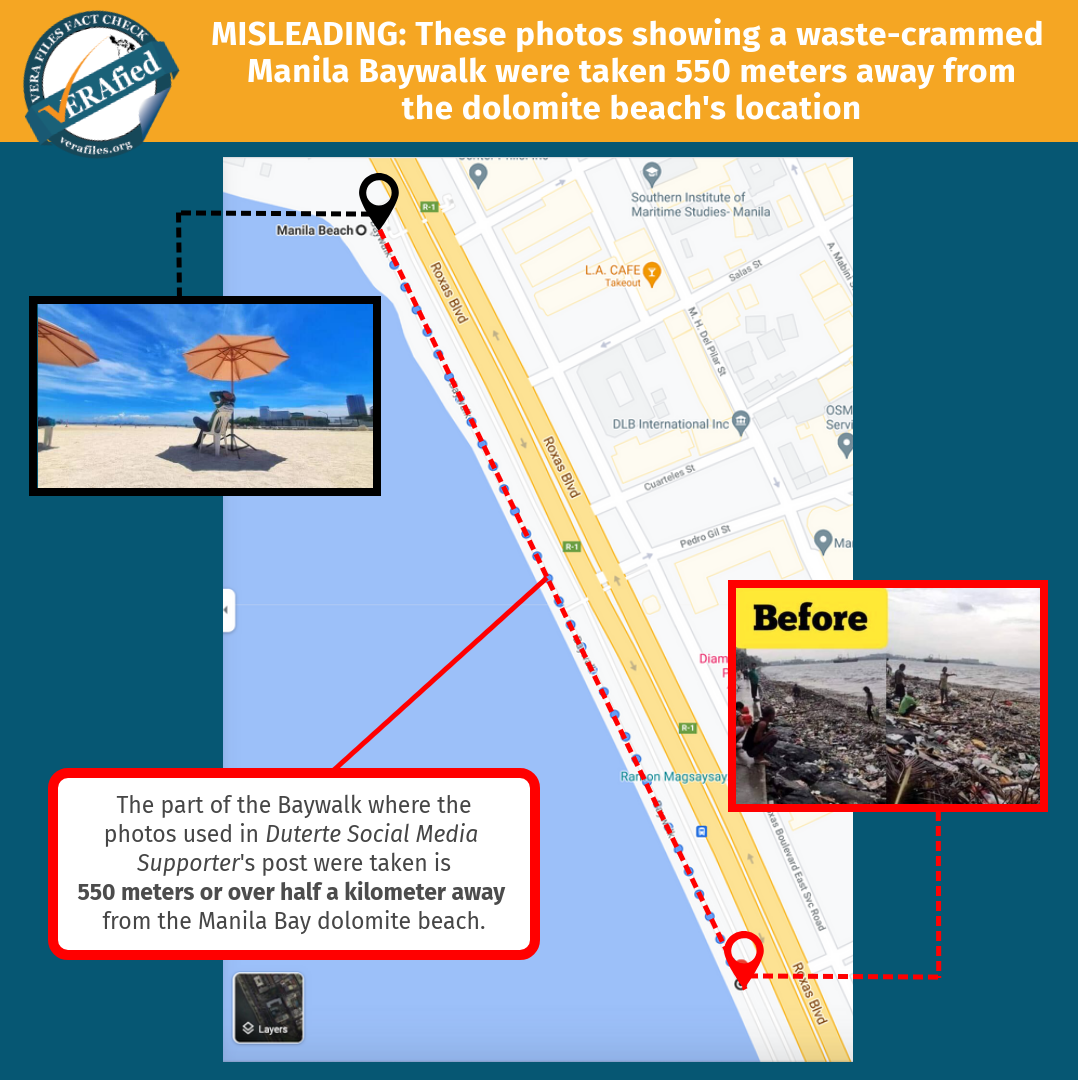 The misleading posts came just a day after Cimatu led the ceremonial planting of coconut palms along Roxas Boulevard as part of the ongoing efforts to rehabilitate the Manila Bay area. He said 60 coconut palms will be planted along the shore to complement the on-going beach nourishment project.
Two days prior, Environment Undersecretary Benny Antiporda said the DENR is "fast-tracking everything" and is targeting to reopen the bay's dolomite beach to the public in July.
Social media tool CrowdTangle shows Duterte Social Media Supporter's misleading post already received over 7,900 engagements from FB users. It could have reached almost 1.8 million netizens, with traffic coming largely from the page itself, the Republic Defenders, and public group PHILIPPINE FEDERAL MOVEMENT INTERNATIONAL.
The netizen's copy of the post, on the other hand, already got 1,000 reactions, 115 comments, and 1,400 shares from social media users.
(Editor's Note: VERA Files has partnered with Facebook to fight the spread of disinformation. Find out more about this partnership and our methodology.)