Several Facebook (FB) pages posted an image showing contrasting conditions of the Manila Bay, suggesting that outgoing President Rodrigo Duterte did a better job than his predecessor, the late former President Benigno "Noynoy" Aquino III, in cleaning up the famous harbor. It is misleading.
The deceptive graphic was posted on June 7 and continues to circulate this week. It bore the caption: "Basura ng mga taga-siyudad, taga-probinsya pa ang nagpalinis. Nilinis na nga, nagrereklamo pa. (The trash of city-dwellers was cleaned up by those in the provinces. It was tidied up yet they still complain.)"
The first two photos of a trash-filled harbor bore the caption "WALANG NAGREKLAMO" (No one complained) in yellow font – the political color of Aquino. These shots of the bay littered with trash were not from Aquino's term.
The second set of two images is the artificial dolomite beach with the caption: "MARAMING NAGREKLAMO" (Many complained). The Department of Environment and Natural Resources describes the beach nourishment project as a legacy of the Duterte government.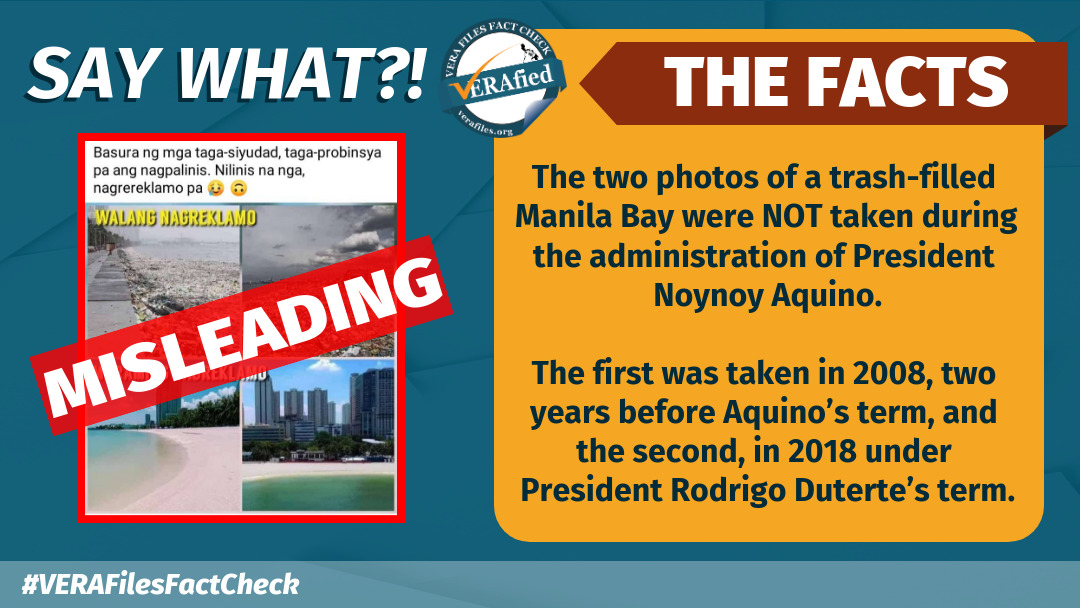 A reverse image search of the first garbage-filled bay photo revealed that this was published by state-owned media Philippine News Agency in 2018, the second year of Duterte's term. The debris washed ashore after monsoon rains ravaged the area.
The second photo was, in fact, not an image depicting the previous conditions of the natural harbor based on another reverse image search. It was a 2008 photo of the Baseco Compound Beach captured by photographer Pedro Gerardo, taken two years before Aquino assumed office.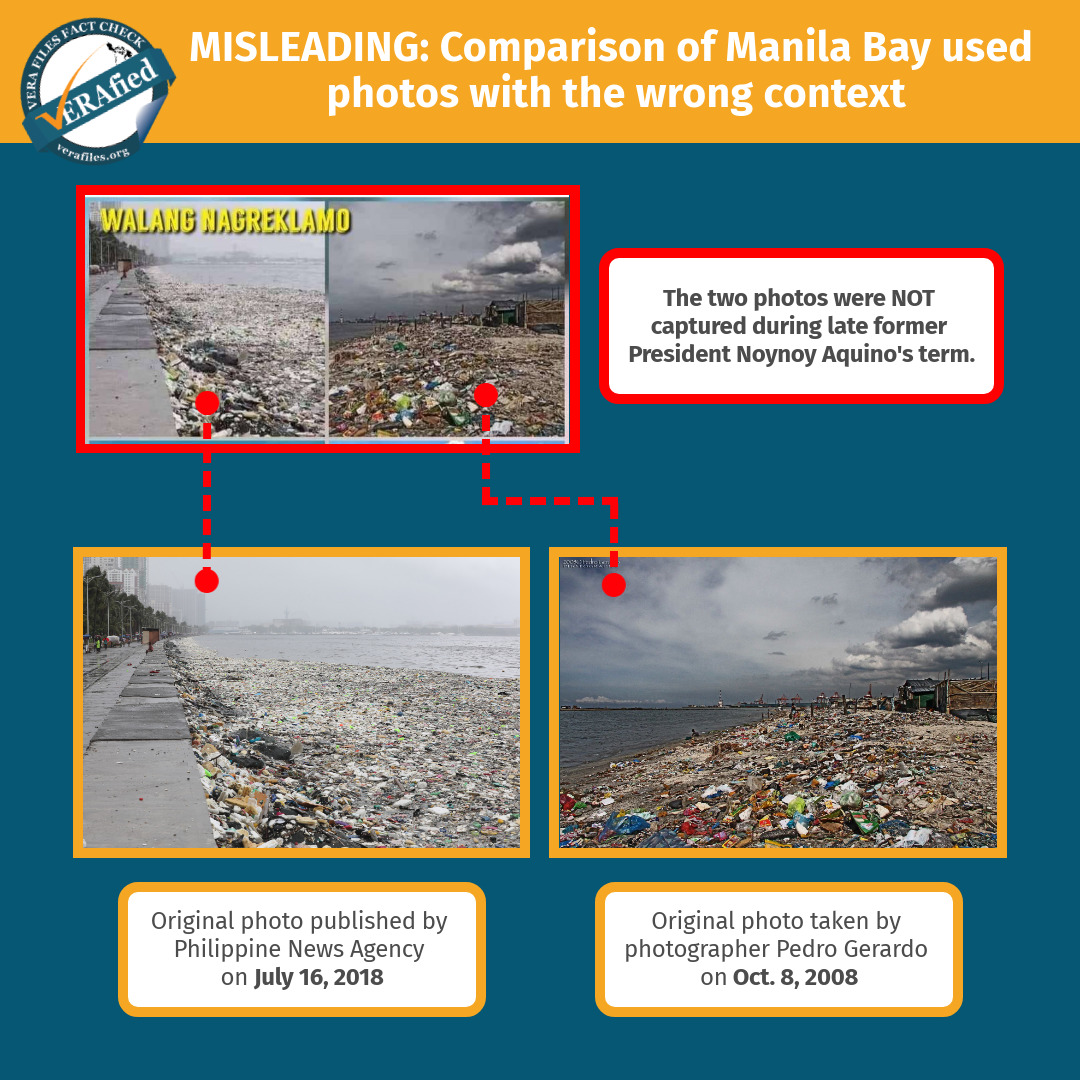 VERA Files Fact Check has debunked similar misleading graphics on the Manila Bay transformation. (Read VERA FILES FACT CHECK: Post on contrasting conditions of Manila Bay MISLEADING and VERA FILES FACT CHECK: 2020 photo of Manila Bay WRONGLY claimed as taken during PNoy's time)
Days before the misleading post appeared, Acting Environment Secretary Jim Sampulna announced the controversial artificial beach will reopen to the public on June 12 to coincide with the 124th anniversary of Philippine independence.
The misleading comparison was posted by FB pages Ex Makhina (created on Dec. 1, 2020), President Rodrigo Duterte ツ Ang Tunay Na Pagbabago (June 4, 2015), AustinPowers Viral Videos (Oct. 7, 2021), Hahaha Gago (Feb. 25, 2019), PHLRC Riders (Nov. 7, 2011) and Trending News Online (Nov. 23, 2018). Their posts have collectively garnered more than 10,790 reactions, 1,360 comments and 2,150 shares.
Have you seen any dubious claims, photos, memes, or online posts that you want us to verify? Fill out this reader request form.
(Editor's Note: VERA Files has partnered with Facebook to fight the spread of disinformation. Find out more about this partnership and our methodology.)