Facebook (FB) page Pilipinas Kong Mahal deceived netizens with a fabricated post on Sept. 15 that compares in a photo collage the state of "San Benedicto Bridge" in "Surigao" during President Rodrigo Duterte's term and under the time of his predecessor, Benigno "Noynoy" Aquino III.
The photos used in the comparison, however, show two different bridges not found in the Philippines.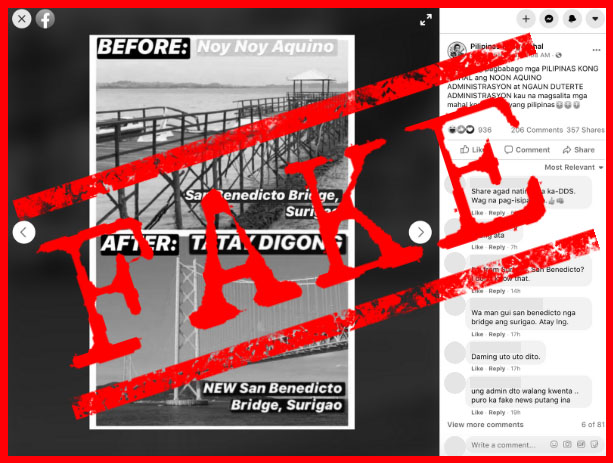 A reverse image search revealed that the broken, wooden bridge presented as the "Aquino" bridge is located in a resort in Batam city, Indonesia. The picture was first published in November 2019 by Singapore-based news media The Straits Times, and was taken after a part of the infrastructure collapsed due to overcrowding, injuring 26 Singaporeans.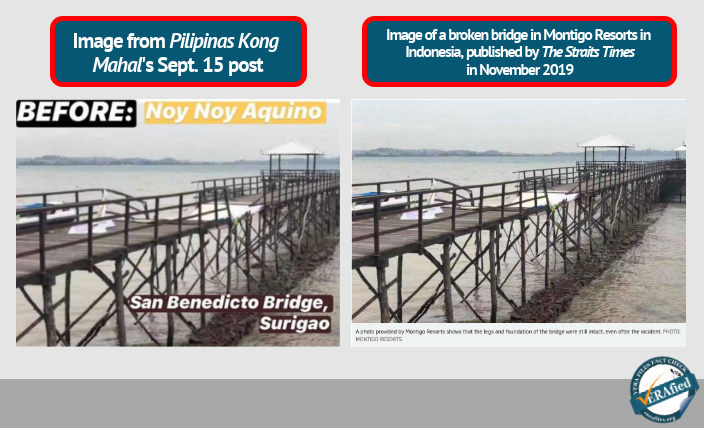 The photo, which came from the resort's management, was also carried by at least two other publications.
Meanwhile, Pilipinas Kong Mahal's "Duterte" version of the bridge—an image showing a massive metal bridge over a body of water—is a Wikimedia Commons photo of the Akashi-Kaikyo Bridge in west-central Japan, taken in September 2010 by a photographer under the name H.Oomori. It is a suspension bridge built over two decades ago that crosses over the Akashi Strait.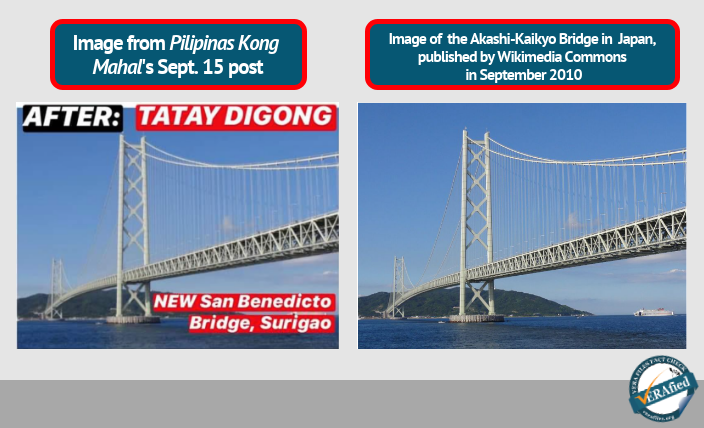 A search through the infrastructure projects fast-tracked by the current administration under its flagship Build, Build, Build program also does not show a record of a "San Benedicto Bridge."
A cursory search on Google and a look at the government's atlas of national bridges in the country do not yield records of a "San Benedicto Bridge" in Surigao City nor in the provinces of Surigao Del Norte and Surigao Del Sur.
Pilipinas Kong Mahal's fabricated post surfaced as the Duterte government faced criticism after the Department of Environment and Natural Resources dumped crushed dolomite along Manila Bay as part of its beach nourishment project for the polluted bay. Health experts, however, warned of possible negative effects of crushed dolomite on one's health, while some lawmakers questioned the timing of the beautification efforts in the middle of a pandemic.
Pilipinas Kong Mahal's spurious post could have reached over 600,000 netizens according to social media monitoring tool Crowdtangle. Its top traffic generators are public groups Rody Duterte Solid, Foreigners & Philippines looking for relationship and Sara Duterte Solid Group.
Pilipinas Kong Mahal was created just last Feb. 2.
(Editor's Note: VERA Files has partnered with Facebook to fight the spread of disinformation. Find out more about this partnership and our methodology.)