A video with over 249,000 views on Facebook (FB) that claims President Rodrigo Duterte said his predecessor Benigno Aquino III and retired Supreme Court Associate Justice Antonio Carpio "sold" the West Philippine Sea (WPS) to China, is wrong.
The misleading April 29 post was published by the FB page Philippines trendinh news . with the false title: "NAKAKAGULAT NA BALITA ! PRES DUTERTE BUMWELTA NOYNOY CARPIO SALARIN WPS BINENTA SA CHlN4 (Shocking news! Pres. Duterte hits back, Noynoy and Carpio culprits, sold WPS to China)."
Duterte has made no accusation that the two former officials "sold" Philippine territory.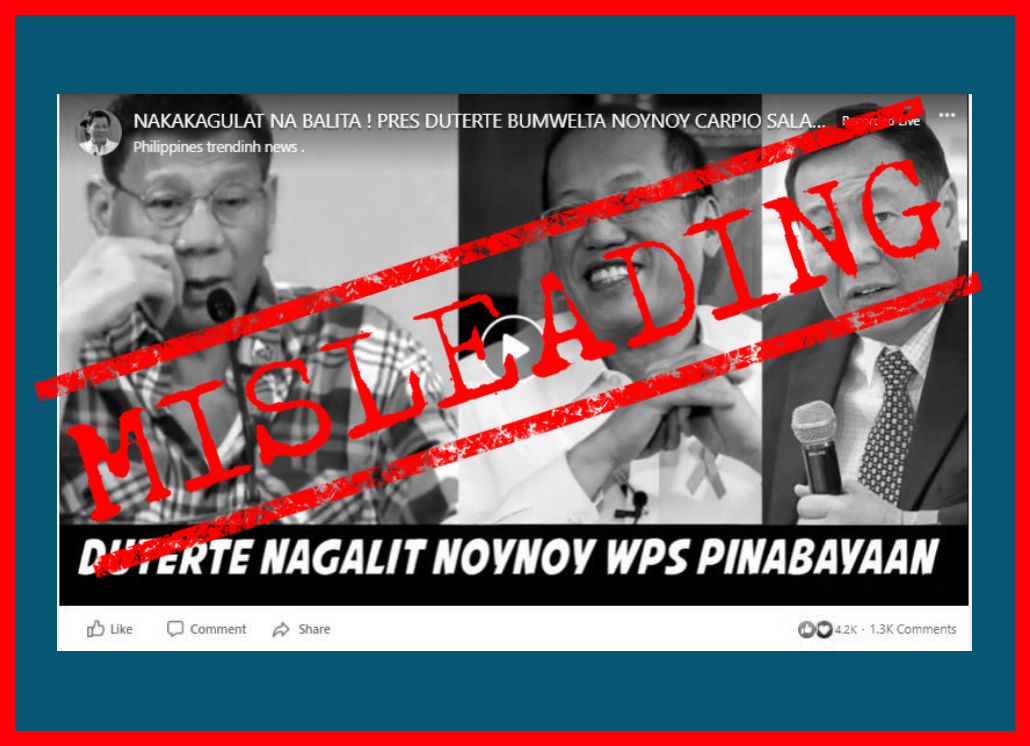 The 16-minute video's content, composed of two clips, also did not support the claim in its headline. The first was an excerpt of a media report about Duterte blaming Carpio and Albert del Rosario, the Aquino administration's foreign affairs chief, over territory being claimed by China.
The second clip was an excerpt from a video by pro-Duterte vlogger Banat By in which he reacted to Duterte's April 28 Talk to the People address.
While Duterte made no mention of Aquino and Carpio "selling" any part of the WPS, he had in the past blamed the former president and more recently Carpio for China's occupation of Philippine territory.
The misleading video was published a day after the airing of the April 28 address where Duterte lashed out at Carpio and del Rosario and asked them: "If you're bright, why did we lose the West Philippine Sea?"
Carpio and del Rosario were key players in an arbitration case against China's claim over much of the disputed waters and its encroachment into the Philippines' 200-nautical mile exclusive economic zone. This ended with the Permanent Court of Arbitration ruling in favor of the Philippines in July 2016, a few days after Duterte began his term.
Carpio on April 29 issued a statement saying Filipinos deserve a President "who will uncompromisingly defend Philippine sovereignty and sovereign rights" in the WPS, as reported by several media organizations.
Chinese vessels, both military and civilian, continue to cross Philippine territory while claiming several of the country's reefs as part of China. (SEE VERA FILES FACT CHECK: Chinese Embassy maintains FALSE claim that Julian Felipe Reef is China territory)
This is not the first time Philippines trendinh news . posted disinformation. It publishes videos on politics and the WPS issue, despite claiming in its About Page that it is a "source of news and trivia about your favorite Pinoy Showbiz celebrities." (SEE VERA FILES FACT CHECK: FB Live claiming Duterte and US 'joined forces to drive China out of WPS' MISLEADING)
The misleading post has gotten over 6,200 engagements on FB and could have reached over 300,000 people according to social media monitoring tool CrowdTangle.
(Editor's Note: VERA Files has partnered with Facebook to fight the spread of disinformation. Find out more about this partnership and our methodology.)