YouTube channel Showbiz Fanaticz is circulating a false claim that career diplomat Rosario Manalo accused former president Benigno Aquino III, former foreign affairs chief Albert del Rosario and retired Supreme Court Associate Justice Antonio Carpio, of giving away Philippine territory to China.
Not true. Manalo, currently the Philippine expert to the United Nations Committee on the Elimination of All Forms of Discrimination against Women, has made no such assertion against the three senior officials.
The false video, uploaded on May 9 and spuriously labeled breaking news, bore the headline: "JUST IN: Int'l Amb. ROSARIO Manalo INILAGLAG na sina CARPIO at PINATUNAYANg sila ang TUTA ng CHINA (exposes Carpio and others, proved they are Chinese lapdogs)!!"
It has also been re-uploaded by Facebook (FB) page Philippines trending news. and the FB account Philippines News Live.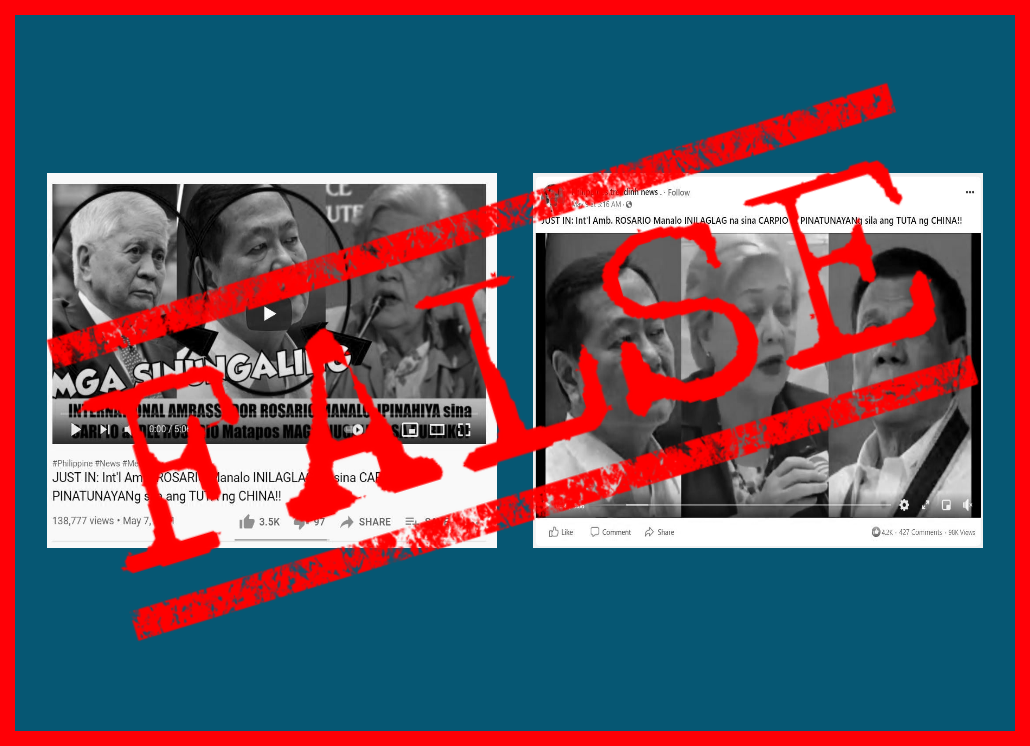 To support its false claim, Showbiz Fanaticz played a five-minute clip taken from footage of an hour-long press conference on Oct. 16, 2017 that discussed the relevance of the Association of Southeast Asian Nations or ASEAN. Manalo, then-ASEAN Special Representative of the Philippines, was a guest speaker.
She made no accusations against Carpio, Aquino or del Rosario in the clip shown.
Instead, Manalo claimed that the Philippines and China both opted out of using "compulsory arbitration" to resolve disputes upon signing the UN Convention on the Law of the Sea (UNCLOS) — a claim disproven by Carpio in a January 2021 Inquirer.net column.
The short clip was cropped by Showbiz Fanaticz and placed between photos of Carpio and President Rodrigo Duterte.
The erroneous clip emerged shortly after Duterte backed out of his challenge to debate Carpio on the Philippines' dispute with China over the West Philippine Sea. He has instead put up Presidential Spokesperson Harry Roque to the task.
Showbiz Fanaticz's false video has gotten 143,400 views on YouTube and over 5,600 FB interactions. Philippines trending news.'s version got more than 105,000 views and 7,200 interactions, while Philippines News Live's upload received over 3,100 FB interactions.
Both Showbiz Fanaticz, created in November 2017, and Philippines trendinh news., created in April 2020, have a history of spreading disinformation.
(Editor's Note: VERA Files has partnered with Facebook to fight the spread of disinformation. Find out more about this partnership and our methodology.)