YouTube channel Showbiz Fanaticz strikes again with another piece of disinformation, this time claiming that Angel Locsin could be imprisoned after Quezon City Mayor Joy Belmonte made sure the actress will be held responsible for a community event mishap.
It uploaded a video on April 25 with the title: "JUST IN: ANGEL Locsin MAKUKULONG?! (to be imprisoned?) Mayor Joy Belmonte Tinayak [sic] na PAGBABAYARAN ni ANGEL ang NANGYARI! (made sure Angel will pay for what happened!). The start of the five-minute clip showed Belmonte speaking but her voice was muted while a man's voice could be heard the entire time narrating what would happen to Locsin.
The post is misleading. There is no ongoing case or arrest warrant against Locsin. Belmonte has not blamed her for the death of a senior citizen and the overcrowding of people who came to avail themselves of food from a community pantry the ABS-CBN actress organized to celebrate her 36th birthday last April 23.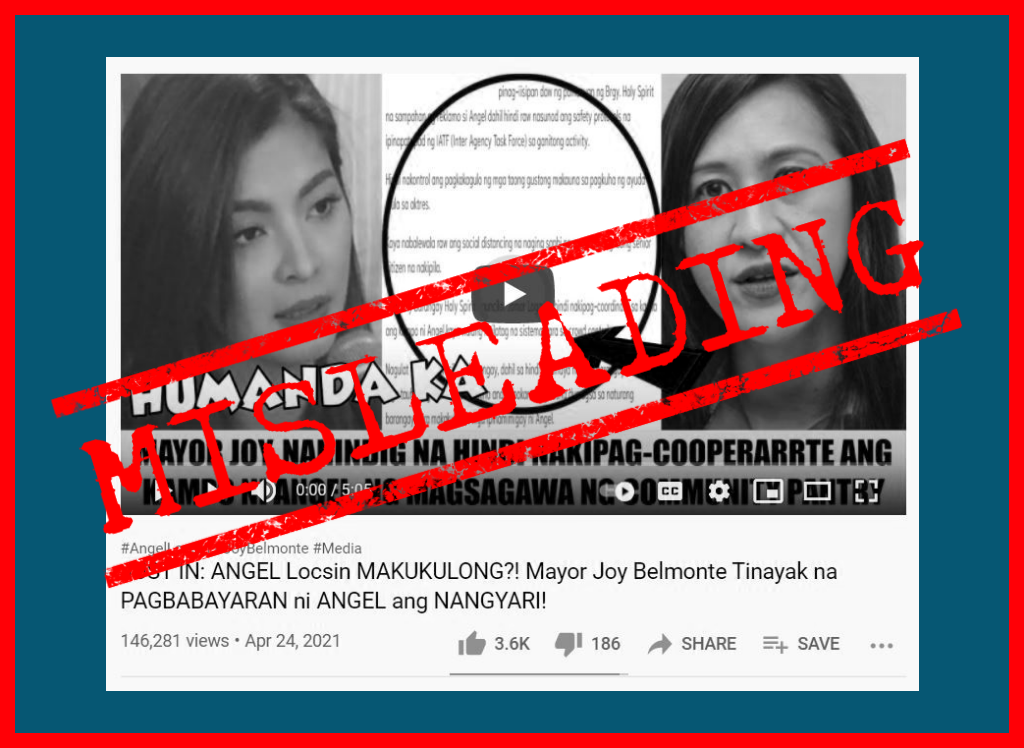 "I don't want to blame Angel. I like Angel, she has a very good heart. Nobody wanted what happened," Belmonte said during an April 25 The Chiefs interview. But in an April 23 statement, she said Locsin and her staff had not coordinated with the local government.
Barangay Holy Spirit Chairman Felicito Valmocina, however, said he and his councilors have discussed possible violations of Locsin's initiative, and whether or not they should file a case against the actress.
Valmocina pointed out in an April 26 interview that the celebrity's public invitation via her social media accounts, and inaction of her staff led to problems when a huge crowd turned up at the
community pantry.
Meanwhile, Interior and Local Government Secretary Eduardo Año has ordered the Philippine National Police to investigate the death of a senior citizen during the event.
(Editor's Note: VERA Files has partnered with Facebook to fight the spread of disinformation. Find out more about this partnership and our methodology.)