More road crashes in Quezon City occur at daytime, contrary to what Vice Mayor Ma. Josefina "Joy" Belmonte said in a media interview.
STATEMENT
On Oct. 16, Belmonte talked about the city's Road Safety Code in a news report on the morning show "Umagang Kay Ganda."
She said:
"Most road, um, accidents happen at night, therefore sa gabi tayo magkakaroon ng higit na enforcement (we will have stronger enforcement of the law at night)."

Source: ABS-CBN. Umagang kay Ganda, Oct. 16, 2017. watch from 1:45:28 to 1:47:44.
FACT
Road crash data from the past six years negate Belmonte's claim.
Data science firm Thinking Machines, using figures from the Metro Manila Accident Recording and Analysis System, the official road crash database of the Metro Manila Development Authority, show a total 154,613 road crashes in Quezon City from 2011 to 2016. Three out of five occurred between 6 a.m. and 5:59 p.m.
However, more fatal road crashes during the same period occurred from 6 p.m. to 5:59 a.m, peaking at 11 p.m., followed closely by 1 a.m.
Richard Domingo, road safety unit officer at the MMDA and head of its team of data gatherers and encoders, says this is because drivers tend to drive faster at night.
A total of 820 people have died in 776 fatal road crashes in Quezon City from 2011 to 2016.
The city's Road Safety Code, approved by the city council on Oct. 10, provides a guide to safe driving and pedestrian practices in Quezon City.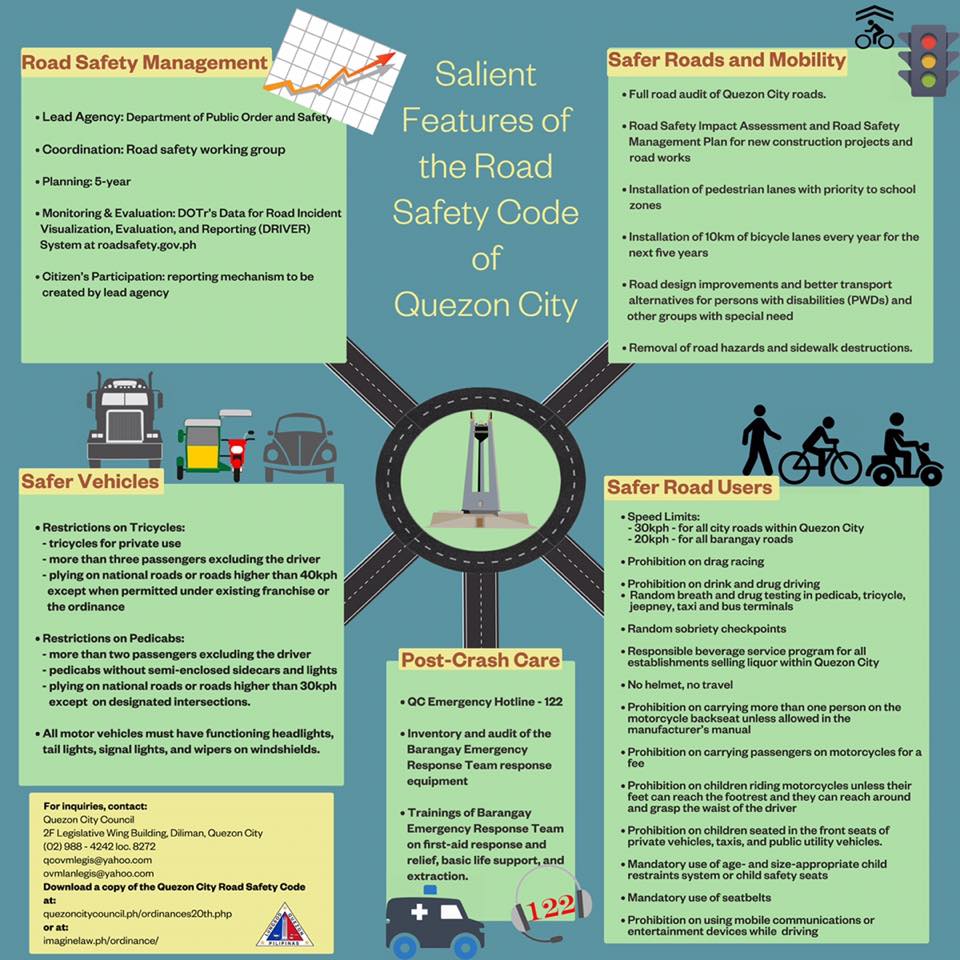 Infographic courtesy of Vice Mayor Joy Belmonte's Facebook page
The code imposes speed limits on major thoroughfares, installs pedestrian bicycle lanes and sets several restrictions and requirements on the tricycles and pedicabs.
More, the code prescribes the strict implementation of traffic laws against speeding, driving under the influence, distracted driving, and failure to use helmets, seat belts and child restraints.
The World Health Organization (WHO) identifies these as risk factors linked to road crashes.
The WHO also prefers the term "road crash" to "accident" since accident conveys randomness instead of actual risks that can be understood and prevented.
Sources:
Metro Manila Accident Recording and Analysis System, 2011 to 2016
Global Plan for the Decade of Action for Road Safety 2011-2020
World Health Day: Road safety is no accident!
(Guided by the code of principles of the International Fact-Checking Network at Poynter, VERA Files tracks the false claims, flip-flops, misleading statements of public officials and figures, and debunks them with factual evidence. Find out more about this initiative.)