Ralph Liay is a professional tricycle driver. He travels up and down the streets of San Pablo, Laguna for six hours daily shuttling by his best estimates, 10 people per hour. That is 6 trips or about 60 people in his usual day. He plies a normally congested route. This is why he limits his trip to one or two passengers per way and manages to end his day after only 6 hours on the road. But he frequently takes the Maharlika Highway where he drives in the inner lane so that "madaling lumiko ng kaliwa" (so it will be easy to make left turns).
Toto Hamor is also a professional tricycle driver in Manila. He shuttles from the terminal in Quirino Ave. and regularly plies illegally through Taft Ave at night. Compared to Ralph, he shuttles up to 6 passengers per trip and has a long 12-hour day.
"Para po mabayaran ang boundary," he says. At 42, he has been driving a tricycle as a means of livelihood and has become completely battle hardened by the experience. "Sa trabahong ito, patigasan lang ng ulo at tapang laban sa ibang sasakyan." (In this job, you need guts and nerves to battle other vehicles.)"Hamor notes.
From the middle north is Nick Robles, who hails from Porac but lives in Lubao, Pampanga. He rides his tricycle but with impunity over the twisty mountain roads leading out of Lubao. He regularly stays in the inner lane of the road, travelling at below highway pace saying "hindi lang naman sa pribadong sasakyan ang kalsada." He insists that it is the car and bus drivers who are always at fault in a road crash with a tricycle because "mas malaki at mas mabilis naman sila." (Cars and buses are bigger.")
Mar Toribio drives a "school bus" tricycle carrying up to 10 grade schoolers to class in the morning. "Hindi naman po delikado ang sakay sa tricycle" he says pointing to how he can stuff ten 7 to 10 year olds in he tricycle. He makes P100 per trip with 10 kids paying P10 each. "Para din po makatipid ang mga bata. (The kids can save money.)"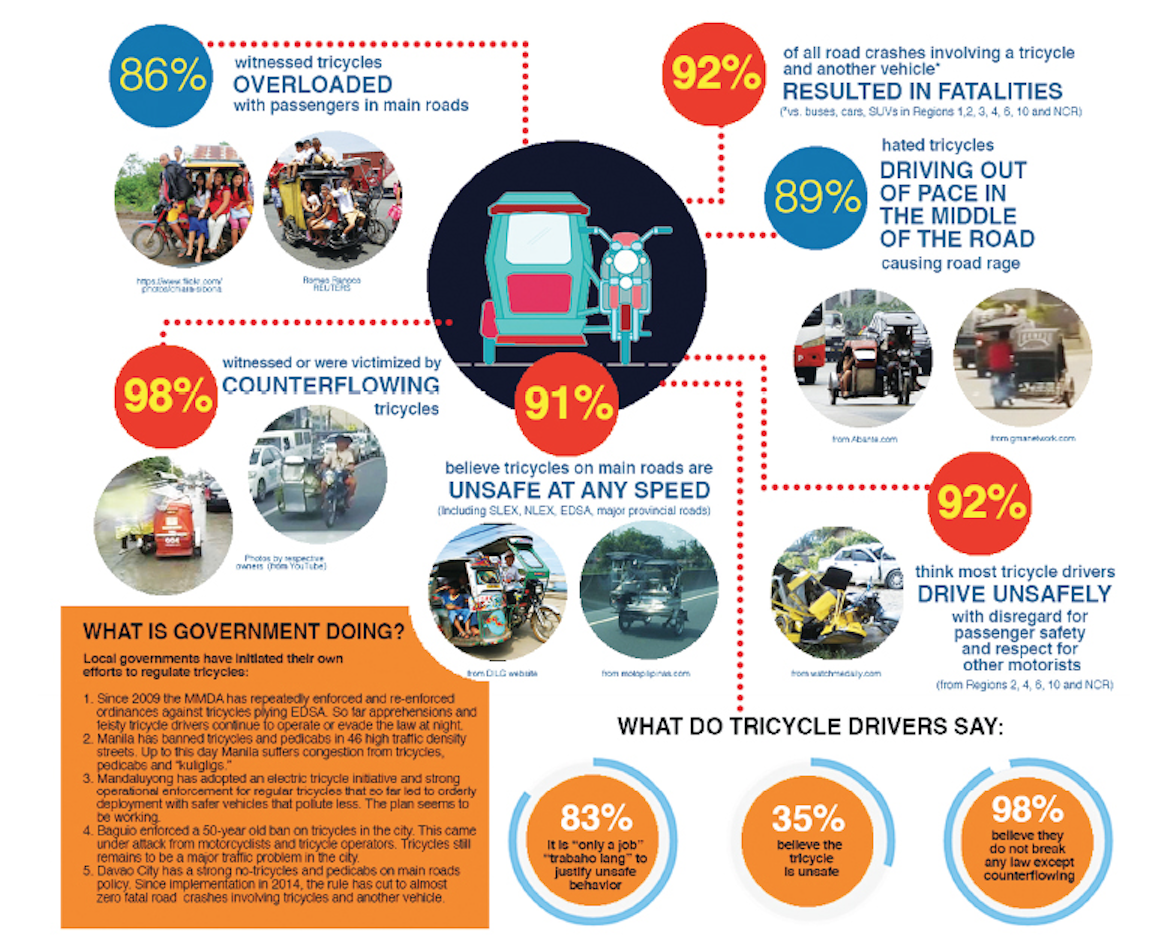 Many motorists consider tricycles like a scourge.
Malaya Business Insight did a social media poll with around 523 respondents and 89 percent say that tricycles are hazardous to itself and its passengers when travelling on major highways. 98 percent of the respondents who have cars and driver agree that tricycles need to be regulated when travelling at pace with other vehicles. 92 percent agree that the three-wheeler must be banned from travelling on major thoroughfares in the province and 78 percent of those who regularly take tricycles say drivers must be more educated on safety and road rules.
Also interviewed were 178 tricycle drivers from twenty transport operators associations in Regions 1, 2,3,4, 6 and Metro Manila. 52 percent of those interviewed were from Metro Manila where the major tricycle operator and drivers associations (TODA) are found in Tondo, Divisoria, Mandaluyong, Quezon City (Cubao, Commonwealth and North Ave. areas).
The most compelling data gathered though, came from social media tweets, posts and reports about tricycles. Analyzing feeds of over 2,432 individuals reporting and posting photos, videos, comments on various traffic violations, and complaints against tricycle drivers.
Banning tricycles completely will have a major social impact as the jobs will be cut and income lost. However, a rational ban on the three-wheeler will do wonders for safety and reduction of traffic. Reduction of road crashes, standardization of tricycles for safety or for performance and emission is also crucial.
The statistics are on the infographic above but there are other reasons why a well thought of, rational and selective ban on specific roads and areas or even specific times and days must be studied and employed.
This story was first published on Malaya Business Insight and was produced under the Bloomberg Initiative-Global Road Safety Media Fellowship implemented by the World Health Organization, Department of Transportation and Communications and VERA Files.