A poster of Quezon City Mayor Joy Belmonte congratulating Filipina weightlifter Hidilyn Diaz, who won a gold medal in the 2020 Tokyo Olympics on July 26, is being shared online. The poster was disowned by Belmonte, who referred to it as fake.
"While it is true that I join the rest of the country in celebrating the historic Olympic gold medal win of Hidilyn Diaz, it is absolutely untrue that the fake 'congratulatory message' using my picture (and now circulating online) came from me, or anyone from the Quezon City government."
Posted from July 28 to 29 on several Facebook (FB) pages and groups, the poster featured an oversized photo of Belmonte with a much smaller photo of Diaz on the right side. Its message read: "Maraming salamat (Thank you very much) Hidilyn Diaz | Mayor Joy Belmonte."
Belmonte posted a statement in the Quezon City Government's official Facebook and Twitter pages, calling the viral graphic as "fake." She called out the spread of the fabricated poster as "bad politicking" coming from what she called as "malicious individuals engaging in black propaganda and smear campaigns."
"Nagkaisa ang buong bansa dahil sa karangalang ibinigay niya sa bawat Pilipino, ngunit ginamit ninyo ito para sa masamang pamumulitika. 'Foul' po ang tawag diyan. (The whole country united because of the honor she brought to every Filipino, but you used this for bad politicking. That's foul," she said.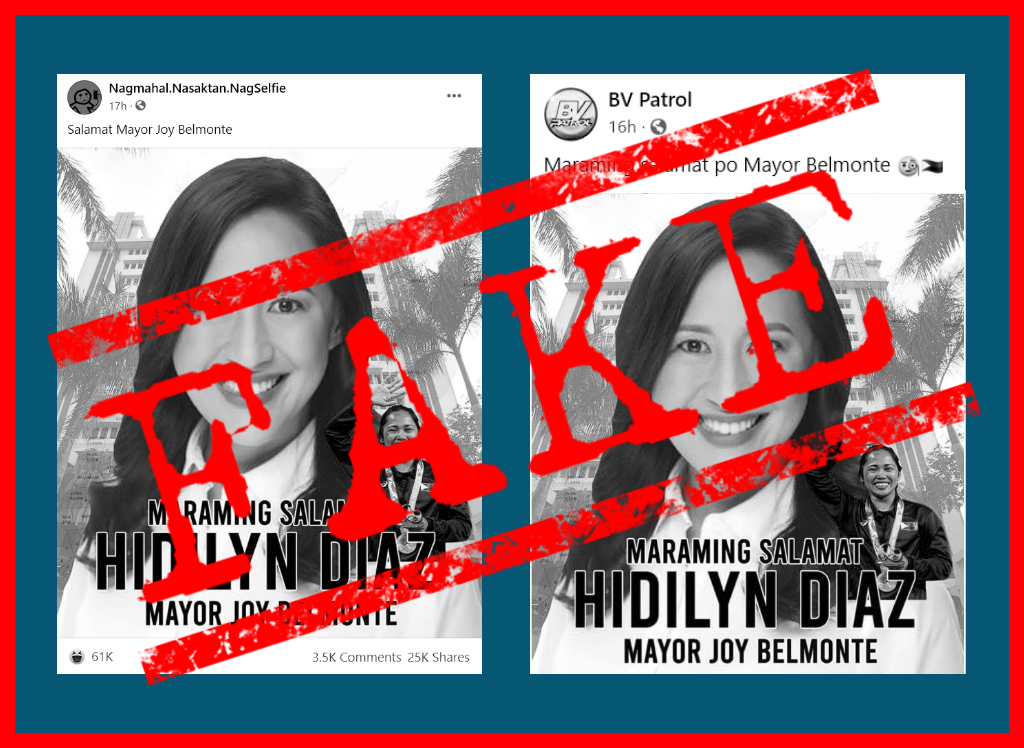 Several netizens viewed the poster as a joke. Others who thought it was true criticized the Quezon City mayor for "making it look like she won the Olympic gold medal" and for "stealing Diaz's spotlight."
In response to Belmonte's statement, FB page Nagmahal.Nasaktan.NagSelfie, who first posted the fake congratulatory message on the morning of July 28, posted this July 29 counterfeit quote card that read:
"Fake news po ang kumakalat na Congratulatory Poster, dahil una po sa lahat hindi ko naman i-ccongrats (sic) si Hidilyn Diaz bakit ano bang ambag niya dito sa Quezon City diba (This viral congratulatory poster is fake because first of all, why would I congratulate Hidilyn Diaz? Why, what's her contribution to Quezon City, right)?"
This is a manipulated copy of a quote card published by ABS-CBN News Channel on July 27, which was originally about Belmonte stating her plans to buy genome sequencing machines for the Quezon City government.
The altered graphic erased the original quote using a paintbrush tool, and featured a different font from the one used in the original quote card.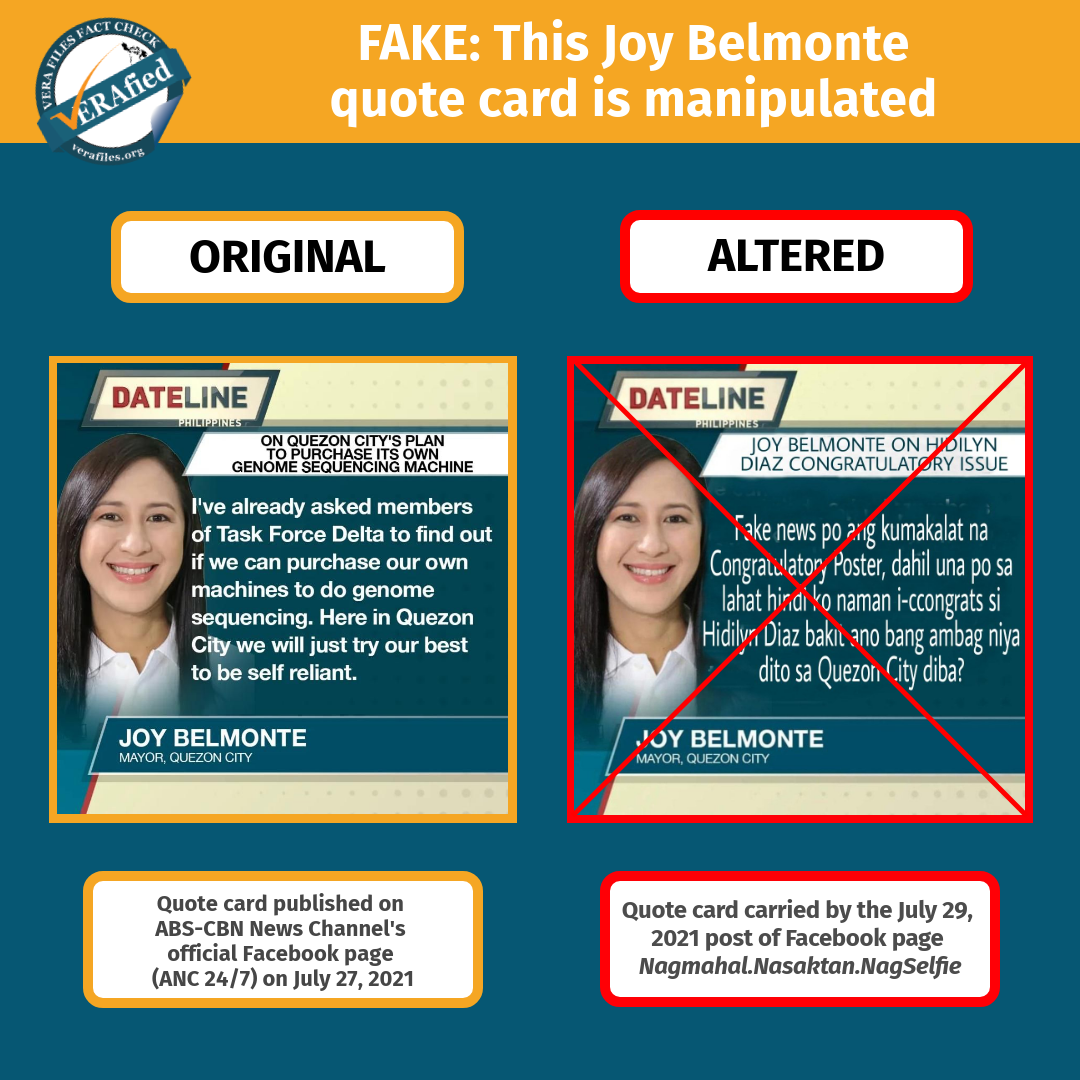 FB page Nagmahal.Nasaktan.NagSelfie's post garnered 61,000 laugh reactions, 3,500 comments, and 25,000 shares on FB. Other FB pages such as BV Patrol. Youth Philippines, Memes ng galit sa korap na gobyerno, mamamatay tao, at sarili, Pilyong Meme, and Budol Time also posted the made-up graphic, garnering nearly 42,000 FB interactions.
Nagmahal.Nasaktan.NagSelfie was created in March 2015, BV Patrol in April 2013, Youth Philippines in November 2008, Memes ng galit sa korap na gobyerno, mamamatay tao, at sarili in May 2019, Pilyong Meme in December 2017, and Budol Time in June 2020.
(Editor's Note: VERA Files has partnered with Facebook to fight the spread of disinformation. Find out more about this partnership and our methodology.)